I wasn't always a disheveled mess. I used to plan my outfits the night before and spend time doing my hair and makeup. After I became a mom, I found these daily tasks becoming harder and harder to accomplish. What was the point in putting in the effort? I'm a busy mom — why do I need bouncy hair, lipstick, and lashes?
I soon discovered that putting in a minimum amount of effort every day toward my outside appearance can make a world of difference.
One morning, after school drop off, I was running my weekly errands. I was in torn sweatpants, an oversized coat, and the third day of a messy bun. My only makeup was the SPF that I dabbed on that morning. As luck would have it, I ran into an old high school friend. We had not seen each other since high school graduation, and she insisted on taking a picture. That picture, with my washed out face and dirty hair, ended up on Facebook. No amount of untagging could help me escape the humiliation of looking like that former classmate who had made some questionable life choices.
I was mortified and vowed that – no matter how tired or busy I am – I would put in the effort to look decent every day. As the saying goes, "when you look good, you feel good."
Unless you're an actress in film, television, or the stage, there is not much need for a heavy face of makeup. A basic face is all you really need for day-to-day activities, and on the occasion that you're going to a fancy event, then you can really vamp it up. Over the years I've discovered that, when it comes to makeup, a little goes a long way. And, a great nighttime routine is key.
We've rounded up all the skin and makeup essentials that will help you look put together (in 10 minutes or less) and ready to take on the day (and any old high school friends that you may run into).
Step One: Cleanser
Since you're not waking up with a full face of makeup (hopefully), your morning cleanser should be gentle enough to wash off any grime from the night. But a splash of water will also do just fine.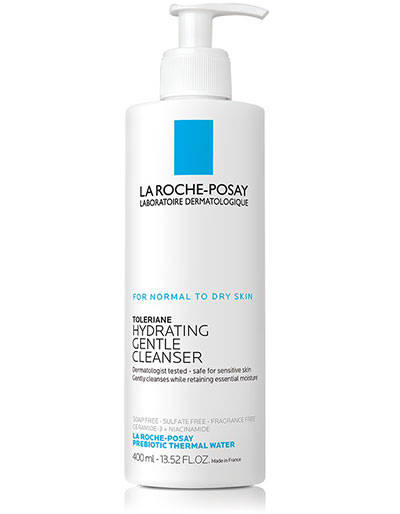 Step Two: Serum
Serums should be applied after cleansing, but before moisturizing, as they're chock-full of powerful ingredients that easily absorb into the skin. They are wonderful for targeting specific skincare concerns, such as fine lines, wrinkles, dark spots, and dullness.
Step Three: Tinted Moisturizer + SPF
For a basic, everyday face, a tinted moisturizer is all you really need. Some days I will opt for foundation and concealer, but a good tinted moisturizer will blur blemishes and cover dark spots so you don't need to mess with anything extra. Some tinted moisturizers come stocked with antioxidants, SPF, hyaluronic acid (to plump skin), and glycerin (to moisturize), helping you look your best as you take on the day.
Step Four: The extras — blush, eyeshadow, and mascara
Some days I'll rock all three, but for the most part, I only wear blush on a daily basis. Products that can multi-task are key to keeping your beauty routine simple and hassle-free. Blush and eyeshadow combos are great, as well as mascaras that strengthen and lengthen without looking too overdone.
Step Five: The finishing touch — lipstick
For an everyday look, my go-to is a pinky-nude lip. I don't have to worry about lining my lips, I can kiss my babies all day without worrying about getting a darker pigment on them, and re-applying is easy to do without a mirror.