The last few weeks prepping for baby involve lots of laundry (how are their things so small?), hospital bag prep and getting as much sleep as your bladder will allow.  With most thoughts on baby, it's easy to wonder what your days will be like once he or she arrives.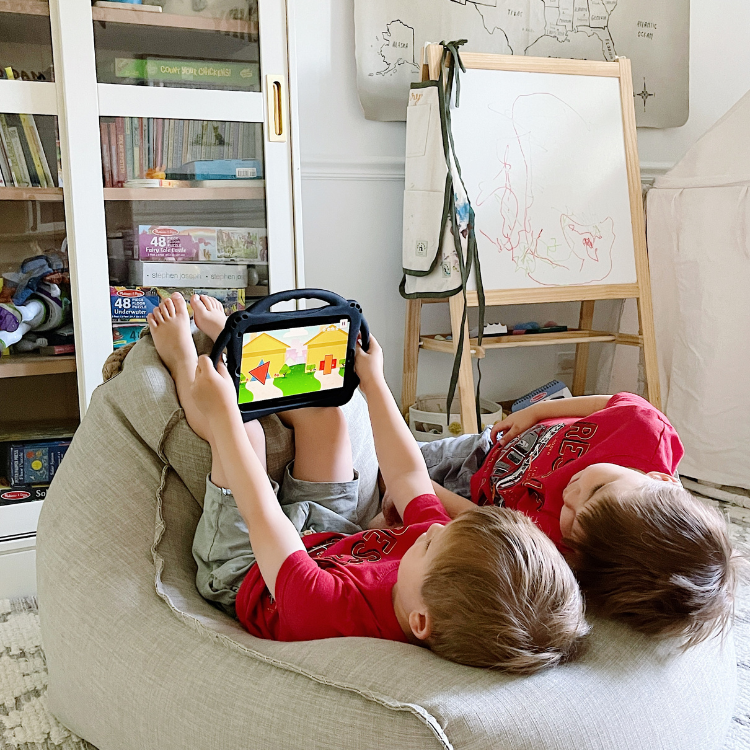 a pediatrician shares what she *really* thinks about LOs and screen time
Your new life after baby will be a bit crazed as you work out your new routine with baby. It may sound crazy but it's easy to forget to eat when you're busy changing diapers and feeding. So stocking your freezer is KEY.
Trader Joe's is known for their amazing selection of well-priced frozen food. It's basically a new mom's food paradise. So we've rounded up our favorite products to buy before baby. Most are easy and quick to prepare (microwave, oven, or stovetop). Happy grocery shopping!
Mandarin Orange Chicken
There's a reason this is Trader Joe's top seller year after year. It's easy to make (pop in the oven and mix with the sauce) and tastes just like your neighborhood Chinese restaurant.
Steel Cut Oatmeal
A short list of foods can help mom up her milk production. Oats happen to be one of them.  This steel cut oatmeal is individually portioned, can be microwaved quickly (do you sense a theme?) and has 5 grams of protein.
Organic Brown Rice
Have you ever made your own rice? It takes forever. Which is not time you have with a new munchkin. And the Trader Joe's frozen version takes three minutes to cook in the microwave and tastes way better than anything you would have slaved over. Add some veggies and leftover chicken and you've got a quick meal.
Riced Cauliflower Stir Fry
Yes – cauliflower is the "it vegetable" of the moment. But this stir-fry somehow tastes more like rice than cauliflower. It's pre-seasoned and filled with veggies. Add a protein and, dinner is done!
Organic Acai Puree Packets
Acai is a fruit, similar to a grape, that is pureed filled with antioxidants, omegas and fiber. Blend with almond milk, spinach, frozen fruit. Serve as a smoothie with a straw or put in a bowl and top with granola and coconut.
Pizza
Sure, you can get frozen pizza at any grocery store, but Trader Joe's really has all the options. Cauliflower or whole wheat crust and awesome toppings too – both the burrata, prosciutto and arugula and ham, caramelized onion and gruyere are great options. Add one of those easy salads in a bag with all the toppings and, voila, easy dinner.
Spinach and Artichoke Dip
The thing about having a new baby is… your friends and family want to come see said baby. Which means they show up at your house when you're running on zero sleep. When they come in, hand them the baby and go take a long shower. Trust us. And keep one of these spinach and artichoke dips on hand for easy apps.
Coconut Shrimp
If you're looking for a quick meal, Trader Joe's coconut shrimp is a great base. Add a few shrimp to tortillas with shredded cabbage and top with sriracha or green dressing. Perfect easy tacos.
Sweet Potato Gnocchi
One of The Everygirl's assistant editors eats this at least once a week so it HAS to be good. It's flavorful, easy to make in a pan, and can be portioned for one-person meals.
Ice Cream Sandwiches
Every new parent needs sweets in the freezer. There's nothing better something sugary after a long day (and before a long night).
What are your Trader Joe's must-haves?