The new year is a great time to tackle a closet clean out and find a new home for some pieces of your wardrobe. Whether it's that tenth black sweater with the tags still on (guilty as charged) or a few of your once-loved favorites that have lost some of their shine, there's a gal out there looking for just what's sitting in your closet!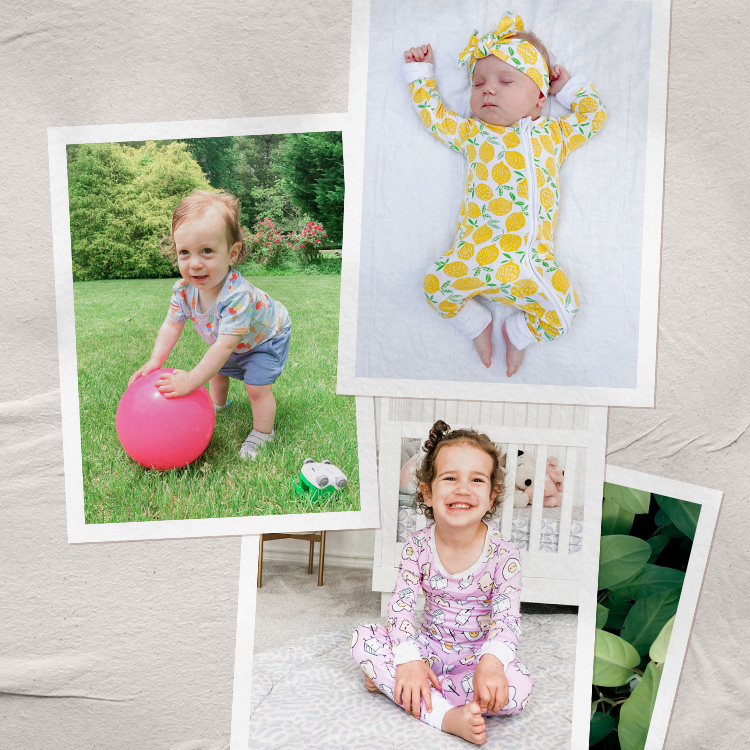 it's more than just their cute PJs... get ready to add to cart! 😍
Where we once had to schlep bags of clothes to local consignment shops, we now have more options than ever to be "closet entrepreneurs" right from our own home! Sites are becoming more specialized and targeted to particular shoppers so there are many options that will fit your personal selling style.
Perfect For: Anyone looking for a quick way to sell with minimal effort and who doesn't mind buyers negotiating prices.
One of the easiest resell apps, you can list an item in less than 60 seconds and connect to a community of interested buyers.  Poshmark is much more social than many other selling platforms, so interested gals will "follow" your closet and keep an eye on what you're posting.  Sellers only have to make a minimal effort shipping; your buyer pays shipping costs and Poshmark emails you the prepaid label!
This feature is particularly valuable for a buyer who has found out they have the same size and style that you do because it will encourage them to keep coming back to see what new things you might list! One of the apps fun features is their "Posh Parties" which are virtual shopping parties featuring a particular designer like Michael Kors, Tory Burch, or Coach or theme like "Winter Boots!"
Perfect For: The social media guru who wants another way to monetize her closet.
Starting an Instagram store is another great way to take control of selling your closet. With no fees or third party to contend with, you can be completely in control of what you list, how long it stays active, and how you handle shipping and returns. Most people buying on Instagram are comfortable using PayPal so be sure you have that account set up as well as an easy way people can get in touch with you. You'll also want to consistently use top hashtags in all of your posts – think #shopmycloset, #instashop, or #instasale to bring people to your listings.
Perfect For: If you have a reasonably high volume of designer pieces and want someone to do the heavy lifting helping you off-load them, this one's for you.
This site has one of the most high-end feels of any of the popular resale sites and organizes into lovely boutiques almost similar to what you'd find on a flash site like Gilt.  This platform is limited to truly designer pieces but also offers in-person pick up services in over 21 major cities if you have at least 10 items that meet their consignment conditions.
Perfect For: The girl with lots of designer duds who doesn't mind an authentication process before selling.
LePrix is a great option for you if you're still interested in working with a local boutique to have your items evaluated, though the site also offers the ability to sell directly online following their authentication process. Almost 1,000 designer brands are represented here at competitive prices. Listing is free and LePrix takes a percentage of the price of your item when it sells. Buyers can also set up alerts for particular items meaning that you might have luck with your pieces moving very quickly if they are brands in high demand!
Perfect For: Your everyday closet clean out and just right for the girl with a "high/low" mix of brands in their closet.
ThredUp gets you in the consignment game at an accessible price point and with little hassle.  While the company typically accepts less than 40 percent of what's sent to them sell, their strict quality efforts help ensure only the most marketable products make it to the site. This option is the most like traditional consignment and best used when you have a high volume of items at various price points and quality levels that you are looking to offload. ThredUp also allows your sale proceeds to get paid out in cash, be used to buy new things on the site, or donate to a favorite cause.
Perfect For: The girl dabbling in opening her own full-scale online boutique.
While setting up an Asos boutique is a little bit more involved than your average online sale, their strong site traffic to the main Asos site will likely help up bump up the eyes on your own closet. This might be for you if you're willing to pay a small monthly fee and if you are always finding yourself with a high volume of clothes you've fallen out of love with. Further, Asos often does "boutique spotlights" to highlight stores and excellent items. The boutique set up also allows you to offer unique coupon codes and discounts that wouldn't be possible on many other platforms.
Perfect For: This is your platform if you've got a unique piece to sell or if you do a lot of resale shopping yourself!
Tradesy has excellent brand range noting that "from Zara to Chanel" your item can sell. Listing on the site is free, and once your item sells you'll be sent a free shipping kit to get it off to its new home. If you choose to keep your earnings on the site and use them for those new sunnies you've been eying, Tradesy charges you less of a fee than if you cash out. The site is particularly great for wedding day wares, offering everything from dresses to Tiffany candle holders.
Perfect For: The traditionalist who likes to maintain control of all the aspects of her closet selling process!
This classic online retailer still gives one of the greatest ranges of products at all price points and scores big for its ease of use. We've given you all the scoop on how to make the most of eBay sales here, and many of those tips apply to all the above platforms!
Perfect For: It's Craigslist, but easier and targets people around you making an easy exchange.
The great thing about Facebook Marketplace is you can easily snap and categorize your items just like you would on Craigslist, but instead of receiving spam for the rest of your life, Facebook holds all your messages neatly categorized by item. Once you've met in a public place and exchanged cash, click a button to mark the item sold and it will stop showing up in search. It may not be the place for high-end items, but it's a better start for your favorite J. Crew and Zara pieces that your local consignment store will only offer pennies for.
Tips for Selling Your Closet:
Here are a few things to remember as you're setting up your online clothing listings:
Accurate descriptions are critical! Write your product listing asking yourself, "If I were reading this, would I be excited to bring this piece into my wardrobe?" You also do your buyer a favor by being as honest and transparent as possible about any wear and tear. When in doubt, your favorite charity is surely in need of a donation if an item isn't in good enough condition to resell.
Get creative in your write-ups. The best salesladies use a little character and panache in their descriptions! A buyer described the color of one of my bags for sale as "Lady Danger" not "Ruby Woo," which was so clever I wished I had thought of it! These tiny shifts in your product narrative show your personal style and will keep buyers coming back.
Price your pieces to sell. This part can be tricky, but try not to stay emotionally attached to products you've decided to part with. Pricing them fairly for the market will ensure you're actually moving product out of your closet. It also ensures you're being efficient with your time and not spending too much time negotiating down a price that perhaps should have been lower in the first place.
Great photos are key. Use natural light whenever possible and think about actually styling the piece as you would in life. This not only helps your buyer have a clearer picture of how the piece fits into their wardrobe but can even help you sell other complimentary pieces from your closet. For example, putting an entire flat lay look together that features a few different pieces with accessories could encourage a gal to "bundle" an outfit from your closet and make multiple purchases!
Be responsive and maintain great customer service. Taking great care of your buyers is essential especially when you have built up repeat customers! In those instances, you might consider dropping an extra "free" accessory in their purchase once in a while or going the extra mile and including a quick thank you note for their purchase. Small gestures like this can help you build a brand over time if you're interested in expanding your closet side hustle!
Do you sell your clothes online? Which platform is your favorite?
This article was originally published on The Everygirl August 24, 2016.