Novels are treasure troves of evocative names to consider for your new baby. If you're looking for something vintage, classic literature can be a great source of inspiration. While older English-language classics tend to feature Western names, you can look to slightly newer books—that have quickly become classics—for names with origins in other parts of the globe.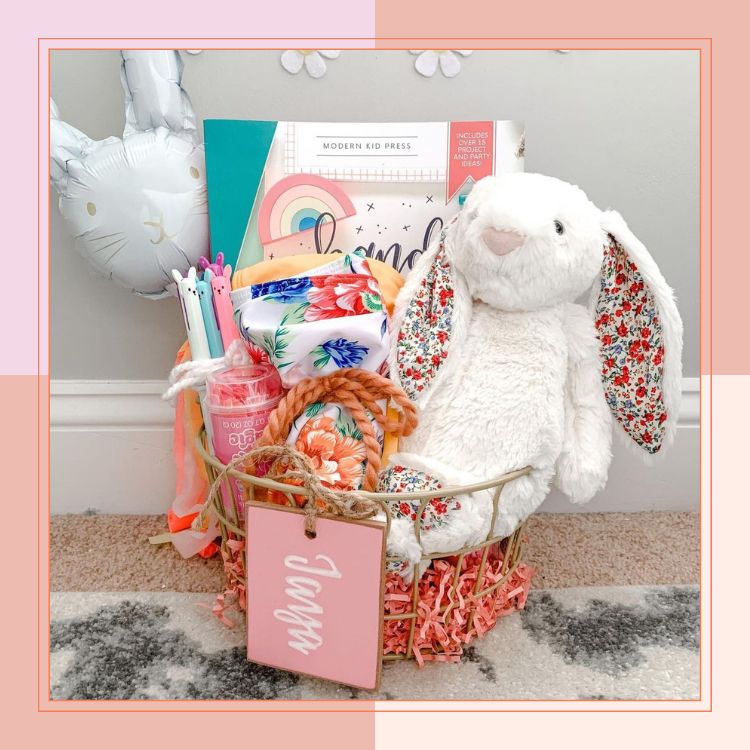 everything you need to get ready for the Easter Bunny's visit on April 9th! 🐰
It'd be impossible to list every memorable name from classic literature (War and Peace alone features hundreds of named characters), but below are a few of our favorite baby names inspired by influential authors and fictional characters.
Book-inspired Names for Baby Girls
Ashima
Origin: Indian, Hebrew
Ashima, which means "limitless," is the name of the kind, complex mother in Jhumpa Lahiri's novel, The Namesake. It is also the name of an ancient Semitic goddess.
Daisy
Origin: English
While the leading lady in The Great Gatsby may not be the most admirable character, Daisy is still a sweet name that harkens back to the early 20th century.
Edith
Origin: English
Edith Wharton, the groundbreaking author of The House of Mirth, The Age of Innocence, and other novels, was groundbreaking as a prominent female author writing candidly about the American upper class in the late 19th and early 20th centuries.
Elizabeth
Origin: Hebrew
Jane Austen fans will be quick to recognize the name Elizabeth from Pride and Prejudice. As a bonus, few names lend themselves to a wider variety of nicknames if you end up feeling like your child is more of a Liz, Liza, Elle, Betty, or Beth.
Emma
Origin: English
The eponymous protagonist of Emma is another charming Jane Austen favorite. It was recently brought back into the limelight with the 2020 film adaptation starring Anya Taylor-Joy.
Esperanza
Origin: Spanish
The name of the heroine in The House on Mango Street by Sandra Cisneros, Esperanza, means "hope" in Spanish.
Fermina
Origin: Spanish
This lovely name is inspired by the beautiful Fermina in Love in the Time of Cholera by Colombian novelist Gabriel García Márquez.
Juliet
Origin: English
It wouldn't be a literary list without at least one inclusion from Shakespeare. Juliet is a timeless choice that also lends itself to more modern nicknames like Julie or Jules.
Jing-Mei
Origin: Chinese
Fans of Amy Tan's The Joy Luck Club may recognize this name as one of the daughters in the novel. While it's received some criticism since its publication, it remains one of the most influential books of the 20th century by an Asian-American author.
Katerina
Origin: Russian
In Anna Karenina, Katerina (nicknamed "Kitty") was one of the leading female characters. She had a much happier fate than the protagonist, Anna. 
Louisa
Origin: German
When you think of a strong namesake for a girl, it's hard to argue with Louisa May Alcott, who bucked stereotypes by writing Little Women at a time when women writers were generally not taken seriously. 
Maya
Origin: Hebrew, Spanish, Greek
With roots in many different cultures, Maya is a nod to one of the most influential African-American women writers in history, Maya Angelou, author of I Know Why the Caged Bird Sings and many other works.
Zora
Origin: Arabic, Slavic, African
This name, which means "dawn" or "sunrise," pays tribute to Zora Neale Hurston, author of many novels, including Their Eyes Were Watching God—a classic of the Harlem Renaissance.
Book-inspired Names for Baby Boys
Aldous
Origin: English
This elegant name is often associated with the British writer Aldous Huxley, author of Brave New World and nearly 50 other books. 
James
Origin: Hebrew
James pays tribute to many great authors, including James Baldwin, James Joyce, and Henry James. 
Florentino
Origin: Spanish
Inspired by the hopeless romantic in Gabriel García Márquez's Love in the Time of Cholera, Florentino is a name that rolls off the tongue.
Haruki
Origin: Japanese
Haruki, known by many as the name of the prolific Japanese author Haruki Murakami, is associated with spring. Therefore, it's a sweet choice for a spring due date.
Langston
Origin: English
Langston is a nod to the seminal writer of the Harlem Renaissance, Langston Hughes.
Nicholas
Origin: Greek
As the name of the narrator and protagonist of The Great Gatsby, Nicholas (or "Nick") is a solid choice for those with a special place in their hearts for this great American novel.
Oscar
Origin: Irish
The outspoken writer Oscar Wilde—famous for The Picture of Dorian Gray and many quotable lines like "I can resist everything except temptation"—makes a fun namesake.
Oliver
Origin: Norse, English
Inspired by Charles Dickens's Oliver Twist, the name Oliver has a variety of meanings, including "the olive tree." 
Gender Neutral Book-inspired Baby Names
Amory
Origin: English, German
Amory, the protagonist in F. Scott Fitzgerald's novel This Side of Paradise, is a stately choice for those looking for a name that's not particularly common.
Darcy
The surname of Pride and Prejudice's Mr. Darcy could just as well make a nice gender-neutral first name—and is arguably simpler than the character's first name, Fitzwilliam. 
Gabriel
Origin: Latin, Hebrew
With roots in antiquity and Judeo-Christian tradition, Gabriel is also a nod to Gabriel García Márquez, author of One Hundred Years of Solitude, Love in the Time of Cholera, and other novels. 
Harper
Origin: English
One of the most popular names of the last few years, the name Harper is often associated with Harper Lee, author of To Kill a Mockingbird and Go Set a Watchman.
Franny
Origin: English 
While there are many males with the name, J.D. Salinger gave the name to his famous female character, Franny Glass. It can stand on its own or be a nickname for Francis.
Jo
Origin: American
The heroine of Little Women may have been named Josephine, but Jo is what we really know her by and has the added benefit of being gender-neutral. 
Laurie
Origin: Latin
Also from Little Women, Laurie is everyone's favorite boy-next-door. Though a nickname for the character, Theodore Laurence, Laurie is a solid name in itself, associated with laurel wreaths, a symbol of victory.
Toni
Origin: Pan-European
Often used as a nickname for names like Antoinette or Anthony, Toni also pays homage to Toni Morrison, author of Beloved, The Bluest Eye, and other classics. 
Zooey
Origin: Greek
Zooey, which means "life," is the name of Franny Glass's brother in J.D. Salinger's Franny and Zooey.