And just like that, fall is in the air. The mornings are crisp, that wave of endless humidity is nearly gone, and the leaves are starting to yellow. Fall brings about some amazing family moments. There is a ton of excitement, holidays, and plenty of adventures to be had. In all the hustle of getting through our busy calendars, though, we can often miss the precise purpose of fall altogether – to start slowing down.
Fall means cuddling under cozy blankets, pulling on boots before heading outdoors, and taking some time to enjoy our families and the things around us. Yes, we love hitting the apple orchards with friends and taking gram-worthy pictures at the pumpkin patch, but this year, we're focusing our Fall Bucket List on intention and appreciation. With so much goodness all around us, you don't have to go far or do grand things to truly enjoy your little ones and expose them to all the wonders of our world.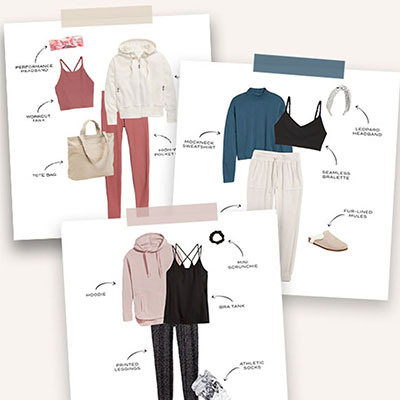 Shop 6 of Our Favorite Loungewear Outfits From Old Navy
Need to spruce up your at-home wardrobe? We've put together six cute, comfy, and budget-friendly loungewear looks from Old Navy.
This way to shop! —>
Fall is one of the most beautiful times of the year. If you're looking for ways to slow down and take it all in with your family, check out The Everymom's 2018 Fall Family Bucket List.
1. Make leaf art
This is a good one to do earlier in the season when the leaves are changing colors but still soft. Kids love making leaf garlands, wreaths, and even collages of natural materials they find outdoors. Once they get crunchy, you're just asking for a mess of leaf crumbles that trail around you wherever you go (and wherever your kid's art hangs).
2. Paint with apples
Apples can be fascinating when you open them up and take a look inside. Kids will love creating their own stamps and discussing the shapes of the seeds, fruit, and stem. Pro tip: lay some newspaper in your driveway or walkway and do this activity outside for the full fall feel (plus, no paint tracks indoors!).
3. Roast pumpkin seeds
While you're carving those pumpkins you got at the local patch, don't toss the seeds. Pumpkin seeds are a super nutritious food and the fun factor of eating and making them is one kids can't deny. Try different roasting them in different flavor combinations, like ranch, chili, or cinnamon-sugar.
4. Take a nature walk
One of the most amazing parts of fall is witnessing nature do its thing. Taking a walk with the intention of recognizing these changes is a great way to start a conversation with your kids about the natural cycles of life.
5. Cook all the fall classics
Hearty stew, apple pie, pumpkin bread, every kind of squash — fall food is delicious and indulgent. Grocery shopping and cooking with your kids is a great, cozy activity for those chilly afternoons.
READ: 16 Recipes to Make After Apple Picking
6. Donate to your local food bank
While you're at the store, don't forget to pick up some extras for your local food bank. As the temperatures start to dip, food banks become busier than ever and will truly appreciate your support. This is also a good way to start talking to your kids about gratitude and giving back.
7. Create a thankful tree
A thankful tree is a cute and kid-friendly way to express appreciation. You can have them add leaves daily and offer guests to join in the fun, too.
8. String popcorn garlands
A quiet activity that works on fine-motor skills and doubles as fall decor? Count me in. Popcorn garlands are a timeless tradition for some people, but even if that's not you, there's no reason you can't start now. Use toothpicks or blunt, child-friendly needles for younger kids, and get ready to deck your walls.
9. Paint pumpkins
We love carving pumpkins, but you know what's not fun? When they rot in a week. Hold off your carving for a bit to preserve your porch steps — painted pumpkins last much longer, so you can enjoy doing it most of the season.
10. Host a chili cook-off
It's hard to find a person who doesn't love chili. Take it a step further and host a chili cook-off with your friends. Each family can get the kids involved and make their family's favorite variety. Invite everyone over to enjoy all of the options while watching a football game or a movie.
READ: Everygirl Can Cook: Crockpot Chili
11. Get lost in a corn maze
For you adults who get majorly claustrophobic in maze-type things, your worries will melt away when you see how much fun your child is having. Let them have this one (but make it a non-spooky one in daytime).
12. Stargaze
When the air loses its humidity and the temperatures drop, the skies get even crisper. If you're in an area where you can see stars, take your kids out to stargaze one night. With the days getting dark much earlier, you won't even have to push their bedtimes much to do so.
13. Go leaf-pile jumping
Is there anything that screams childhood more than jumping into a pile of freshly raked leaves? We think not. And, watching your kids' faces light up while they do it over and over again is definitely worth the mess. Heck, you can even enjoy the show from the sidelines, pumpkin beer in hand.
14. Paint a fall-inspired painting
Get a piece of canvas and let your child have at it with some coordinating fall paint colors. Just tell them to paint what they see and feel and you'll begin to see what they see.
What are you excited to do this fall with your family? Share your ideas in the comments!