A few months ago as a new mom, one of my favorite activities was walking to the local grocery store.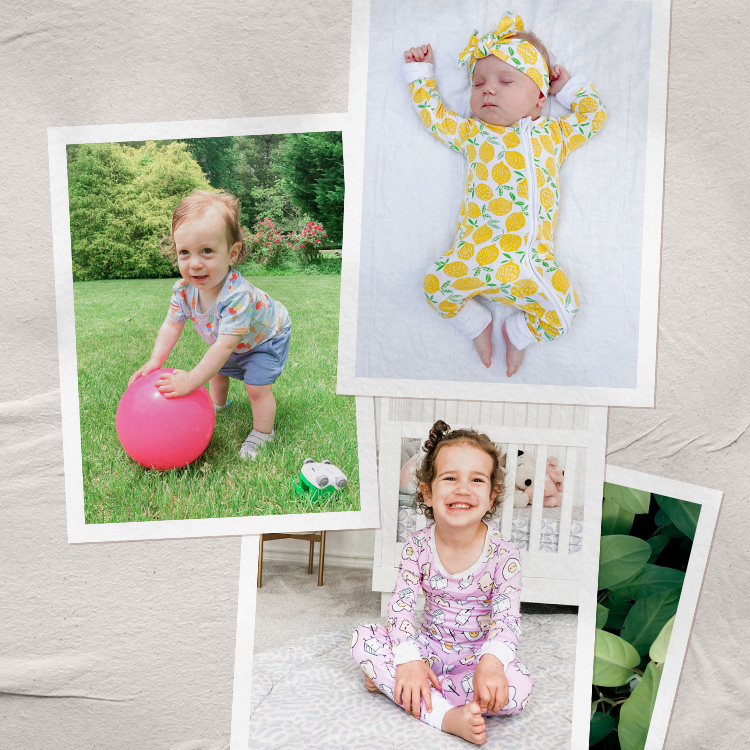 it's more than just their cute PJs... get ready to add to cart! 😍
The 10-minute walk was the stress-reducing activity that got me out of the house. I would aimlessly wander the aisles, slowly picking up a couple of items at each visit. We're out of bananas? Sure, I'll walk to the store and grab a few. The next day we're out of eggs? No problem, another excuse to get outside with a welcoming destination for our stroller walk.
Fast forward to today and that experience seems like a dream. Oh to mosey through a grocery store! Now, instead of those leisurely trips, I'm avoiding the grocery store as much as possible. My husband has taken a couple of trips to stock up on essentials, but beyond that, we're doing what we can to get most items delivered.
It's important to me that we have ample produce to create healthy meals, and that's why we've turned to a variety of delivery services. We're so thankful to those that are fulfilling these deliveries, allowing people to stay home.
If you're new to grocery delivery, there are a few things to keep in mind to have the best experience possible.
Be flexible. If you like to inspect each piece of fruit before adding it to your cart, know that you can't do that right now. If you add five avocados into your virtual cart, understand that they might all be hard as rocks, or they might arrive super ripe. Have your meal plan in mind, but don't be rigid. If you receive five ripe avocados, whip up some guacamole and celebrate, even if it's not exactly what you wanted.
Join the waitlist. Unfortunately, a lot of grocery delivery services currently have waitlists. Go ahead and join it. Some only take a few days, while others might take weeks, and unless they disclose how long the wait might be, it's impossible to know. You might as well join and when you're welcomed into the service, order away!
Expect delays and order anyways. That's just the reality of our current situation. If you really want your groceries tomorrow but the next delivery time is in seven days, order it now and wait. Eventually, you will get your items and you'll be happy you placed that order a week ago.
Search for deals and referral codes. Most delivery services offer an incentive for a first time subscriber. Take a few minutes to ask your friends or search online for new member deals. For example, if you have a friend that can refer you to Winc, you'll get money off your first order, and they will get free wine. That's a win-win! Or a winc-winc 😉
Order first thing in the morning. With an increase in orders, some services are temporarily closing orders when they reach a certain threshold, while others start with a good selection that dwindles throughout the day. Do your shopping right when you wake up and hopefully you'll get the best options of items and delivery times.
Today, we're sharing some of the delivery services keeping us fed. Not all of these services are national; check to see if they are available in your area or if there is a similar option. And remember, some may have waitlists while others have delayed shipping times. Fill your cart now, and if it takes a few extra weeks, at least know those items are on the way.
Feel good about the items you're ordering. Imperfect Foods delivers imperfect or surplus produce, pantry items, and dairy. The site offers both organic and conventional options at competitive prices. You can fully customize your box, selecting the items and quantity that you want. Delivery dates are based on your zip code. Sign up to have boxes delivered every week or less frequently if preferred.
Join Thrive Market and load up on organic pantry staples, fish, meat, home products, supplements, and even beauty products. The site makes it easy to search by diet; you can select nut-free, Paleo, gluten-free, vegan, vegetarian, and more to narrow down your search. Membership is $59 a year and each order over $49 qualifies for free shipping. Try it free for 30 days.
Fill out a profile and Hungry Root will meet the needs of you and your family with customized boxes. Input dietary restrictions, likes, how many meals you want, and more. Each box contains groceries as well as recipes to instruct you on how to use those groceries, leading to delicious meals and less waste. You can get a box each week or skip weeks.
Get quality meat delivered right to your door. With Butcher Box, you can customize your box, choosing from a mix of beef, chicken, and pork, plus sometimes they will offer fish as an add-on. You don't select the actual cuts of meat, so it's a bit of a surprise when your box arrives. If you're adventurous in the kitchen, this provides a fun challenge to get you out of your comfort zone.
And for those feeling less adventurous regarding their kitchen skills, check out Freshly. This service delivers healthy, chef-cooked meals. Select your meals from a long list of options, and they will be delivered to your house; all you need to do is heat them up and grab a fork.
Need a glass of wine at the end of a hard day? Us too. Sign up for Winc, a wine delivery service. Fill out a flavor profile and Winc will recommend bottles based on your palate. You can take the recommendations or swap for other options. After you get through a bottle, head back to the site and rate your wines to help inform future recommendations. You can skip a month at any time.
I love a solid Costco haul, but I'm not brave enough to head there in these current times. Instead, I'm ordering from the Costco site. The options are somewhat limited, but some of my favorite items are available for home delivery (hello dried mango and seltzer!). Items seem to come in and out of stock, so check back frequently. You must be a Costco member to order. Shipping is free on orders over $75. And if you're lucky, sometimes they even have toilet paper in stock.
Want to hire Martha Stewart to come over and be your personal chef? Same. Sadly, that's not an option, but we're excited to try out her delivery service. We have not yet tried this service but now seems like the right time to give it a whirl. Martha & Marley Spoon delivers ingredients and recipes so you can work on your cooking skills in the most delicious way possible. Each week, choose from 22 recipes and the meal kit that fits your family's needs. Skip any week.
For more delivery options in your area, check out Instacart, Whole Foods (via Amazon), Vivino, or search for local CSAs.