If I told you we have a big bucket of Halloween candy left over from last year that I've considered handing over to my 3-year-old this Halloween and calling it a day, would you judge me? If so, hopefully just for the fact that somehow, against all odds, we still have candy in the house from a year ago (it's mostly the stuff I don't like).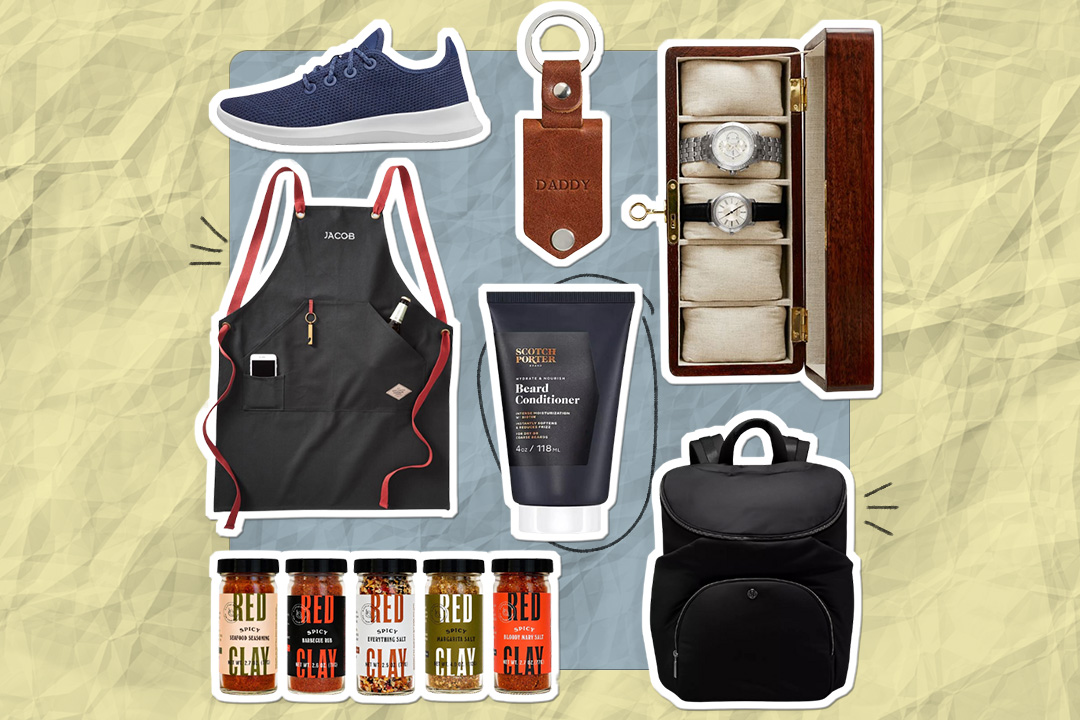 june 18 is coming up fast — have you started shopping yet? 😎
Certainly, parents are facing bigger decisions this fall than whether to take their kid(s) trick-or-treating for Halloween. But this is a real question and decision parents must make nonetheless. My kids are young enough that they don't fully grasp the concept of Halloween. More specifically, my 3-year-old knows it's a time when he gets candy, and my 1-year-old is blissfully unaware of anything other than people dressed in costumes.
As with everything in 2020, people are going to make different decisions when it comes to trick-or-treating. Everyone has to weigh the information they have and choose what's best for their family. For some, that may mean a safe and socially-distanced, mask-wearing version of trick-or-treating. For others, it may look more like turning off the lights and pretending they're not home while finding other ways to celebrate.
If trick-or-treating isn't in the cards for your family this year, below are 10 other ways to celebrate Halloween with your little ones—candy included in all, of course.
1. Hunt for Halloween Candy
It's like an Easter egg hunt but for Halloween candy. No judgment if you use those plastic Easter eggs sitting in storage to hide the candy, but if you really want to get in the Halloween spirit, here are a few options to shop.
2. Create a Haunted House
It doesn't have to be super spooky or crazy complicated to set up. The great thing about kids is that with a little inspiration, their imaginations run wild. A "spooky" basement storage room or a dark hallway in your home are perfect spots. Keep it simple or go as wild as you want. Below are a few items to get you started.
3. Paint Pumpkins
If you like pumpkin carving, then you're going to love pumpkin painting. While carving pumpkins is better suited for older kids, little ones of all ages can join in on the pumpkin painting fun. Get started with some of these items.
4. Watch Spooky Movies
Who doesn't love a good movie marathon? This year is the perfect time to hop in some Halloween PJs and snuggle up with your little one(s) for some spooky movie fun—age-appropriate, of course. A few of our editors' favorite Halloween movies to watch with little ones include Ghostbusters (the new one and the original), Coco, Hocus Pocus, The Nightmare Before Christmas, The Adams Family (the new one and the original), Hotel Transylvania, and It's The Great Pumpkin, Charlie Brown.
5. Organize a Costume Parade
School costume parades may not be happening this year, but a neighborhood parade is a great way to let little ones show off their costumes and keep a safe distance from others. It doesn't need to be overly orchestrated—print out flyers and put them on neighbors' doors, post to your neighborhood Facebook group, or just send out a text with a day and time for whoever can join.
6. Make Halloween Treats
You don't have to be an expert baker to get creative with making some of our favorite kid-friendly Halloween treats with your kiddo(s). In fact, the easier the better for little hands helping out when it comes to cooking. Find 10 of our favorite Halloween treats to make with kids here.
7. "Boo" Your Neighbors
This is similar to doing a May Day basket for your neighbors but Halloween-themed instead and is more about bringing a smile to someone else's face with a small surprise. Whether it's candy, a baked treat, or another little something, it really doesn't matter. Your neighbors will appreciate it and, hopefully, get in on the fun. Check out free "Boo Your Neighbors" printables from Tidy Mom here.
8. Go on a Spooky Scavenger Hunt
A perfect option for getting outdoors and into the Halloween spirit, but you'll probably want to do this one on a night other than Halloween itself if you're trying to avoid groups of people who will be out trick-or-treating. Make your own or get started with these fun printables from Etsy below.
9. Trick-or-Treat at Home
Bring trick-or-treating home by setting out different types of candy in various rooms and sending your little one(s) on a trip through the house to find all of the candy. Bonus points if you use one of these fun Halloween treasure hunt printables from Etsy.
10. Have a Halloween Craft Night
The best part about Halloween crafts is that there is something for kids of all ages. My 1-year-old may not be able to do much artistically, but she can stick a cotton ball with some glue onto a ghost cutout. Check out some of our 18 favorite (and easy) Halloween crafts for kids here.