If there's something that's likely a major point of anxiety in parents of young kids, it's traveling. Travel situations, just like kids, are so unpredictable – you can never tell ahead of time how much traffic you'll get stuck in or how delayed your flight will be.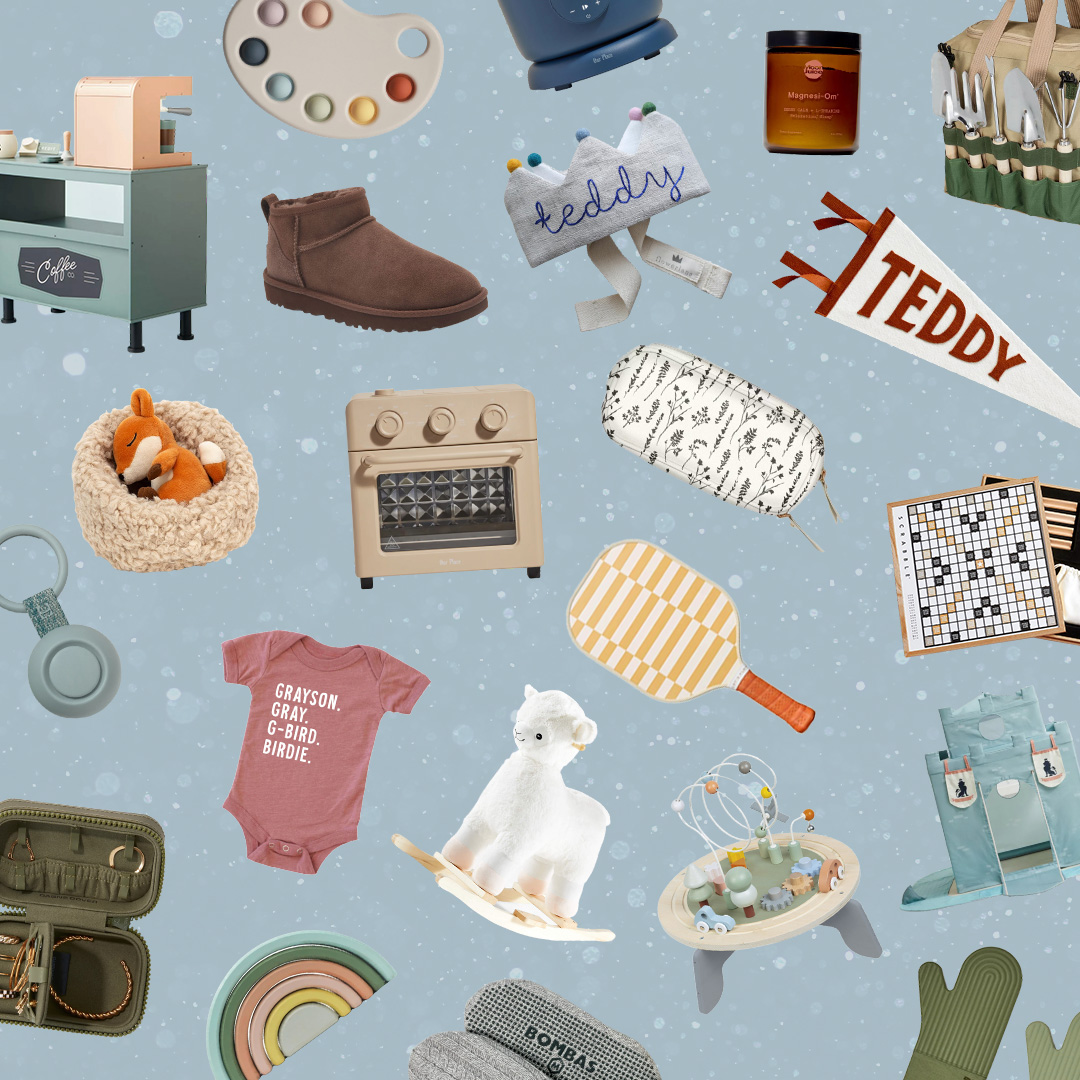 everything you need to ace holiday gifting this year 🎁
Trying to prepare for every situation is fruitless, but there are definitely things you can do to ensure that the process goes as smooth as possible. Many parents plan trips around their kids' naptimes or bedtimes, bring loveys or familiar items to help their kids feel comfortable and secure, and of course, do everything in their power to prevent tantrums.
But, entertaining kids can be hit or miss when you're 30,000 feet in the air or strapped into a car. Obviously, your kids will choose that one particular moment to hate their beloved drawing pad and markers that you so lovingly remembered to pack.
If you're planning on traveling with your little ones sometime soon, take note of these tips. We rounded up simple and portable ways to entertain your kids while traveling. You may not be able to prevent every meltdown, but you'll sure get your feet back on the ground with your family still in one piece. And, really, that's everything.
1. Pick Snacks That Take A Long Time To Eat
Snacks are an obvious traveling necessity, even without kids. But when little ones are involved, it helps to choose snacks that are entertaining as well. Raisin boxes, cereal, string cheese, snack crackers, and trail mix all have a certain amount of time commitment involved. And, unlike at home when you're constantly rushing your kids to eat, slow eating is very welcomed when in-transit.

2. Screen Time Rules Don't Exist
When you're traveling and confined to a plane or a car, it's whatever works. And, sometimes, that means the kids watch a movie for the whole ride. We're not judging. In fact, we say, get a set of headphones for each of the kids so you don't have to listen to Moana for the thousandth time and enjoy the peace and quiet. Whatever works, mama.
3. Interactive Books
Books are a great way to pass time, but young kids are not often satisfied with one or two books on a long ride, and books are not light. Interactive books, like I Spy, Where's Waldo, or other search and find books are great for keeping toddlers and preschoolers occupied. Lift the flap board books are good to entertain younger toddlers and older babies in a similar way.

4. Stickers Are Always A Win
No one really knows why, but kids love stickers. Fortunately, stickers are fairly inexpensive and very versatile. Older kids can add stickers to their drawings to create stories or make their own connect-the-dots images. Toddlers can use stickers to play matching games or create fun scenes on reusable sticker pads. And even younger toddlers and older babies will have a blast (and stay busy) taking stickers off the sheet one by one and sticking them on a piece of paper (or themselves!). Bonus: working with stickers is actually great for developing young kids' fine motor skills.

5. Magnets Are, Too
Magnets are just as enticing to kids as stickers, so they make great travel entertainment as well. A simple, small magnet board with letter blocks is great for babies and young toddlers. Older toddlers can use silly magnet books to make funny faces and older kids can take advantage of the many magnetic travel board games (my kids love tic-tac-toe and tangrams).

6. Don't Forget Water And Wipes
Drinking enough water is not really on the forefront of your mind when traveling with kids, but it should be. Dehydration is enough to make anyone cranky, so it's good to have bottles on hand for every member of the family. And, because kids often spend at least 20 minutes playing with the tray table in front of them, make sure you bring some wipes to clean off the area around you. It's almost inevitable that at some point those hands that touch everything will end up in their mouths, and, gross.
7. A Deck Of Cards Can Entertain The Whole Family
Little kids love Go Fish, and if you're like me, you'd gladly play that 100 times in a row in order to avoid whining. Even toddlers can partake in fun with cards — my husband recently entertained our 2-year-old at the airport during a delay by first playing "Guess the card?" and then sorting the deck by number.
8. Don't Underestimate Coloring Books
Coloring books and drawing pads are always a major source of entertainment for most kids — kids can draw or color on their own, complete the activities in coloring books, or play games like tic-tac-toe and hangman (our 5-year-old's latest obsession). The best part is that you can find pen and paper nearly everywhere, even in hotel rooms and airplanes.

9. Raid The Dollar Bins
Before we travel anywhere, I always check out the dollar bins at Target. There's always something great in terms of travel entertainment, like mini chalkboards, flashcards, books, and puzzles. And, at one to three dollars a piece, it doesn't really matter if the kids forget something on the plane or hotel, or, you know, rip it to shreds from boredom.
10. It'll Be Over Soon
Worry not, mama. Even if your baby cries the whole flight, your toddler doesn't nap, and your 4-year-old asks "Are we there yet?" 500 times, the travel will soon be over. It may seem stressful at the moment, but know you are not the only one going through the frustration of traveling with young kids. We've all been there.
We want to hear from you. How do you survive air travel with your kids?