Mornings can be tough. Throw little ones into the mix and mornings can be a downright joke. As a mom to a now three-year-old (and another on the way) my hubby and I have dealt with our fair share of meltdowns, outfit changes and blowouts before 8 am. From wrangling diaper changes to brushing teeth, to sorting breakfast, getting out the door feeling your best self can sometimes feel like an afterthought.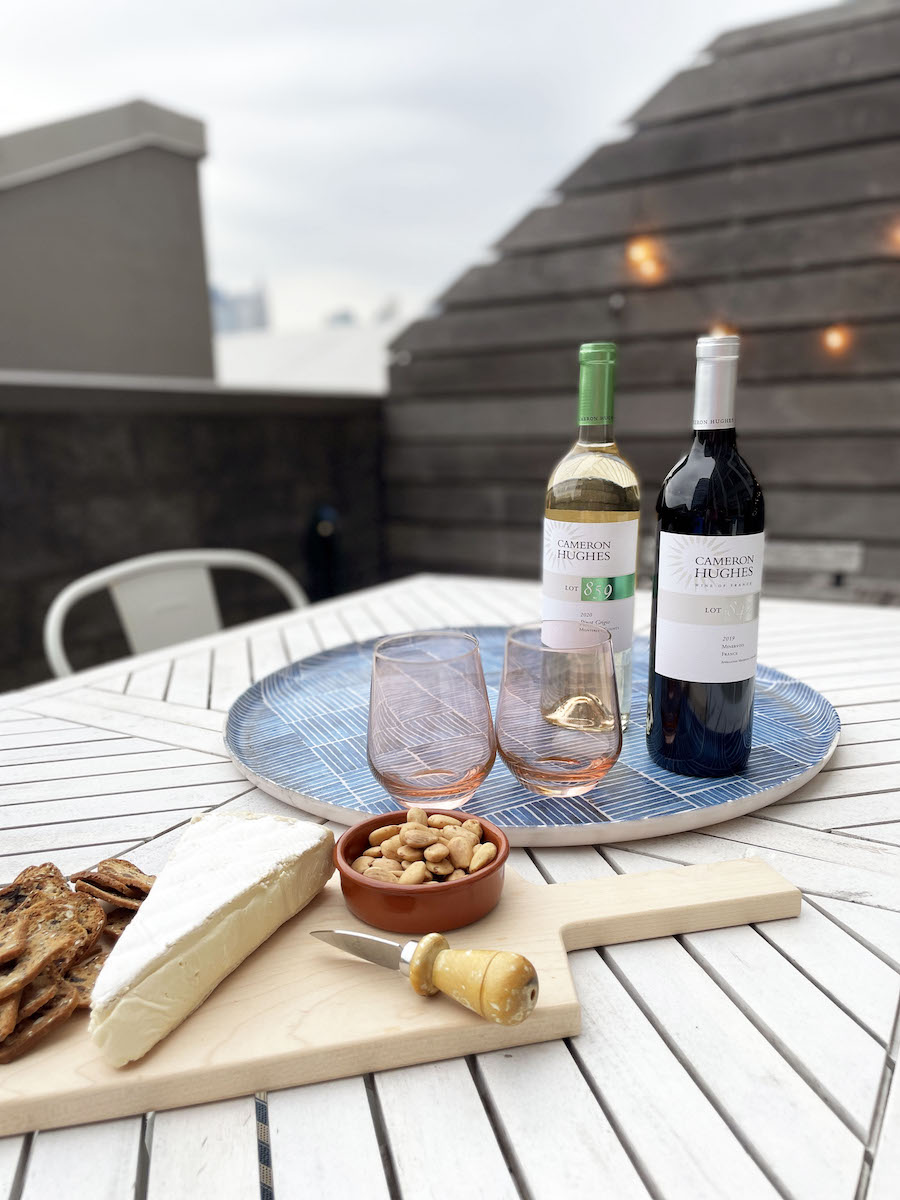 plus, the wines to go with them! 🍷
That said, I'm a firm believer in 'when you look good, you feel good' – and some days you just gotta fake it til' you make it. So for those mornings that are a bit more chaotic than others, I'm sharing five ways I look pulled together in five minutes or less. Seriously.
Add a Blazer to Polish Any Look

Pro tip: Adding a blazer, jacket, or top coat to any outfit will make you look more pulled together. Period. I pretty much never leave the house without one. Be sure you've got a few great staples in your closet to choose from, including a great jean jacket, neutral blazer, trench coat, bomber, and moto. Even over a basic tee, with jeans and flats, adding that additional layer can make all the difference.
Pointed Flats Dress Up Any Outfit

This one is all about the shoes. Pay attention to what you put on your feet. It can add just the right amount of "look how pulled together I am". Pointed loafers are a super chic way to liven up a look, while embellishments and pattern make a strong enough statement to spice up the most boring of outfits.
Pair Prints with Wardrobe Staples

Speaking of pattern, one of my absolute favorite pieces ever, that continues to get me compliments after a good three years, is a fresh floral-print boyfriend blazer that I throw on with a pair of blue or black jeans and flats. While I love a good neutral, prints are an easy way to show confidence and polish when done right. The goal is to have a few outfit-makers in your wardrobe that are easy to wear and easy to mix and match.
Polish off Your Look With an Accessory

Why do we always forget a good accessory? Add a fun necktie (serious style points) a good statement necklace or perhaps fun earrings.  Nothing hides that fact that you're running on caffeine and good eye cream like some fun baubles.
Master A Signature Hair Style

I'm pretty low maintenance when it comes to makeup so I can usually squeeze in my routine of foundation, brows, blush, and mascara in no time.  That said, I always recommend mastering one good hair look for when you want to pull it together a bit more. For me, it's a simple, pretty, face-framing braid that I can do with wet hair (bonus – it gives me the prettiest next day curls – hello time-saver!).  Teach yourself one quick and easy "hair look" that's better than a messy bun for the days you are short on time.
Tell us all your secrets! Do you have another get-ready-quick tip to share? Leave us a comment!