Capsule wardrobes are generally defined as a closet of staple pieces that never go out of style and that you can pair with the season's latest trends. For kids clothes, we've rounded up some basics to build your child's back-to-school wardrobe. We know it's tough to know what to spend money on and what to skip, especially when kids' clothes often don't make it through a season unscathed or unstained. Generally, our editors agree shoes and coats tend to be investment pieces, and thankfully, many of our favorite brands offer affordable options for the other basics.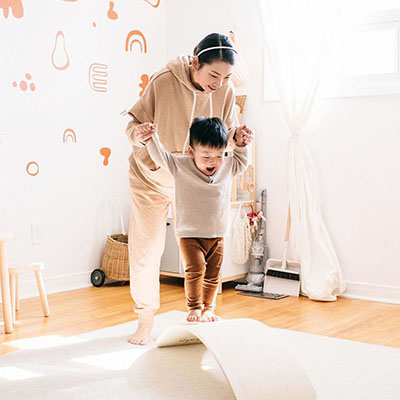 If your kid is turning 2, get ready for hilarious conversations, much more involved play, and lots of sweet, sloppy kid hugs and kisses. As for what you'll need? Leave that to us.
We pulled together this back-to-school capsule roundup through the lens of timeless pieces your kids can mix-and-match together, knowing they can build upon these essentials by adding their own style. Whatever their personal preferences – character gear, graphic T-shirts, tacky accessories — this list offers a base as they move into the school year.
Additionally, these classic staples can nearly all be shared as hand-me-downs to younger siblings. That is, if they make it through the recess tumbles, art class masterpieces, and lunch spills.
Plain Tees, H&M
Classic Polo, Old Navy
Long Sleeve Thermal, Amazon
Flannel, Old Navy
"Nice" Shirt, Target
Sweater, Zara
Jeans, Old Navy
Comfy Hoodie, H&M
Joggers, Gap
Lightweight Jacket, H&M
Non-Denim Pants, Gap
Backpack, Herschel
Puffer Jacket, Zara
Beanie Hat, H&M
Sneakers, Adidas
"Nice" Shoe, H&M
Casual Boot, Target
Plain Tee, Gap
Flannel, Abercrombie Kids
Long Sleeve Tee, J.Crew Factory
"Nice" Shirt, J.Crew
Comfy Sweater, J.Crew
Sweater, Zara
Non-Denim Pants, Target
Jeans, Gap
Leggings, H&M
Heavier Jacket, H&M
Half Sleeve Dress, Old Navy
Long Sleeve Dress, H&M
Lightweight Jacket, Old Navy
Backpack, Abercrombie Kids
Beanie Hat, Herschel
Headbands, H&M
Casual Boot, Target
"Nice" Shoes, Old Navy
Sneakers, Adidas