Once summer finally rolls around, we're all be so ready for outdoor playdates, visits to the zoo, picnics, and fun-filled pool parties. But sometimes, (especially on rainy days when the weather just does not cooperate with our #summervibe), a family movie is the perfect indoor activity and a great break from the sweltering heat from June to September.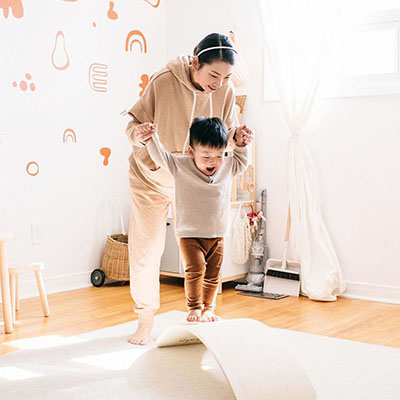 If your kid is turning 2, get ready for hilarious conversations, much more involved play, and lots of sweet, sloppy kid hugs and kisses. As for what you'll need? Leave that to us.
After spending so much time the last year at home watching movies on streaming services, simply catching a feel-good flick at your local theater with the kids might now seem like the best thing ever as places reopen.
Just continue to monitor your state and local guidelines and refer to our list below to check out the most anticipated summer kids movies hitting the big screen over the next few months—you won't want to miss 'em! 
Now Playing: Spirit Untamed
Rated: PG
A spinoff of the original Spirit franchise that began in the early 2000s, Spirit Untamed tells the story of a young girl named Fortuna "Lucky" Prescott who moves to a small rural community where she meets a mustang who she names "Spirit" and grows to form an inseparable bond with. The movie features a star-filled cast with people like Jake Gyllenhaal, Isabela Merced (known for her Nickelodeon show 100 Things To Do Before High School), and Julianne Moore. 
Spirit Untamed is the perfect movie to see with the family and is filled with positive messages about courage, friendship, and family. 
Now Playing: Peter Rabbit 2: The Runaway 
Rated: PG
A sequel to the beloved Peter Rabbit books by Beatrix Potter, Peter Rabbit 2 continues to explore the story of Peter (voiced by James Corden) and his mischievous adventures. Peter finally leaves the garden where he grew up, but once his family starts looking for him again, Peter has to reevaluate his behavior and think about the type of rabbit he truly wants to be. 
Although the characters participate in some bad behaviors, they eventually learn their errors and realize the difference between right and wrong. This film has some positive learning lessons and thus is perfect for kids of all ages. 
Now Playing: Luca 
Rated: PG
Disney's new animated film Luca debuted on Disney+ and in limited theaters on June 18. Set in the beautiful Italian Riviera, Luca is a coming-of-age film about a boy named Luca (voiced by Jacob Tremblay) who is experiencing a fun, adventurous summer with his best friend. But the friends are actually sea monsters secretly spending the summer on land looking like humans.
This movie is great for children of all ages, as it's heartwarming story that focuses primarily on the topic of love and friendship. 
July 2: Boss Baby: Family Business
Rated: PG
In the Boss Baby's return in this sequel to the first film from 2017, the kids, Tim and Ted, are now all grown up, but they have to turn back to babies to stop an evil villain who is threatening Tim's infant daughter. The film includes voices from Alec Baldwin, Lisa Kudrow, Eva Longoria, and Jimmy Kimmel. 
Although the Boss Baby movie and series are pretty kid-friendly, there are still some instances of mild rude humor. The film touches primarily on the topic of parent and child and sibling relationships, so you could bring up some good family discussions after seeing the film. 
July 16: Space Jam: A New Legacy 
Rated: PG
The sequel to the original Space Jam from 1996 is finally coming to theaters and HBO Max on July 16. Space Jam: A New Legacy will star the legendary basketball player LeBron James and the classic Looney Tunes characters. LeBron and his son find themselves trapped in a virtual universe, and the Looney Tunes characters must help them return safely to their home. 
The film contains some light cartoon violence and potty humor, but overall the movie is a great film to watch with kids of any age!
July 23: Hotel Transylvania 4: Transformania 
Rated: PG
The 4th addition to the Hotel Transylvania movie franchise is coming this summer to a theater near you! When a mysterious invention goes haywire, Drac and his monster friends are transformed into humans while Johnny turns into a monster. They must figure out a way to transform themselves back before it's too late. The cast is filled with stars like Kathryn Hahn, Keegan-Michael Key, Selena Gomez, Andy Samberg, and David Spade. 
The film is rated PG for some rude humor, action, and scary images such as graveyards with living dead characters and monsters. Hotel Transylvania is a great movie to catch with your preteens or teens, but maybe leave your younger kids at home for this one. 
July 30: Jungle Cruise 
Rated: PG-13
The new adventure Disney film Jungle Cruise brings to life the beloved Disney theme park attraction. An unlikely duo (Dwayne "The Rock" Johnson and Emily Blunt) are set up on a mission to find the Tree of Life, which supposedly has magical healing powers. The two must face the challenges that come with cruising down a river in the middle of the jungle. 
Since this film is PG-13 due to sequences of violence, it would be best to see this movie with your older kids. They'll love the star-filled cast and the action-packed scenes!
August 20: PAW Patrol: The Movie 
Rated: G
The popular children's TV show PAW Patrol is making its big screen debut this August. The animated movie features Ryder and all of his puppy friends as they face their biggest rival, Humdinger. The Maroon 5 singer, Adam Levine, is also set to record a song for the film. 
PAW Patrol: The Movie is perfect for children of all ages and discusses themes like perseverance and courage. If your kids love the TV show, they'll definitely be thrilled to see all the characters come back to life in a full feature film!
September 17: Clifford The Big Red Dog 
Rated: PG
Based on the original Clifford TV show and books, Clifford is coming back several years later in a live-action/animated film! After a young girl's love for a tiny puppy named Clifford causes him to grow into a giant dog, she and her uncle set out on an adventure.
Just like the old series and books, Clifford is perfect for kids of all ages, especially those who love dogs!