As a little girl, I played with Cabbage Patch dolls, gave Barbie a ride in her convertible, enjoyed episodes of the original Transformers, and collected Hot Wheels cars. I didn't ascribe to typical gender-specific norms, even though I'm sure there were expectations set upon me. Fast forward to the phone call from my doctor's office telling me my first child was going to be a boy and panic soon infected my body. "I'm a girl," I thought. "How could I have a boy? I don't know anything about raising boys nor do I have any understanding of what boys want." I didn't even have any brothers as examples of boyhood. At first, the self-doubt was paralyzing—probably much due to my raging hormones—but luckily, the love I felt for the growing baby inside of me was stronger.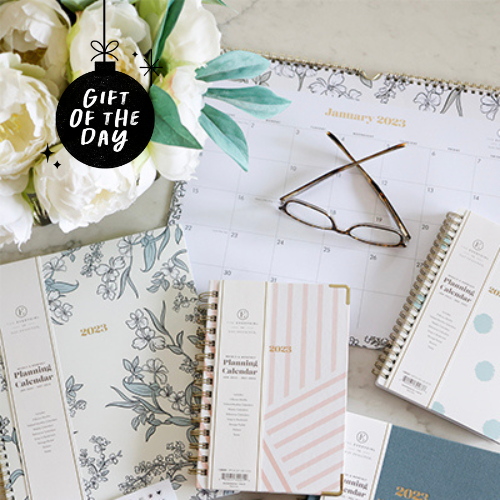 Help a mom stay organized and keep track of important doctor's appointments, playdates, and (hopefully) some scheduled 'me' time with this pretty wall calendar.
I soon began to realize I couldn't recall any positive popular culture examples of mother and son relationships. Most of my references were between mommy and daughters—like braiding each other's hair, matching mother-daughter outfits, girls' shopping trips, and long-lasting friendships between a mama and her daughters. Before my sons were born, the images that would pop into my head when I would think of mom and son relationships had negative undertones. Such gendered assumptions as "mama's boy," mothers being overbearing (like in Monster-in-Law), and sons neglecting their mothers were the sources of my initial concern when I discovered the sex of my baby. These gender stereotypes are manufactured to us and are not based on the intricacies and nuances of any individual's personality, regardless of of their gender identity.
I am now a mother to two beautiful boys and love being a boy mom. In fact, I would go as far as to say I am obsessed with it—in a healthy way. I do get asked fairly regularly if I am going to try for a girl, and my snarky response is, "I'm done having children, but if I would have a third, I'd want another boy to make The Three Musketeers!" Do you want to know why I love being a mother to boys? They're so affectionate, kind, loving, adventurous, brilliant, energetic, and fun, and they give the absolute best hugs and kisses. But we know this is true of children regardless of gender.
There are so many creative, gender-neutral ways mommies spend quality time with their boys. I asked several of my mom friends to give me ideas on things they like to do with their sons. Enjoy a compilation from real mamas of boys sharing their favorite bonding activities they do together! 

Plan Movie Nights
Cost Commitment: $
Time Commitment: Minimal
Several mamas shared that they like to have unique movie nights to bond with their boys. They add some special elements to make movies magical to encourage conversations and connections. One shared that they make fresh popcorn with their boys to emulate the theater vibe and later enjoy it while they watch their movie.
In our house, we have "movie Saturdays," where we allow the boys to eat dinner and watch a movie on the living room floor picnic-style. It excites them to do anything outside of the norm. Another mama shared that she cherishes watching superhero movies, like The Flash, with her teenage son because it opens up the possibility of conversations, which can be insightful and thought-provoking.
Do Some Pampering
Cost Commitment: $
Time Commitment: Moderate
Most of the moms of boys I spoke with emphasized the importance of doing activities that were not gender-specific. They felt it was important to raise their sons with openness to the spectrum of gender experiences and not confine them to any prescribed gender norms.
I strongly agree with this sentiment, as it is my guiding principle in how I am raising my boys to be who they want to be. One mama said she likes to do facials (age-appropriate ones) with her boys and spend the day pampering each other with spa-like treatments. They paint each other's nails while they bond over a non-alcoholic fruity concoction. Another mama said she loves doing makeup with her son. He takes off the tops of the makeup and they brush each other's faces. I'm sure he as is in awe of her beauty as is she of his enchantment.
Cook Together
Cost Commitment: $$
Time Commitment: Moderate
I am raising my boys to be little chefs, and they enjoy every minute of it. Since I spend a lot of time in the kitchen on a regular basis, I wanted to intentionally incorporate them into my routine while making it productive and fun. My mommy friends seem to do the same with their boys! It can get a little messy when they're younger, but you can also manage that by giving them a designated messy-approved space to let them experiment with some ingredients, like cooked pasta or cookie dough.
Do Arts and Crafts
Cost Commitment: $
Time Commitment: Moderate
My boys and I love to do a variety of arts and crafts projects, which allow them to incorporate some sensory play. We especially like to decorate our house during the holidays by creating our own family decorations! We've made rainbows out of tissue paper, robots out of aluminum foil, and Valentine's Day cards for their teachers. While we're crafting, we also get to chat, and the boys are so proud of their final creations.
1-on-1 Game Nights
Cost Commitment: $
Time Commitment: Moderate
Now that my boys are out of the infant stage, we have explored the magical world of board games. We started off with fairly basic ones like Candy Land and Chutes and Ladders. We've now progressed to a bit more competitive matches with Trouble, Sorry!, Monopoly Junior, and my personal favorite UNO. We designate "game nights" where we have 1:1 matches or just mama and her boys. Sometimes they win and other times they lose. At first, the concept of losing was hard for them, but they've grown to appreciate the fun in just playing. It's extra special for me, as I can revisit my childhood through their eyes when we play these retro games.

Have Lunch Dates
Cost Commitment: $$
Time Commitment: Moderate
Getting out of the house can add a spark to your day and inspire a natural bonding atmosphere with your son(s). I recently started doing lunch dates with my boysk and they were thrilled they got to spend alone time with their mama. We try different foods together, play word games at the restaurant, and discuss anything they want to talk about. I am considering choosing a location or two as "our spots" so my boys can associate our "special time" with that space. No matter where we go, my sons value spending quality moments with me while they savor the yummy food.
One of my friends shared that she loves to have high tea with her son. They get the cut-out sandwiches and delicious pastries on those tiered platters and spend some time sipping on flavorful caffeine-free teas and conversing about all sorts of topics. Sometimes, they even do high tea at a museum or outdoor location to mix things up.
Take Classes Together
Cost Commitment: $$$
Time Commitment: Major
Whether your children are in school or not, the thought of taking a "class" with you can make your boys feel included and honored to be with you in this type of setting. The type of classes depend on the age, but there are many options for each stage in your child's development. For the infant or early toddler stage, mommy and me classes are a wonderful way to grow your relationship with your sons.  Some other class ideas for when they are developmentally ready include cooking classes, yoga classes, pottery classes, music classes, and surf/swim classes. Although the content of the class is valuable, what will happen in the class will, hopefully, ignite connections and intimacy between mama and her son(s) too.
Play or Watch Sports
Cost Commitment: $$$
Time Commitment: Major
Boys and girls can enjoy watching and playing sports. It's a universal experience open to all. One of my mom friends likes to take her son to watch basketball games. They discuss the game play by play, and it spurs other topics of conversation. My other mama friend likes to watch sports with her son at home and recreate the stadium feeling by making ballpark food and eating on a picnic blanket while they watch the game together.
Playing sports with your son can be positively impactful for creating meaningful connections, especially if your son shows a strong interest in a certain sport. One of my sons loves anything with a ball, so sometimes we'll just go outside and throw/kick the ball to each other. The repetitive motion gives us time to chat about anything on our minds. 
Take Excursions
Cost Commitment: Varies
Time Commitment: Moderate
Depending on your city, you probably have loads of adventures waiting for you outside your front door. Many mamas shared that they love doing day outings with their boys that guarantee a great time and plenty of opportunities for bonding. One of the mamas shared that she makes a point of searching online for local happenings at the end of the week so she can vary her outings with her son. She recommended going to miniature golf, museums, and bowling. It's something her son looks forward to every week! I sometimes join her, as our boys have been good friends since preschool. We have a blast exploring our city together as mamas of boys.

Use the Time in the Car
Cost Commitment: $
Time Commitment: Moderate
For many parents, they spend a big chunk of their day commuting with their children to and from school/child care and to various recreational activities. Some of my friends said they take advantage of being in an enclosed space with their boys to have fun and intimate conversations about a variety of topics. One mommy said they have "would you rather" chats while they travel to and from school, and it has become a tradition to play that game in the car and sometimes outside of it. She shared that her son, even now, at 17, will randomly pop into a room and ask her, "Would you rather be a squirrel or a possum?" I think this is the sweetest thing ever. Another mom felt touched that she and her son have built a tradition to have heart-to-heart conversations in the car when it's just the two of them. The "car" has become a "vehicle" to connect with her boys.
Make a Morning Routine
Cost Commitment: $
Time Commitment: Minimal
Mornings can be hectic no matter how old your children are. Creating simple but heartwarming traditions helps add a sense of calm to what can be a chaotic morning rushing into the day. With my boys, we have a tradition of praying when we are all in the car in the morning and then sharing positive affirmations that we all repeat together. My hope is that it inspires them to love themselves and remember how much I love them. Another mama friend shared that she has a tradition of sitting on the couch for five minutes to just be together with her son—whether that be to hug, read a quick book, or just talk. No matter what the day holds ahead of them, they dedicate five minutes to each other to start off their day.
Bond at Bedtime
Cost Commitment: $
Time Commitment: Minimal
On the flip side, when we finally are home and unwinding, bedtime is a great opportunity to squeeze in some bonding time with your sweethearts. Several mamas of boys cherish the traditions they have at bedtime that allow them to decompress and connect. A mother shared that she dedicates time at night for her son to read to her, and they then discuss what happened in the story. It's a time in their day reserved to learn from each other's perspectives. I love reading before bedtime with my sons. Since they are 3.5 years apart, my husband and I take turns reading different types of books to them separately. This allows us to both bond in our own ways with our sons. Another mommy shared that they sing lullabies before bedtime, and these songs now hold a special meaning in their relationship.
Just Because
Cost Commitment: $
Time Commitment: Moderate
Choosing certain activities you do with your boys can create positive associations that develop closeness. I am in awe of what one mom does to create a musical connection with her son. She plays her guitar while her little musician has some fun with other instruments. They make musical magic together.
I am a dancer, so movement is one way I like to connect with my boys. I put on some fun jams and we dance in circles around each other while bursting in laughter. I like to encourage the free expression of their bodies. We also have random doughnut and ice cream runs where I'll pick them up from school and, before we get home, we enjoy the sweetness of these treats. It's a way we talk about our "peach" and "pit" (the highs and lows) of our day.
---
I hope mamas of boys feel inspired to create special memories with their sons. The common thread among these activities is you. Your boys just want to be with you. They want uninterrupted time when you're not busy managing the household, scrambling to meet work deadlines, or being distracted on your phone. You don't need to spend a lot of money nor create elaborate plans to bond with your son. Even if it's going out every evening to throw out the trash together, this alone time is something they will cherish—when they have you all to themselves. The love between a mom and her sons is a special thing.