2020 trends have been all over the place. But hey, what can you expect from an entire year that has truly been all over the place? Before we even get to fashion trends, we have to acknowledge the other things that really carried us through at certain points of quarantine: banana bread, Tiger King (seriously, what was the deal with that?), TikTok dancing, the Disney+ release of Hamilton, at-home tie-dying … I could go on and on.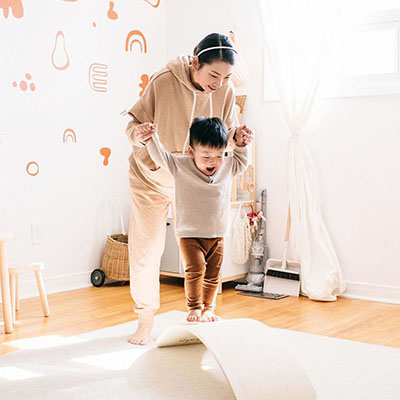 Shop Our Most-Used Items From Amazon for Toddlers!
If your kid is turning 2, get ready for hilarious conversations, much more involved play, and lots of sweet, sloppy kid hugs and kisses. As for what you'll need? Leave that to us.
This way to shop —>
When it comes to fashion (if we're being honest here), there was really only one trend that stood above all the rest this year: loungewear. I've never worn so many combinations of sweatpants/shorts and hoodies/T-shirts in my life. However, some trends managed to trickle down through celebs' at-home fashion, our Instagram feeds, and our targeted online shopping ads, right into our closets.
Keep scrolling for six mom-approved ways to style some of 2020's biggest trends—tie-dye, monochrome, animal print, puff sleeves, neon, and bike shorts. 
1. Tie Dye
tie-dye tee / light-wash jeans / earrings / sunglasses / slide sandals / mask
2. Monochrome
basic tank / long cardigan / paperbag shorts / necklace / sandals / mask
3. Animal Print
square-neck tank / straight-leg jeans / headband / cheetah purse / sandals / mask
4. Puff Sleeve
puff-sleeve dress / earrings / crossbody bag / sandals (75% off!) / mask
5. Neon
neon sweatshirt / denim shorts / sunglasses / mini backpack / sneakers / mask
6. Bike Shorts
sports bra / oversized hoodie / bike shorts / sunglasses / sneakers / mask