Monika Hibbs started her blog as a creative outlet while she was in medical school. She quickly realized it was her passion and now creates beautiful spaces, snaps insanely gorgeous photos, and shares easy-to-follow DIY and entertaining tips on her self-titled website. Once a side hobby, Monika now runs a well-oiled lifestyle brand with a loyal following across her native Canada and the United States and is working on the ultimate I-made-it-big project, an upcoming lifestyle book.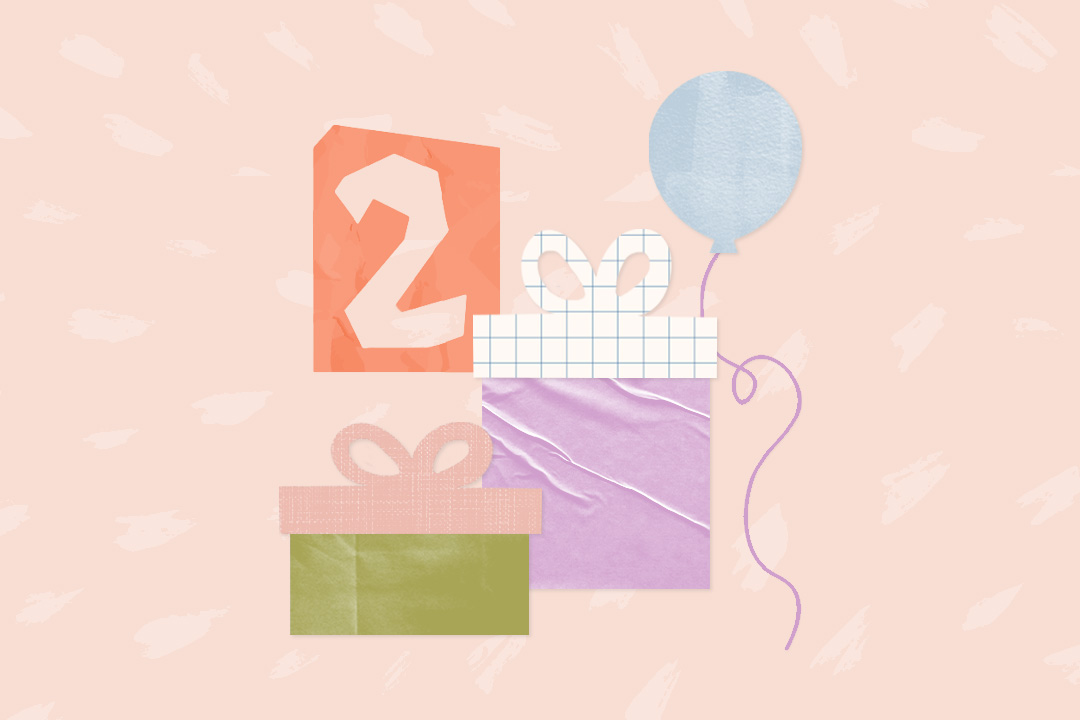 a LO in your life will love these! 🎁
Now pregnant with her third baby, Monika shares her tips for easily transitioning a nursery to a big kid room, how she's preparing her two adorable kids for a sibling and what it's like managing childcare and maternity leave as a small business owner.
Name: Monika Hibbs
Age: 33
Current Title/Company: Founder & Creative Director at MonikaHibbs.com
Location: Vancouver, BC
Education: MD – I only plan on using it if my kids are choking!
Children: Liam, 5, Lilly, 2 and baby-to-be
You're a mom to Liam, Lillya, and a third baby due in June. What do you love about being a mom? What keeps you going on tough days? 
As overwhelming and time consuming as it can be, the joy that comes with being a mother is unmatched. I love making memories and seeing the little everyday moments through their eyes. It is so special. Our family will be complete with our new little one due in June and I'm eager to see my kids build relationships over the years.
How will you help your kids adjust to having a baby in the house?
I've already been talking to both Liam and Lillya about the arrival of the new baby. I hope to give them all the attention and love that each needs, even though it's going to be a tough adjustment with, of course, a lack of sleep. My husband and I have been helping both kids understand their role as an older sibling! They love to help because it makes them feel special. Grabbing a diaper, helping with a bottle or a special little task will help with the adjustment, I'm sure. I have a feeling that they will own it and be excited about it too!


How did you choose to handle maternity leave as a small business owner? Has your choice changed with each pregnancy?
I didn't take a maternity leave with the first two. I took it easier for the first few weeks but never went on an official break. This is the first pregnancy when I have a team in place so I'm not sure what it will look like yet. It's a work in progress, so we'll see how it goes.
How do you divide parenting roles with your husband, Troy?
It's all hands on deck. We both appreciate that each of us works so we divvy up chores and responsibilities. At the end of the day, we do it all together. Occasionally there are emergency phone calls in the middle of the day.
What's your parenting style? How does it work with your day-to-day family life? 
We strive to stay consistent with our house rules. At the end of the day, the adults make the age-appropriate rules and expectations and the kids are expected to abide by them. We're a bit traditional that way. There's time to have fun and time to stick to the rules. We're trying to teach them that the world doesn't revolve around them and it is important to consider and respect people around them.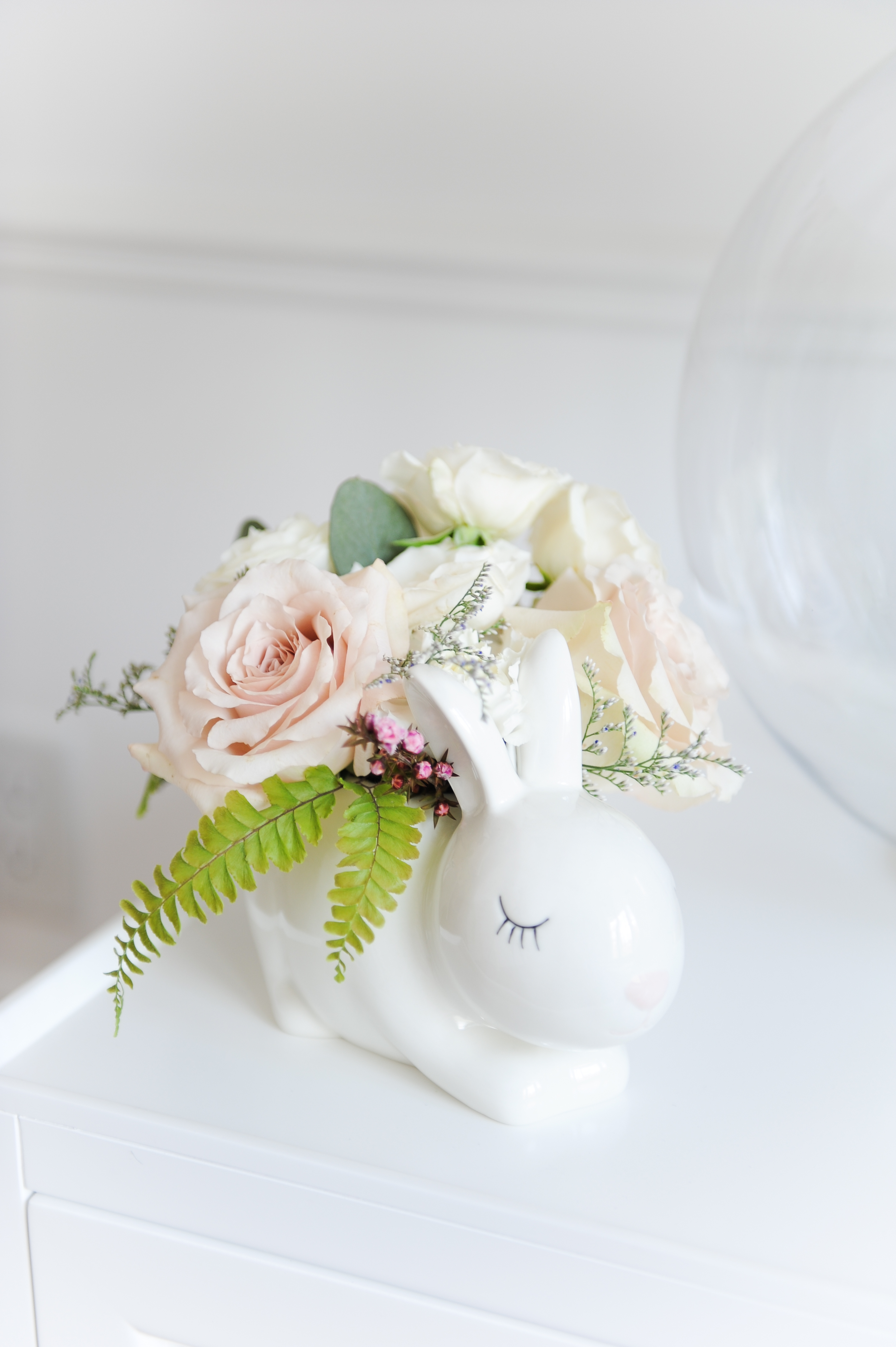 As a parent, what worries you? How do you reconcile those worries while you parent? 
I worry about my kids' safety. At the end of the day, all that matters is their health and safety. I try to not worry about it too much because it could consume me with anxiety and fear. I move past it by praying for them. At the end of the day, we're not in control and need to trust that they'll be okay.
When did you know your two-year-old daughter, Lillya, was ready for a big girl room and what did the transition process look like? How did you involve Lillya in the decorating process?
It's a little bit of a guessing game when transitioning to a big girl bed and room! We initially started with converting her crib into a toddler bed, simply taking down one of the sides of the crib. She had just turned two at the time and she did so well! She rarely got out of her crib and never fell out, so I thought that was a great time to make the switch.
She wasn't involved much in the decorating process. I worked with what we already had in the nursery and made sure the new items were cohesive. Lillya did help put her new bed together and she LOVED that. It was adorable to see her and daddy build it!
How did you choose what to keep from Lillya's nursery and move to her big girl room? What pieces have been heavily used in all phases – baby, toddler, big kid?
I pretty much kept everything but the crib and chair! I switched the crib out for a single bed and added a new side table and a table lamp. I love the rug and decorative accessories so decided to keep them all. I also made sure to keep the dresser since we use it to stay organized with her folded clothes and little accessories.
What design tips would you share with someone designing a nursery? Anything to keep in mind for the big kid room transition in just 2-3 short years?
My biggest suggestion is to try to keep most of the items when you convert to a big kid room! Invest in pieces that will last so you don't have to re-buy a whole new room. If you can manage to just switch out the crib for a twin bed and bedding, you're on the right track.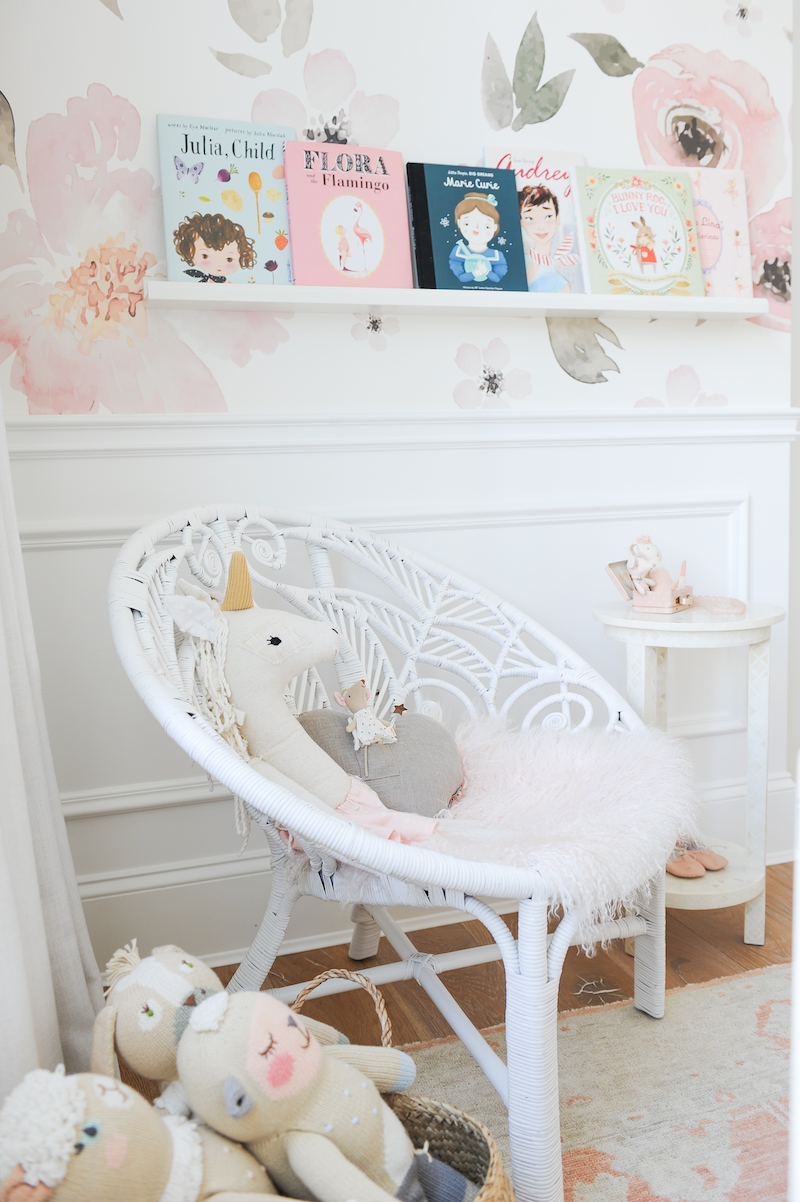 What advice do you have for parents trying to design a room that's both beautiful and functional?
Choose your functional items first, like a crib, chair, dresser or changing table. This will also help you pick your theme because you can see what type of furniture you're drawn toward and what style you prefer: classic vs. modern, coastal vs. shabby chic.

Pick a theme and/or color scheme.

Choose items that bring character and coziness like a rug, window treatments, and pillows.

Add in your "filler" to complete the look. Think artwork, toys, storage baskets and decorative accessories.
What advice do you have for parents who are trying to design a room that grows with their child? Are there certain timeless furniture pieces to invest in?
Invest in pieces that will last. Those are typically the larger (and more expensive) items: bed, dresser, rug, and window treatments. The smaller, less expensive, decorative items can be switched out as your child grows and their likes and dislikes change. It makes their room more personal and they will be more likely to want to play in their space if it's personalized to their needs and interests. 
What's the best motherhood-related advice you've ever received?
Be easy on yourself. Time goes by quickly. Step back, breathe and assess the situation. Have grace for yourself and others.
As a parent, it's easy to feel insecure and confident in your parenting abilities all in one day. What are you most insecure about and what are you most confident about?
We're confident in the way we parent. We set ground rules in our home and giving time to play and time for learning responsibilities. We're learning every day, but because of our communication, I think we have a good handle on it. (Most days!)
My biggest insecurity is mom guilt. I hate not being able to watch them 24/7 because of work, but I think that's a completely normal feeling to have and I try to focus on the big picture.  They're in great hands while I work, which gives me peace of mind.  I've done it all myself in the past, so I'm both nervous and excited about having help once number three comes. I think it's the best decision for our family.
If you could only pick one, what has been your favorite memory with your kids so far?
Our most recent trip to Hawaii was one of our favorite vacations yet. Our kids were at a great age to explore and enjoy activities without getting too frustrated with the overwhelming parts that a vacation can bring. We loved seeing their excitement and it made exploring the island with them so fun! We look back on it and really enjoy the memories we created.
Monika Hibbs is The Everymom…
Favorite home trend? Classic, countryside, coastal.
Home essential everyone needs? Window treatments!
Dream vacation? The Maldives
One thing every parent should have? Time for themselves
Best family movie to watch? The Greatest Showman
Best color combination? Whites, blues, greys, neutrals and soft wood details.