OK so, my girls and I have been watching the Frozen 2 trailers on YouTube since they debuted. And not just on my iPhone, we've been streaming them on our big screen TV for the full effect. We already own some Frozen 2 merchandise, and my youngest may or may not show up to the movie in her Elsa Halloween costume. So, when it comes to Thanksgiving weekend movie viewing, our tickets for Frozen 2 are already booked, and I'm just as excited as my girls.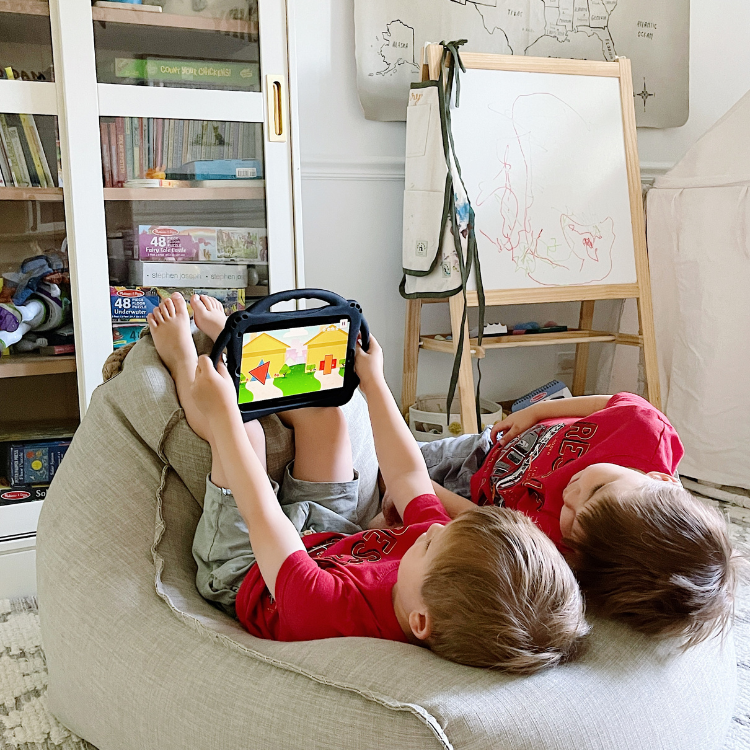 a pediatrician shares what she *really* thinks about LOs and screen time
But if Elsa, Anna, and Olaf aren't your top choice (or the movie time is sold out), we also pulled together a list of movies to consider if you're taking the kids with you or are able to leave them at home with the grandparents. From animated favorites to heartwarming rom coms and dramas (hello, Tom Hanks as Mr. Rogers) and comedic whodunnits to historical epics, this weekend won't leave you short of films to watch in between your holiday shopping trips.
If You're Taking the Kids
Frozen 2 – PG
Elsa and Anna are back with Kristoff, Olaf, and Sven (as well as some new characters) to embark on a journey far from the kingdom of Arendelle. If the trailers are any indication, Elsa and Anna are going to be taking on more superhero qualities, and we can't wait to see what this new adventure entails! Plus, with the release of the new soundtrack on November 17th, you can already listen to "Into the Unknown" on repeat.
Abominable – PG
Abominable follows Yi, a teen mourning her father as she comes face-to-face with a young Yeti living on her apartment roof. She embarks on an adventure with two friends to help get the Yeti home to Mt. Everest while being chased by a troop of villains who want the Yeti for their own gain. The animation and music are beautiful, and to quote my 7-year-old, "I just loved it so much." So, if you're looking for an expert review, you're welcome.
Arctic Dogs – PG
Big names Jeremy Renner, Heidi Klum, Alec Baldwin, and more round out the star-studded cast as we follow arctic fox Swifty as he discovers a devious plan by Otto Von Walrus to drill beneath the Arctic surface to unleash enough gas to melt all the ice. With help from his friends — a polar bear, an albatross, a fox, and two paranoid otters — they try to help save the day.
A Beautiful Day in the Neighborhood – PG
Just the trailer chokes me up with nostalgia for this story based on the real-life relationship between Fred Rogers (played by Tom Hanks) and journalist Tom Junod (played by Matthew Rhys). While Mr. Rogers himself is certainly kid-friendly and themes like empathy and kindness can appeal to audiences of all ages, the movie plot may be better suited to older kids.
If You're Leaving Kids With the Grandparents
Last Christmas – PG-13
This romantic comedy starring Emilia Clarke as Kate, a wannabe singer who works year-round as an elf, and Henry Golding as her love interest looks adorable and is sure to get you in the holiday spirit more than even the best Hallmark Christmas movie.
Knives Out
– R
A whodunnit filled with family drama that might make you feel OK about any awkward dinner conversations happening around your Thanksgiving table. Plus, the casting had me at Christopher Plummer.
Harriet – PG-13
This movie tells the extraordinary tale of Harriet Tubman's escape from slavery and her brave and dangerous journeys back to help free even more slaves through the Underground Railroad. Be inspired by her heroic story directed by Kasi Lemmons.
Editor's Note: There has been some backlash regarding the way this movie interprets the antagonists and protagonists in Harriet Tubman's story. Her life and work are vital to the fabric of this country, and we encourage you to learn more about her regardless of whether or not you see this movie.
Midway – PG-13
Six months after the attack on Pearl Harbor, the Battle of Midway commences as the Japanese navy once again plans a strike against American ships in the Pacific. This story follows the U.S. Navy and a squad of brave fighter pilots during one of the most well-known battles of World War II.
The first time I saw this trailer was sitting next to my kids waiting for the new Lion King to begin, and I can decidedly say it is NOT a movie for young kids (still not sure why this wasn't flagged by someone), but it will entertain history-lovers and those who love an intense battle scene, brought to you by the same director of Independence Day and The Day After Tomorrow.