I wish I was one of those cultured people who could say that this pandemic gave them the opportunity to read more but instead I am the type of person who can give you a novel on all the content I've been streaming. The best thing about streaming is that there's always something new around the horizon, and 2021 promises to be a great year for content already. Here are my current favorite contenders—some to watch with the kids (see: Raya and the Last Dragon) and some without them (see: Candyman).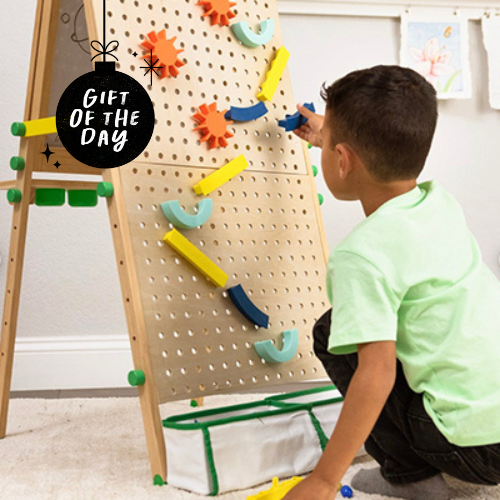 Art, fine motor skills, and fun all mixed into one great gift! Kids will learn engineering with the marble run but also get creative with the art easel mode.
Movies
1. Ghostbusters: Afterlife
While I do appreciate a good remake, I truly love a reboot. It doesn't leave me missing the original, and it gives the audience a chance to love the new story all on it's own. Afterlife does exactly that. Instead of telling the story of the original Ghostbusters, we fast forward to one of their sets of grandchildren. The grandkids have moved to their deceased grandfather's home in the middle of nowhere only to find out that while ghosts may have gone underground, they never truly disappeared. Plus, Paul Rudd is my forever crush since Clueless, and I stand by that choice especially since he only has gotten better with age. I will follow that man off of a cliff. Here's hoping this is a really entertaining cliff.
2. Raya and the Last Dragon
Dragons are majestic creatures (they're the only reason I watched all 10 seasons of GoT) and often get a bad rep, so I love stuff where they are heroes. When monsters known as the Druun return to end humanity, Raya has to go find the last dragon and hope they can save the world.
I have been excited to see Disney go all-in on these warrior women who save the world without the vision of romance at the end of the tunnel. Moana changed the game for me, and I'm hoping that Raya can be a slam dunk.
3. Cinderella
If any of you grew up on the ABC Family version with Brandy as Cinderella and Whitney Houston as the Fairy Godmother, you have probably been anticipating this in your own little corner just as much as I have. We used to watch our VHS recording of it on repeat and dance to the tunes. They're remaking the classic musical, and this time, Billy Porter will be the godmother. If you haven't seen anything he has done yet, run, don't walk, to watch Pose. That show transformed my life and much of it due to Porter's performance. He's an incredible singer and actor and really the only person I can think of to fill Whitney's shoes. Impossible dreams are happening every day!
4. In the Heights
Having been a musical theater kid my whole life (shout out to anyone else who memorized Rent lyrics WAY before you realized what any of them meant), I love a great movie musical. And this one from Lin Manuel Miranda looks beautiful. It tells the story of three days in a neighborhood in Washington Heights, a neighborhood quickly being gentrified.
Miranda is a controversial character in the theater world—there has been a lot of appropriate critique of Hamilton over utilizing BIPOC bodies to tell white stories, effectively erasing the voice of BIPOC people from that historical moment. I don't usually find myself into his theatrical work, but this piece feels different—letting People of Color tell their own stories. And if the songs and dances that go with it are catchy, well, pass me the popcorn.
5. Candyman
For the record, I'm not a horror maven by any stretch of the imagination. And this one is NOT recommended for kid-viewers. However, the original Candyman left a burning impression on me as a wee seventh-grader, and every few years I scratch the itch to scare myself to the core. What I love about the original Candyman is that it's horror and gore but also making a big comment on gentrification and what a boogeyman even means to people living in a project.
The reboot seems like it got that memo and also continues to explore the effects of gentrification as it has evolved in present-day Chicago. The most exciting part of watching a movie made in Chicago (and being a Chicago filmmaker myself) is seeing friends' faces in the trailer. I haven't asked for any spoilers yet, but I may have to if I get too scared. We'll see if I make it all the way to the premiere.
TV Shows
1. WandaVision
I know I didn't include any Marvel movies in the other list, but it's not because I dislike Marvel. It's mostly because I'm so obsessed with WandaVision that I haven't quite processed that movies are coming out next year as well. Wanda and Vision finally get to live the perfect married life they always wanted, until something starts to glitch and they have to figure out what their dream '50s marriage is actually covering up. It's got Pleasantville vibes, it's got Elizabeth Olsen (who I am obsessed with), and the production design looks stunning. I really appreciate that Disney realizes the kids who like superheroes turn into adults who like superheroes.
2. Charmed: Season 3
Not a new show, but a third season dropping at the end of January. If you haven't watched this yet, it falls into the world of reboot rather than remake—the place I love to be. I was so surprised to hear that people described this as the feminist Charmed because I had thought the original was pretty feminist. When I started watching this, I realized it really did earn that title because of how they were looking at feminism. It's intersectional, it's queer, it's across socio-economic boundaries. Each episode looks at different ways to be female in our current society and how these sisters challenge those notions at every turn.
Each episode looks at different ways to be female in our current society and how these sisters challenge those notions at every turn.
Also, there's magic and some really hot make-out scenes. All of this makes up for some of the cheesy dialogue and melodrama. I can't wait to see what happens to the Charmed ones next!
3. Nine Perfect Strangers
Some of you may have seen our round table discussion on The Undoing and learned how much I love watching things about older rich people being terrible. I'm not sure that this show will necessarily scratch that itch, as it's about a group of people who are strangers attending a 10-day retreat at the Tranquilium House, run by a mysterious Masha, Nicole Kidman.
But with the same team that did Big Little Lies and The Undoing and with this amazing cast (Melissa McCarthy, Manny Jacinto, Bobby Cannavale), I assume it's going to be super dark and twisted and very well-acted. I might have to add some spice to my popcorn for this one.
4. Zoey's Extraordinary Playlist: Season 2
I mentioned how much I love a movie musical and ditto for the smaller screen. The reasons why this show has tickled me so much have to do with a couple of things: 1) they use pop music that I already know the lyrics to so singing along is easily done, and 2) they really nailed the why of people bursting into song. Sometimes in musicals, I love the songs, but I really have to suspend disbelief as to why the characters are bursting into songs.
The show starts with the idea that she had a head/brain issue that causes her to see and hear people's hidden feelings through song and dance. Besides all that, the story is really beautifully-crafted, and it really dives deep into the loneliness that comes with being human. The season finale left me in sobs and also wondering, who will she pick? I'm team Simon all the way, but would love to hear from the Max defenders out there (Seriously, why him?).
5. Station 11
Trailer forthcoming
In the story coming to HBO Max, the fictional Georgian flu starts to spread, and before people can process what's happening, most of the world's population is decimated and no sign of a global society remains. I recognize we are all still mired in pandemic life right now, but I read the novel this series was based on a few years ago and something about it really stuck with me.
I think what struck me most about the book was the return to a nomadic and hunter-gatherer lifestyle. The older I get, the more I realize I'm happiest when I'm growing food and cooking elaborate meals. I like to imagine that if I survived the Georgian flu, I'd be the hero of Station 11. Or at the very least my motley crew would be eating some delicious food.