Let's face it – after you become a parent, shopping becomes somewhat of a chore. After all, spending most of your free time shopping for your kids' clothes, school supplies, books, clothes, toys, and storage solutions (did I mention clothes?) can be all-consuming. Shopping for yourself gets put on the back burner very quickly, and you usually just resort to whatever is on the rack at Target while you're picking up frozen waffles because who has time or energy for anything else?
Sometimes, though, it's refreshing to put a little time into yourself. It doesn't have to be shopping, of course, but for many moms (like me) who feel as though their style has become an afterthought since having kids, a new piece or two to spruce up the wardrobe of black leggings and hoodies can go a long way.
If you're in the market for something new to give you a lift (both literally and figuratively, in some cases), here is what we're buying at this year's Nordstrom Sale.
Note: The Nordstrom sale is now open to all shoppers and runs through Sunday, August 4. The Everymom editors will continue to update this post as items sell-out or restock but if you see something you like, don't hesitate to purchase as favorites go fast! 

I relate so much to that meme that says something like, "I've been shopping for the last 15 years of my life and yet I still have nothing to wear." In the past few years, I've made a conscious effort to spend a little more and buy quality items instead of a bunch of fast fashion pieces that will likely only last a season. This is why I love the Nordstrom sale because you can stock up on quality pieces without having to sacrifice an arm and a leg. 
As a mom, I have close to zero tolerance for anything uncomfortable these days, but I do like looking put together and stylish. I'm still trying to master the chic oversized sweater look, but so far I haven't mastered it. It took me about a week to officially decide I didn't like the two Topshop sweaters I ordered. I find that my shape gets completely lost in them. I have pretty large boobs and thicker legs, so whenever my waist gets lost I feel like I might as well be wearing a potato sack. I just felt frumpy. The sleeves on this sweater were also oversized which I think was what put the nail in the coffin. Just a strange look.
The Zella sweatshirt will be a staple for me this fall and winter. I love a cute sweatshirt more than anything. It has enough shape without being fitted, and I don't feel like my whole body is lost in it. I'm wearing a medium, and I think it's pretty true to size, though it might run slightly big. The Wubby fleece is everything I wanted it to be and more. I feel like I'm a walking lovey, my son immediately rubbed his face into it and tried to eat it. Is it chic? Absolutely not. But it's better than a ratty old sweatshirt and will keep me warm all Chicago winter. 
Finally, I got the Spanx leggings that everyone raves about. They're nice, I'll keep them, but I must admit I don't think they're that special. I'd give them an 86 percent. A lot of people said to size up (I even heard size up 2 sizes), and I strongly disagree with this. I thought they fit very true to size. They're also a little bit long. I'm 5'7", and they bunch a little at the bottom for me, so shorter people just know you might need to hem them. 
I'll admit, it was hard to get into the fall mindset when the Nordstrom Anniversary sale began. Maybe it's because, weather-wise, it feels like summer just began. Maybe it's because fall is a reminder my kids are headed back-to-school, and I'm just not ready for that transition. Or maybe it's because I've been in a steady mom uniform rotation (leggings, jeans, sweaters, and tees) for so long, I didn't even know where to begin when it comes to picking out some cute new finds. 
I didn't mean to, but I came away with an all-black lineup (the leopard prints were selling so fast I missed out.) I loved the moto jacket because I think it will go well with so many outfits, whether I pair it with my aforementioned mom uniform – T-shirt and jeans – or add some edge to a dress for a rare night out, like over the Halogen pleated dress I also liked. The dress size didn't quite fit me right. The small was too long for my 5'4" frame, and I had too much room under the arms, but if the smaller sizes (and the leopard print) restock, I'd order again. 
The pajamas were my personal investment in self-care. I received a pair for Mother's Day, so I already knew the Nordstrom brand was super soft, cute, and comfortable. Plus, if you're a nursing mom, the buttons mean easy access for nighttime feedings.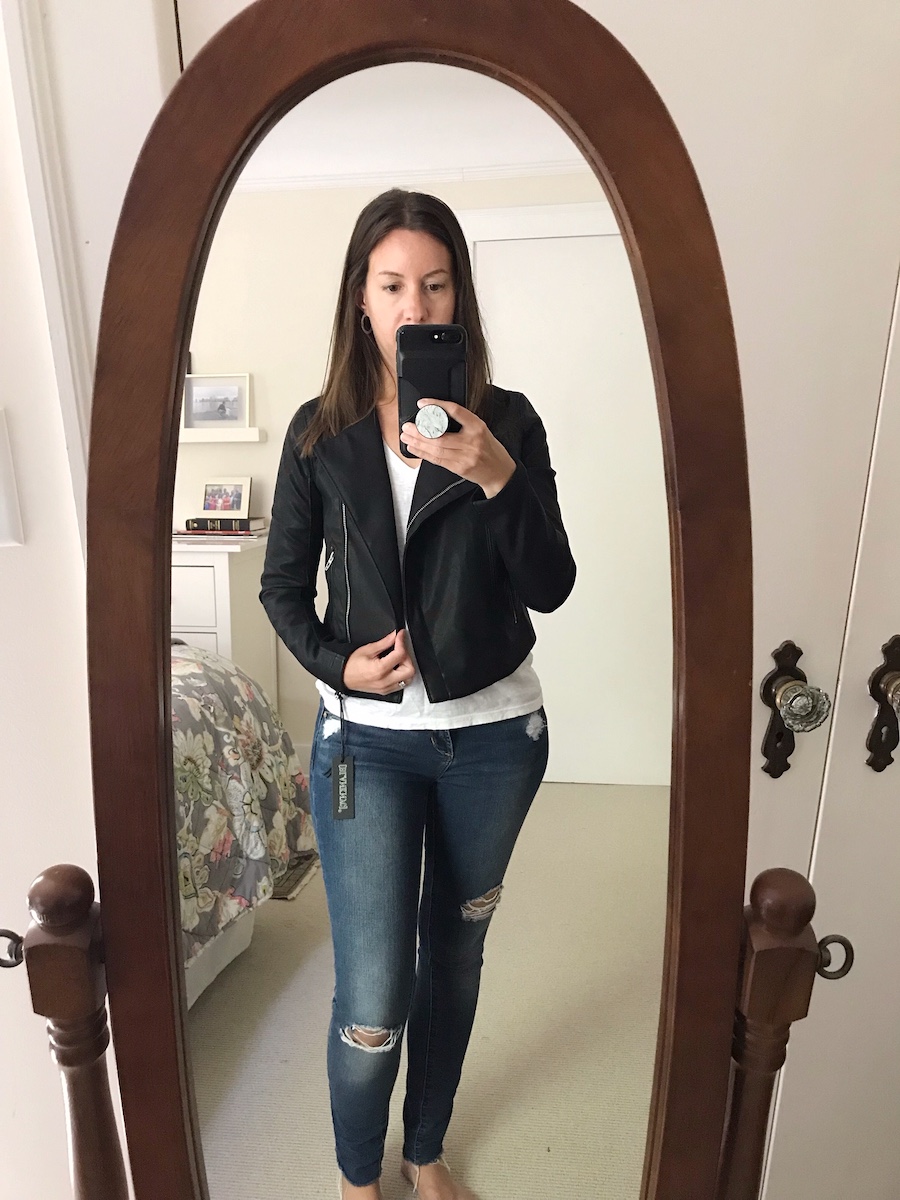 I've never been a big shopper. Every year, I will buy a handful of quality basics that will last me for years and years. I still wear a white linen spaghetti strap sundress that I've owned for 20 years and get asked all the time where I got it from (J.Crew circa 1998). For this year's Nordstrom's sale, I wanted to find a few key pieces that would stand the test of time.
I had my eye on the Topshop Double-Breasted Plaid Blazer, which was so soft and comfy. The fit was too big on me around the shoulders and arms, so I'll need to size down, but needless to say, this blazer was a win for me. I also bought a pair of cropped wide-leg jeans from 7 for All Mankind. These jeans felt like literal butter going on and are extremely comfortable. The fabric is very flexible and gives my backside a good shape! Since I'm 5'0'', the cropped leg is quite long on me, so a simple trip to the tailor will make these my go-to jeans. And who doesn't need a good pair of mules? I ordered a pair of Madewell Remi mules that I will probably live in until it's boot season.

I am a self-professed casual girl – as hard as I try some years to be on-trend and dress "cute," it just doesn't happen. What can I say, I'm a sucker for comfort and need clothes that allow tons of movement because I am always on the go. I also rely on layers – mainly hoodies and light sweaters – to add interest to my uniform of cuffed jeans and a plain T-shirt. Basically, if I took a "Which Everygirl are You?" quiz, I would definitely be an Abigail.
While I tend to stick to the basics when shopping (you'd be shocked at how many gray and white v-neck T-shirts one person can own), I am always on the hunt for a piece or two of something trendy. I do love fashion, and though I may not be great at keeping up with it, I like to give it the good ole' college try. New athleisure is always on my radar, too. I wear sports bras almost daily since having kids, and though I try to work out at home every day, I don't always have time to shower and change before running off to school pick up or drop off or a work call (don't worry, I don't sweat, I just glisten).
This year, I was happy to find these camo leggings and Kappa sports bra – they both are super comfortable and versatile pieces I know I will wear on the regular. The Zella sweater was a definite splurge, but knowing my own tendencies to latch on and live in basically one piece all through fall and winter, I feel OK about the spend. I also grabbed a new parka (essential for Chicago winters and how I've lived here for seven years without one, I'll never know) and a pair of leopard print mules that are as comfortable as they are cute. I hope to fool everyone into thinking I'm high fashion with those shoes. 
When this year's Nordstrom Anniversary sale rolled around yet again, I was so eager to stock up on a bunch of classic pieces for fall. When I'm not working, I'm living in loungewear (who isn't?!) at home, and when I saw this cozy Caslon camo sweatshirt, I had to try it. In the photo below, I'm wearing a size medium, and while it definitely fit, I ended up getting a size large to try as well. The L is much longer and overall bigger (AKA so roomy and comfortable), so I'll keep that size to wear with leggings during the long Chicago winters.
I was desperately in need of a new rain jacket — and wanted to try one that was longer — and this North Face coat was the perfect find and fit. It comes in a few different colors including a gorgeous off-white and a chic light pink, but I was too afraid of the jacket getting too dirty so ended up with the more practical black. It'll (obviously) go with everything, and I love that it has a cinched waist to give the coat a tad more shape. So glad this jacket was a win from my order!
Everyone seemed to be loving Madewell's Ryder Cardigan this year, so I scooped one up for myself in gray. It's so soft, and I thought the fit was great as well. I also love that you can wear it with jeans and mules for a more polished look or dress it down with leggings and sneakers. Lastly, I ordered this gorgeous ivory-colored Caslon turtleneck because, frankly, it looked amazing on the Nordstrom site's model. I don't normally wear turtlenecks but wanted to give this a try and though the material was great, I think it's ultimately going back because I just wasn't loving the fit on my figure. However, if you're a little smaller on top than I am, it would likely look awesome on you!