Of all the news sources out there these days, very few carry the same weight as POLITICO. It's a policy and journalism powerhouse that churns out even-handed and thorough reports whenever news is happening (aka 24/7). When you're the go-to news source for the who's who of Washington, D.C., you can bet the staff is mega-talented and high-caliber.
Three women who lead different aspects of the POLITICO team caught our eyes. Carrie Budoff Brown started her career as a reporter in Pennsylvania and is now POLITICO's editor. Cally Baute manages POLITICO sales operations and Traci Schweikert spends her time coaching POLITICO staff as the VP of HR. Each offers a unique perspective on growing your career while managing a family. Read on to find out how they balance their fast-paced jobs and family life.
Carrie Budoff Brown
Editor of POLITICO
If her background as a founding member of POLITICO Europe isn't enough to show Carrie Budoff Brown's passion for journalism, her current role as the Editor of POLITICO should be. From working late hours to meeting quick deadlines, Carrie covers late-breaking news in her professional life and connects with her daughter and step-kids in her personal one. Here, Carrie tells us the skills that help her through motherhood and the tips for relocating with children.
What was your first job and how did you land it?
It was the York Daily Record in York, Pa., right out of high school. I started as a source to the higher education reporter at the Daily Record, and she recruited me to assist on an open records project. The project involved testing the willingness of local high schools to respond to Freedom of Information requests from high school journalists. I managed to get the information out of the high school I was assigned to approach. Soon after, I began writing for the paper. 
You began your journalism career at an early age and interned for well-known companies such as The New York Times. What's the greatest lesson you've learned from this experience?
Make the most of every opportunity in front of you, never think an assignment is beneath you, and always try to master the job you have before trying to move onto the next one.
After being a staff writer at The Hartford Courant and Philadelphia Inquirer, you began working at POLITICO — an impressive global news company. How did you come across the opportunity, and what made you decide to pursue it?
I read a story in The New York Times in fall of 2006 about two top Washington Post journalists who had decided to leave the publication to start a new politics-focused website. I had been growing increasingly concerned about the inability of the Inquirer to adapt to the internet and what that meant for its future, so I figured it was riskier to stay at the Inquirer than to go to a startup. That bet was the right one. 
Along with the many roles you've had at POLITICO, you're also a mother of 1 and a stepmother of 2. Are there skills you've learned in your career that have helped you as a mother?
Being a journalist is great training for being a mother.
As a journalist, you need to be able to go with flow — no day is exactly the same, just like being a mother. And you have to be able to multi-task, strategize, problem solve and meet tight deadlines.
I've found each of those skills to be very applicable to motherhood.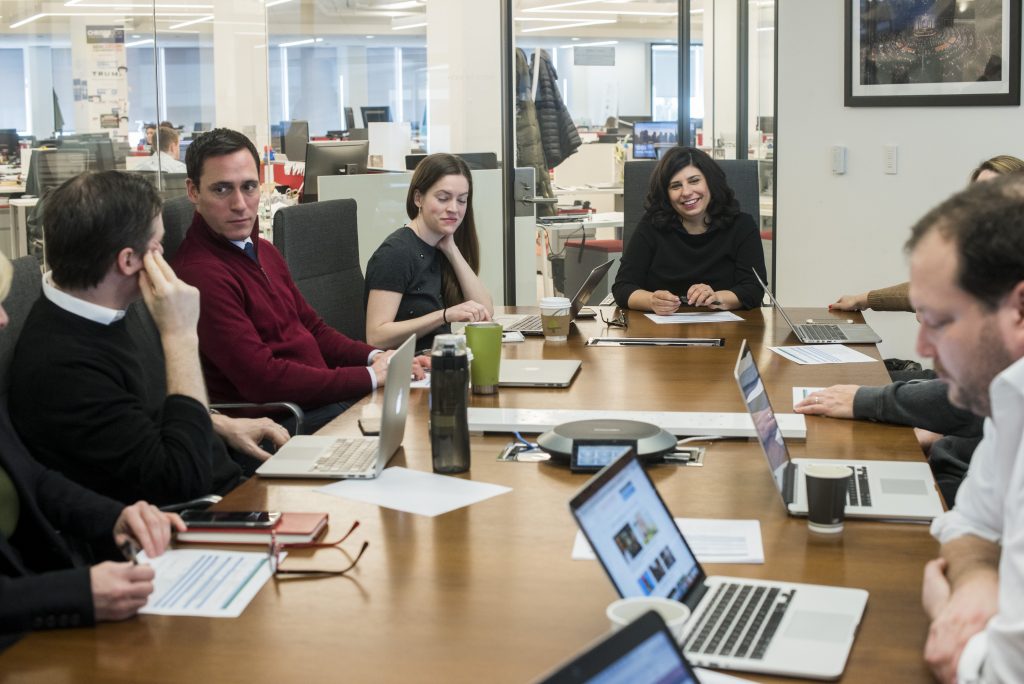 What differences (if any) have you noticed with raising children as a step-mother?
I helped to raise them from the time they were 4 and 5 years old, but I didn't try to be their mother. I attempted to take on the role of a parental figure without trying to supplant the unique role of their very wonderful biological mother. 
What kind of help do you receive at home and how did you decide on your childcare situation?
I'm very lucky: My husband has the flexibility to take on the brunt of the childcare responsibilities at home. He has always been amazingly supportive of my career, but he's gone above and beyond in recent years as we moved to Europe and back and as I took on this new role as editor. I literally couldn't do this without him. 
With covering major events such as Barack Obama's 2008 Presidential Campaign and legislative efforts on Capitol Hill, what is the key to staying energized throughout the day in order to truly be present at home?
It's very difficult. My job often follows me home at night – the Trump presidency has meant news never stops. I try to get home by 7-7:30 so I can eat dinner with the family and spend time with my daughter before putting her to bed. I try to put work (and my phone) aside during that time.  
If working at POLITICO wasn't already inspirational enough on its own, you were also the managing editor and founding member of POLITICO Europe. With your temporary employment in Belgium, what tips do you have for families who are also facing a big move with children?
Don't think twice about doing it. Moving and living abroad may always be one of the best things we have done. We were fortunate in that my daughter was only 2.5 years old when we left for Brussels, so it was fairly easy to relocate her. She was happy as long as she was with us. But we took little steps to make sure her new home in Brussels had reminders of her time in Washington. And then we embraced all that was wonderful about being in a new place. We traveled a lot, explored the city and learned the language. My husband and I want to move abroad again someday. 
Despite your passion for journalism, we can only assume it can get tiring to cover current news and meet fast deadlines — especially with the normal change in sleep schedule as a parent. What was your personal experience with this and how did you handle the challenges that came with it?
I'm the kind of person who needs sleep, so I'm pretty disciplined about making sure that I do. Otherwise, I'm a wreck — and that's not good for anybody. The best solution is that my husband and I will take turns with childcare if one of us needs to sneak in a nap or sleep late. 
Carrie Budoff Brown is The Everymom…
Best thing to do as a family?
Traveling and exploring new things.
One thing your child can't survive without?
Her pillow.
Easiest way to put a child to sleep?
After books and fruit, I sing her four lullabies, starting with You are My Sunshine and ending with Twinkle Twinkle Little Star.
Go-to book to read to your child?
Rosie Revere Engineer.
Favorite part of being a mom?
The cuddles, kisses, and giggles. Nothing better.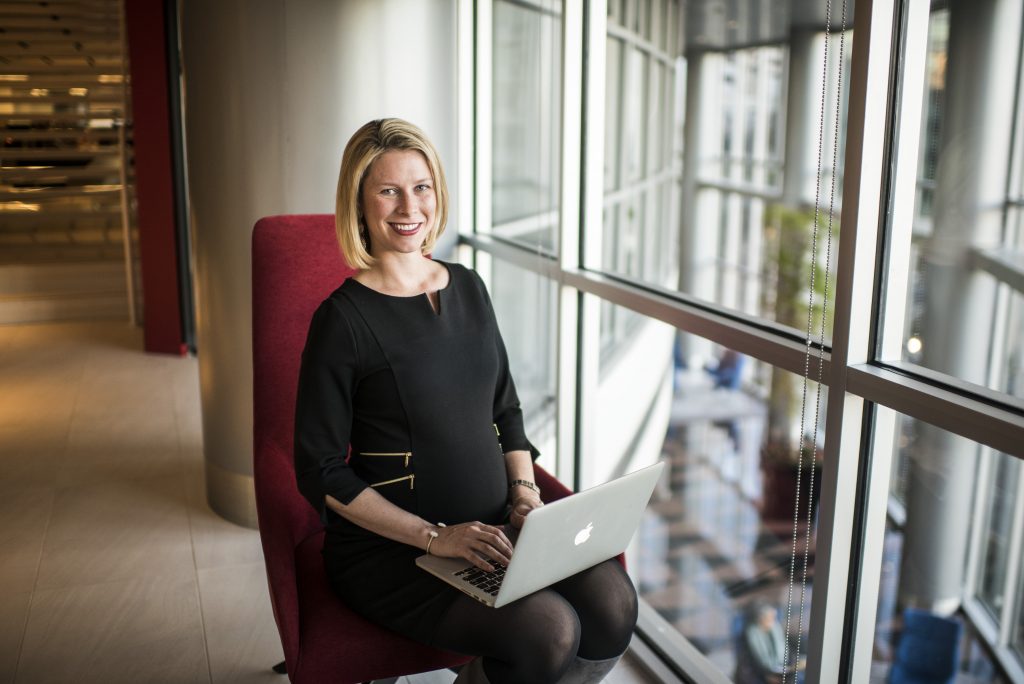 Cally Baute
VP, GM of Audience Solutions at POLITICO
From joining POLITICO in 2011 to dispatching to NYC for POLITICO's acquisition of Capital New York, Cally Baute has always known the importance of a strong work ethic, and is now the General Manager of Audience Solutions because of her's. Amongst the many roles she's landed during her career, one of the special ones in her life is as a mom to her daughter and newborn baby. She's sharing her experience with maternity leave and what she plans to do differently as a new mom of two:
What was your first job and how did you land it?
My first real job was with an advertising agency in Chicago called Starcom, where I was a national TV media planner. Starcom recruited at my university, and I applied for the job on a bit of a whim. Little did I know how much I would love the industry.
As a loyal employee of POLITICO since 2011, walk us through the roles you've played in the company throughout the years.
I started at POLITICO as an Account Manager in our advertising sales department (now known as the Audience Solutions department) supporting our sales team, then shifted into a role working with our Chief Revenue Officer to better operationalize our sales team and come up with new ways to generate revenue. While in that role, POLITICO acquired Capital New York, and I was dispatched to NYC to launch the advertising and subscription sides of the new business. I transitioned back to the DC office about a year later and assumed a sales role, working with corporations, associations, and coalitions to reach influencers through advertising and partnerships. My next role at the company was working with the head of the Audience Solutions department to manage the day-to-day sales operations of the team. In the fall of 2016, POLITICO asked me to run the entire department.  
You were involved in POLITICO's first ever acquisition of Capital New York — that must have been such an honor! What did you learn about yourself through this accomplishment?
It was one of the most challenging and rewarding experiences of my life. It was amazing. I had the unique opportunity to work for a nimble, small, smart, and scrappy start-up within a larger start-up. It was a bit daunting, to say the least, to be so intimately involved in such an important moment for POLITICO.
It taught me that you have to trust your colleagues in the trenches with you, that you can always learn something from everyone you work with, and that the good stuff is often hard.
Congratulations on your second baby! How did the news of your pregnancy impact your current role as Vice President, GM of Audience Solutions at POLITICO?
Thank you! I have been fortunate enough to work in an environment where the news was received with nothing but positivity and genuine excitement.
Tell us about your experience with maternity leave with your first child.
I'm embarrassed to say that I already have a slightly fuzzy recollection of my maternity leave. The first six months (at least) with a new child is all about survival. I was lucky in that I had an immediate connection with my daughter, and we had more fun getting to know each other while I was on leave. To be clear, it was hard. But the most rewarding and special time of my life.
How do you and your significant other divide parenting roles?
My husband is father of the year. He's a true partner in parenting and all other aspects of life. We switch roles every day, with the unspoken agreement that we do whatever it takes to be as fair, loving and engaged in parenting as we possibly can be.
Right now, we're in what my friend Jack Smith refers to as "zone defense" with one child – when our second arrives we'll move to "man-to-man defense" and all bets may be off.
You recently stated on MediaShift podcast that people are becoming addicted to politics. How do your ideas shape the way you raise your children?
There's no silver bullet, no right way to raise your children. Our approach is to hopefully provide an environment that encourages honesty, openness, empathy and kindness to others.
With your experience of already working with a child, is there anything you're deciding to do differently with your expectation of another?
To never waste a minute while at the office with colleagues. I always want my coworkers and team to know they are getting 100% of me every time I interact with them, and I want my family to know the same.
Cally Baute is The Everymom…
Latest Netflix binge?
The Crown, Season 2: Queen Elizabeth is a boss!
Best snack to make your children?
Our daughter is very into fruit – one of her favorite snacks is putting raspberries on her fingers, dancing and singing to "Raspberry Beret" – have to teach her about Prince young!
Your diaper bag is full of…
Cheerios, baby sunscreen and disposable plastic bags (because you never know when a diaper change might happen).
Fondest memory as a family?
The twenty minutes each night after bath time when she runs around, squeaky clean, as happy as can be. She's playful, goofy and snuggly all at the same time.
Favorite part of being a mom?
Everything.
Traci Schweikert
Vice President for Human Resources for POLITICO
With her knack for building relationships and her knowledge of creating business strategies, Traci Schweiket quickly fell in love with her first HR assignment — and has spent her entire career in the field. As the Vice President for Human Resources and a mom of two, Traci expertly divides her time between coaching professional conversations and raising her sons. In general, she's no stranger to the efforts of being a working mom and has advice not only for how to manage the role, but how to master it.
What was your first job out of college and how did you land it?
I was an HR Assistant for a technology company. Not a glamorous hiring story. I was looking for a job in communications. While I was interviewing, I signed up with a temp agency to pay the bills. A three-week temp assignment turned into a career. I fell in love with the people aspect of my role and never the HR field. 
You've had over 20 years of experience working for respected corporations such as NPR and LexisNexis. Tell us about an experience that helped you get to where you are today.
I have been fortunate to work for some great leaders who often took a chance on my passion to learn even when I didn't yet have all the qualifications. I try to pay that forward as a hiring manager and a leader. Of note, I had a great mentor at LexisNexis. She was an SVP & General Manager for the business I supported. I was a new mom and she was clearly a successful working mom. Her advice to me was never apologizing at work for the time that I needed to spend with my family. She showed me that you can successfully meet family and work commitments with a bit of planning and focus on what things are most important for family and for work. 
Walk us through your typical workday.
I am usually the first one awake and up for the day. I check my email and send a few notes as I usually wake up with a list already running through my head. I get ready for the day, and then wake up my two boys. We spend some time talking about the day ahead with my husband, then I head to the office. I try to be in early so I can work on email, follow-ups, or specific projects. Once 9:30 hits, I am in meetings or coaching conversations most of the day. I spend time at the end of the day wrapping things up and working on long-term projects. Then, I head home. I try to be home for dinner at least three nights a week, more is better. We often have scouts, practice or school activities in addition to homework that needs some attention. We settle in as a family and talk about the rest of the week. My husband and I are trying to encourage our boys to plan for their week themselves, but they still need plenty of reminders. After the boys go to bed, my husband and I get back online for email and work projects. We often have a Netflix series or movie as background and chat about highlights of our day so we can wind down together. 
You're known for your ability to create strategies that reach business goals — how has this trait helped you as a mother of 2 boys?
I am not sure whether work helps me be a better mom or being a mother helps me be a better leader. Many of the same skills pop up in both worlds. Life is crazy, so lists and calendars are my best friend.
I think what I have learned is that I cannot control a lot of things (whether it is an executive or a 5-year-old boy). What I can control is how prepared I am for when that crazy thing happens.
Having ready tools available (either a contingency plan for a difficult conversation or a snack for a hangry little boy) make any difficult situation a little easier.
Can you tell us about the transition to becoming a working mom and what surprised you the most about it?
That transition seems like forever ago, that is the good news. Being a working mom is who I am. I think what surprised me the most is how natural it is for me. I always knew I wanted to be a mom, but I didn't know I wanted to be an executive. At times along the way, I briefly doubted I could have both family and a meaningful career in my life. Fortunately, I have a husband who is a true partner and co-workers who support me and back me up when I need to be away from work.
Do you believe your expertise in HR has shaped the way you raise your children?
Absolutely! The best candidates I meet are those who have a natural curiosity and say 'yes' to opportunities big and small. They aren't interested in just the task in front of them, but the bigger solution. My husband and I intentionally foster that sense of curiosity and thirst to lead in both our boys. We are fortunate to live in DC where there is an amazing diversity of background and experience.  It is a wonderful learning playground. The other piece we spend time talking about with the boys is empathy. Empathy is a key leadership skill that often adults don't know how to use or they consider a soft skill. We want our boys to be able to lead with compassion and understanding. 
What's the key to growing in your career while also spending enough time with your children?
Planning. My calendar is a giant puzzle. For me, it is important to pick moments to focus on family and on work.  I make it a priority to go on field trips and attend events for my sons. I am not there for every activity, but I don't miss the important ones. That means that I may need to work late another night or get back online after the little ones go to bed. My husband and I share a spreadsheet so that we can support family activities and each other.
What is one thing you wish people knew about being a working mom and why?
You don't have to be either a mess at work or a monster at home. While I don't personally believe anyone has complete balance, we all find our rhythm. We lean on the support systems we have – for me it is an amazing husband, a loyal and loving babysitter, and collaborative co-workers. 
Traci Schweikert is The Everymom…
A song you'll never stop listening to?
Hey Soul Sister by Train. My boys call it Mommy's happy song. We sing at the top of our lungs in the car all the time.
Best movie to watch as a family?
Second Hand Lions. It is a great story about a young boy growing up with his uncles and having great adventures. I cry at the end every time. 
Your camera roll is full of…
Freckly faces.
Go-to way to calm a crying child?
Gentle bounce and sway. 
Favorite part of being a mom?
Watching little boys become men that have all kinds of smart opinions on our crazy world.
How do your career skills inform your mom life? And vice versa?