64. That is not the age of my now four-year-old son's grandparents. It wasn't the Beatles song of choice at his birthday party. It was the number of families that RSVP'd, "YES!"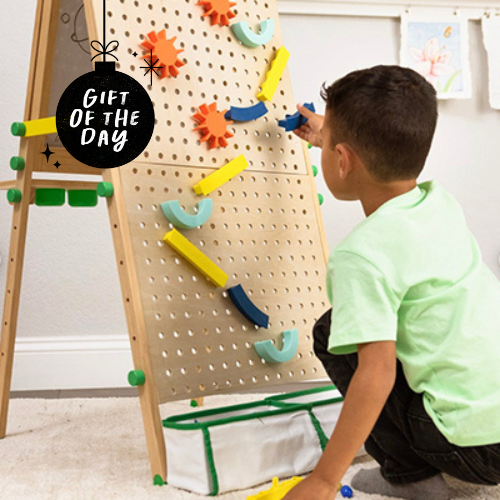 Art, fine motor skills, and fun all mixed into one great gift! Kids will learn engineering with the marble run but also get creative with the art easel mode.
If you're thinking that's bonkers, I did, too. And wait, back up, if 64 people RSVP'd that they'd be attending, how many people did we actually invite? It was easy to get there between my son's pre-k classmates and their families, friends from his old daycare and friends and family. For my family, birthday parties have become a family gathering where we connect in the same joyful and obligatory manners as holidays.
While some family had already given presents on the actual day of my son's birthday, rather than the day of the party, what this meant in essence, was that we were coming home with 64 gifts.
I felt guilty with the acceptance of every single one. I was constantly reminding myself, "Hey, we go to kid's birthday parties all the time. We always bring a gift and feel great about it. No big deal." But as a mother (and I'll add that I am a single, working mother) when I consider what I spend on education, recreation, groceries, savings, and more for my child, looking at those gifts and considering their cumulative value seemed irresponsible. Something just felt off.
Of course, the second we got home from the birthday party, my son wanted to begin opening gifts. As he started to blaze through them, and threw a fit when I said that was all for tonight, a few questions came to my mind:
 How do we teach young children gratitude for what they have and receive without burdening them with issues larger than they can understand?

How do we help them celebrate the intent and love behind a gesture like a gift, and not just the gift itself?

Where in these opportunities can we build humility and appreciation, and balance the line between abundance and being spoiled?
One way parents have tackled this is the gift-less birthday party.  You've gotten the invitation: "No gifts! Your presence is present enough!" It's true that a birthday party is a special time that's really about getting the kids together to play and commemorate the birthday child through a gathering. Maybe there are the special activities from bouncy houses to face painting, and you can bet on balloons and a birthday cake. Like any celebration, at the heart of a child's birthday party is the opportunity for camaraderie and togetherness. Growing up, my parents told me that their birthday gift to me was the birthday party itself. As a grown parent, I better understand the meaning, especially now that I know how quickly the cost of a kid's party can add up.

With everyone together, giving guests permission to bypass presents shows a graciousness and humility that keeps the party focused on the friendships and celebration for the birthday child. In families where there are older siblings and lots of toys, the "no gift" request makes good sense because there are already plenty of hand-me-downs. And because every family's financial circumstance is different, it alleviates any potential burden for families that strain to buy a gift, as often as what feels like every weekend.
On the other hand, "no gifts please" can effectively make other parents who keep the tradition of gifts in place feel guilty. And since gifts are a tradition for birthdays, how do you explain to your child that they won't receive gifts, especially when you are on the giving side of birthday gifts for other kids' parties all the time?
Parents have successfully conquered this conversation, which in itself makes me feel guilty. Is it so wrong to want my child to receive gifts for his birthday? I mean, it's a kid's birthday party! Of course not. It's about the values that surround the gifts and our relationship to material things.
Which brings me back to the original three questions. If you want to accept gifts at your child's birthday party, and there's a good chance there will also be a large number of gifts, here are ways to provide a strong connection to the meaning and symbolic purpose of birthday presents.
Create a connection between the gift and who gave it
Before your child opens the gift, make sure you acknowledge who it is from. Even if there is just a cute sticker attached to a bag, or a name written in sharpie on wrapping paper, help your child identify that the gift is a gesture from another person. It may help to associate the child with an activity or memory as well. For example, "This gift is from Caroline, you always have so much fun together at gymnastics." Then, once the gift is open, be sure to bring the enjoyment back to the person who gave the present. It could be as simple as "Wow, Caroline knows you love puzzles! That was so nice of her to give you that gift for your birthday!" This takes the present beyond a material object, to an expression of care from someone else.
Take time to open each gift and acknowledge what's in it
If there are many gifts, as there were in our case, set boundaries with your child about how many can be opened, and at what frequency. For example, allow your child to open three gifts a night for one week. This will better allow your child to connect to the "who" behind the gift and the meaning of the gesture. It will also allow them time to enjoy the gift and play, rather than jumping from simply unwrapping one present after another. You may also elect to put some away and hold onto them as rewards for chores, accomplishments, and good behavior. You can take a sneak peek at the present for thank you note purposes, and then stash the gift in a secret spot to be awarded to your child as appropriate.
Teach your child to write thank you notes
My son is just learning to write his name. And he definitely doesn't have the patience to write it 64 times. If your child isn't old enough to write the thank you note themselves, have them draw a thank you picture. Then have it copied and enclosed within each thank you note. You can also let young children decorate thank you notes with stamps and stickers. When thank you notes are received, be sure to let your child enjoy opening it and experience it by reading it to them, so that they better understand the effort and thanks when they are creating them.
Consider donating old toys 
To make room for new gifts, it might be time to purge the old. It's a prime opportunity to engage your child in selecting the gifts that they want to give to others who may not have as much. Other ways to bring this message into the framework of the birthday party include making a small donation (even just $1 per guest) to a charity that you select with your child, and include a note with your party favor noting the donation, or you can incorporate an old clothing, book, toy, or can food drive as part of the birthday party and deliver the donation with your child. After the party, you can also donate any leftover supplies to groups like The Birthday Box, an organization that delivers a "birthday in a box," to kids who might not otherwise have a celebration. Or similarly, shop the Amazon wish list of The Birthday Party Project, and select and donate items with your kids to support a birthday celebration for a homeless child.
Talk about how lucky they are
Whatever actions you take to help your child understand the value of what they receive and the meaning behind it, clear and concise communication will help steer the message. It's okay to let your child know that they are fortunate and blessed, and that there are others who may not have the same. It's different for every family. You can guide gratitude into action by asking how they can show they are appreciative of their gifts. See what your child offers up on their own, and then you can offer suggestions like cleaning up after yourself, sharing on play dates, and giving gifts to others on their birthdays.
The truth is that everyone's presence is present enough. And at the same time, one of the joys of childhood is the experience of anticipating, receiving, opening, and enjoying gifts for any occasion, certainly a birthday party. As parents, we can help our kids be present to what the present means.