To those of you who don't have kids, dressing a baby for winter weather might seem like a non-issue — throw on a big snowsuit and a hat and be done with it, right? Not quite. To start, your baby can't communicate to you when they are cold, hot, or just grumpy for no reason. Second, if there's one thing your baby is good at, it's making things complicated. Let's say, for example, your baby refuses to wear a hat. Or the snowsuit you bought her makes her car seat unsafe. Then throw into the mix that her gloves never stay on, her boots make it impossible to walk, and that she's outgrown her unnecessarily expensive cold-weather sleep sack. Twice. With babies, there's no such thing as a non-issue.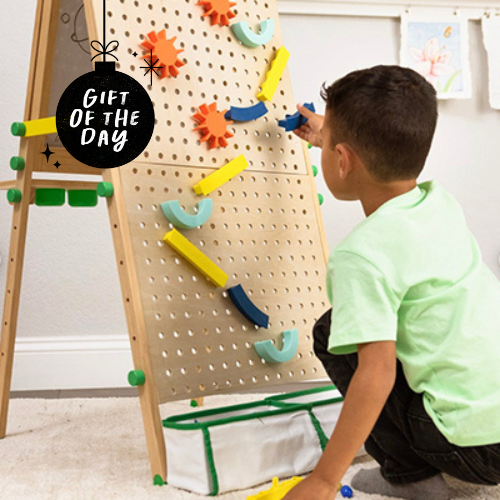 Art, fine motor skills, and fun all mixed into one great gift! Kids will learn engineering with the marble run but also get creative with the art easel mode.
But as the temperature continues to drop, remember this: you are not alone! Many parents before you (and many more after you) who live in cold weather climates understand your frustration. As a result, there are plenty of small companies and brands making great winter time baby gear. Aside from basics like footed pajamas, socks, and warm snuggles from loved ones, below are nine of the best (and most highly-reviewed) winter essentials for your baby.
A sleep sack that will last all year long
Wearable blankets are the best when it comes to keeping your baby warm and snuggled after they transition out of a swaddle. In the winter time when the temperature dips, you should look for a sleep sack that can keep your baby comfortable without overheating.
Woolino
This wool wearable blanket is 100 percent natural, super soft, hypoallergenic, and temperature-regulating (which means you don't have to ditch it come summer time). The best part? Your baby won't grow out of it! It's one-size-fits-all and is designed for kids age two months to two years.
Coyuchi
This is roomy, has a 300-thread-count organic cotton sateen, and looks just like mom and dad's comforter!
Booties and mitts that won't fall off
Trying to squeeze your little one's hands into gloves or mittens is a nearly impossible task. (The same goes for trying to carry your baby around with oversized rubber winter boots.) But keeping your baby's extremities warm is crucial to regulating their overall body temperature.
Stonz
Instead of compromising with fleece, try these. The unique designs have adjustable ties so you can fit the mitten or boot over your baby's outfit, and then tighten accordingly. They are weatherproof, lightweight, and suitable for all ages — including early walkers! You can even purchase cozy liners for additional warmth.
Zutano
These baby booties have a cult following - probably because they're the only ones that stay on those little baby feet.
A fitted stroller blanket for long, wintery walks
7 A.M. Enfant  is hands-down one of the best brands in the industry for super warm, super stylish fitted stroller blankets, pods, baby carrier covers, and car seat covers. Their blankets are so much like a warm parka, you don't even have to invest in a snowsuit!
7 A.M. Enfant
This blanket is available in 17 colors and allows you to size it up or down using zippered length and width extensions so it can grow with your child.
7 A.M. Enfant
This foot muff fastens easily to any stroller or car seat, and is convertible to a lighter weight blanket for warmer months.
7 A.M. Enfant
This adapts to any car seat or stroller safely, and is perfect for keeping tiny newborns warm and comfortable.
A two-in-one baby balaclava
Fact: babies look adorable in hats, but once they gain control of their arms and fingers, that hat isn't guaranteed to stay on their head. And scarves? Forget about it. To keep your baby's head, ears, and neck warm without fuss in any type of cold weather, try a baby balaclava. 
Hand-knit leg and arm warmers for easy layering
Layering is a great way to keep your baby warm without adding bulk. While it's great to layer footed pajamas, tights, pants, and socks, it makes for long and difficult diaper changes. To skip the hard part but reap the benefits of layering, try leg and arm warmers. They're so much easier than layering clothing because they don't need to be as size specific, and can be easily pulled on and off depending on where you and baby end up.
Cabbages & Kings
These leg or arm warners were hand knit in Peru. They have a fold-over muff that can be worn as "booties" or hand mittens.
Each piece is hand made and may vary slightly in pattern, color, or measurement.
An adorable (and really warm) stroller & nursery blanket
Puffy winter coats and snowsuits (and even some car seat covers) can compromise the safety of your child's car seat, because the seatbelt isn't able to tighten close enough to the child. To avoid this, warm clothes and a thick blanket are often to the best way to keep your baby warm if you plan to travel by car. 
A super lightweight fleece jacket
Again, since puffy jackets are a no-no when it comes to running errands around town in the car, a lightweight fleece jacket is a no-brainer. 
Widgeon
This jacket closes together with Velcro, which is amazing if you're in a rush or have a baby who hates to get dressed and undressed (who doesn't?), and has a warm hood to block wind chill.
And when in doubt, babies love body heat
If there's one thing you shouldn't do in the winter, it is stay inside all day long. You and your baby will both benefit from some cool fresh air and a little exercise. If your baby is dressed appropriately and protected from harsh winds or rain, they will love to be snuggled against you as you walk. You could even zip your coat over your baby's feet and body for added warmth without having to purchase a carrier cover.
What are your favorite products to keep your baby warm? Let us know in the comments below!