Obviously, there are a ton of things that can influence your personal style and fashion sense. There are more obvious factors like comfort, interests, weather, and general preferences. But something you may not have considered is the influence of your zodiac sign on your style. Every sign is unique and has qualities specific to them, so we've put together a personalized fall mom uniform outfit for each one.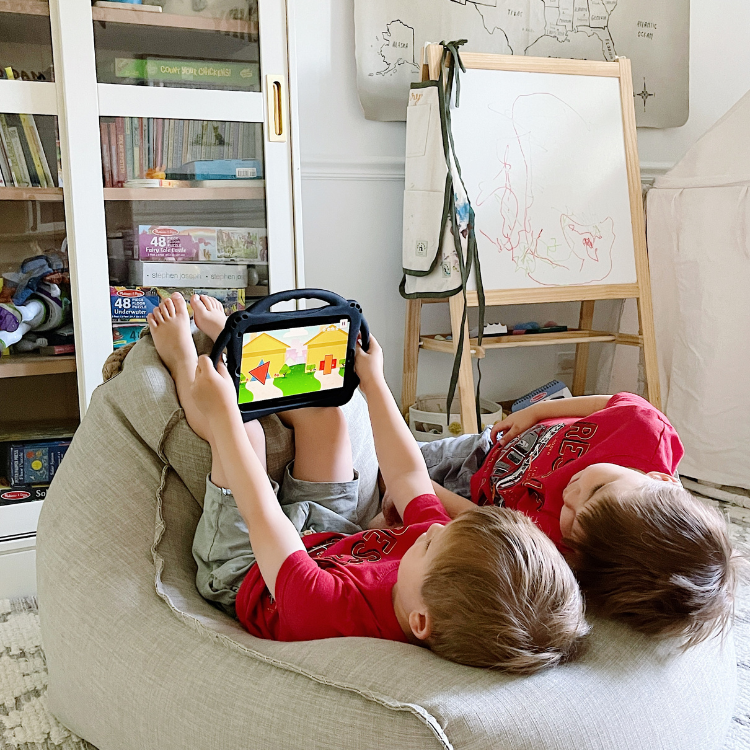 a pediatrician shares what she *really* thinks about LOs and screen time
I am personally fascinated by astrology—I love to read my daily horoscope report from the Co-Star app and research all about my sun, moon, and rising signs, along with how they influence who I am. Needless to say, I really enjoyed putting together these outfits for each of the zodiac signs. However, I am also very aware that there are some astrology skeptics out there, but with an open mind, you might just find an outfit you love.
Keep scrolling for your fall mom uniform, based on your zodiac sign:
Aries
Aries women are trendy, bold, and not afraid to make a statement. A chic teddy coat paired with some of this season's most popular (yet still super-wearable) trends—burnt orange and distressed straight-leg jeans—is the perfect way to express their inner fire sign.
Taurus
Taureans are no strangers to the finer things in life and love mixing textures, so they're willing to splurge on a staple like faux leather leggings. Worn with a cozy turtleneck sweater and chic accessories, this outfit is tried and true.
Gemini
Gemini is another sign that loves trends—and they're adaptable and outgoing too. Catch them in an up-and-coming animal print like zebra or tiger, paired with comfortable boots and a backpack for weekend adventuring.
Cancer
Cancers are no strangers to comfort—in their clothing and in life. A graphic sweatshirt (especially one that says "self love"!), leggings, and an oversized denim jacket is the perfect outfit for the classic yet cool energy of this sign.
Leo
A Leo is confident, poised, and refined in all things, but especially when it comes to their wardrobe. They love elegant and neutral basics that can be worn a ton of different ways, like a staple sweatshirt and straight-leg jeans. Most likely to: have a capsule wardrobe.
Virgo
Virgos are incredibly sophisticated and love things nice and neat, so it's no surprise that they gravitate toward clean lines in clothing. A blazer paired with paper bag pants and a sweater tank is the outfit of Virgos' dreams.
Libra
There is no sign quite as classy and charming as a Libra. Pieces like plaid pants, and a lightweight sweater, topped off with a moto jacket and chainlink earrings, give this look the perfect mix of modern and classic.
Scorpio
Scorpios are the super low-key but very cool women of the zodiac, and that is expressed in their style choices. Their perfect outfit combo definitely includes a mix of basics and statement pieces—such as a graphic tee and jeans paired with a unique jacket and cheetah sneakers.
Sagittarius
A Sagittarius is confident and bold and demands attention when they walk in a room (in a good way). They would take a pretty basic outfit like jeans and a sweater and make it their own with unique details and bold accessories.
Capricorn
Capricorns love to get sh*t done. Their outfits are about practicality and comfort, while still looking put-together and ready for anything. Staple pieces like white tees and cardigans are the backbone of their closets.
Aquarius
Aquarians fall under the "loves to try new things" side of the zodiac. Their style is fun and a little bit funky, but they're still always looking chic and put-together. This sign would love to try out the sweater dress and tall boots combo this season.
Pisces
A Pisces is dreamy, artistic, and feminine, so their outfit choices usually reflect that. An easy and flowy outfit like a midi skirt and a structured sweater is the perfect way for them to express themselves.