Every December, my sisters and our growing families descend on my parents' home for a tree trimming party. It involves plenty of Manhattans, our ugliest Christmas attire, and a feast of what we've lovingly termed "Brown Bag Roulette," where everyone brings one serving of a dish from a local restaurant wrapped in a brown bag for top-secret trading. Of all our holiday traditions, this year I will most miss this ridiculous dinner game and peeling open my bag to discover anything from surprise dumplings to a cheesy calzone.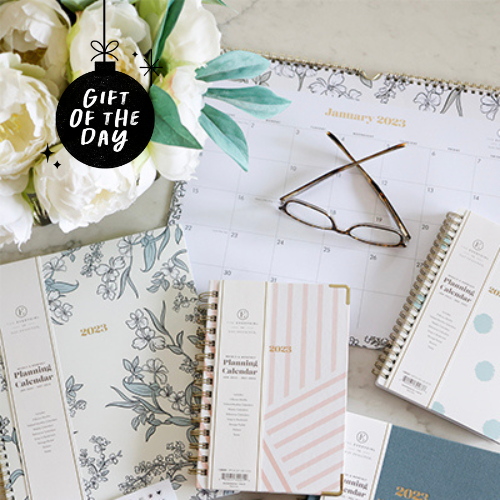 Help a mom stay organized and keep track of important doctor's appointments, playdates, and (hopefully) some scheduled 'me' time with this pretty wall calendar.
My heartache is one thing, but my daughter's? I have been preemptively angsting about it for months. So to put this pain to good use, I sat down to plot out eight ways to share joy, love, and togetherness this season—even when we can't physically be with the family and friends we love. 
1. Support a Good Cause
It is not lost on me that even in ordinary times, the holidays can be difficult for many families. Mix in our current health and economic crises, and the struggle grows exponentially. So if you're able, it's a good time to make a contribution to charities that are near and dear to your heart. Even better? Donate in honor of your loved ones this season, and they will receive notice that you have spread some holiday cheer in their name.
2. Host a Virtual Holiday Game Night
Every holiday season, my three sisters and I get together for a game night and gift exchange: no kids, no parents, just us. Without fail, I wake the next day with sore abs brought on by raucous laughter. So instead of forgoing one of my favorite nights of the year, I'm taking our sister game night online. My heart flipped with glee when I found this beautiful and downloadable Virtual Christmas Game Bundle, with festive versions of Scattegories, Christmas Song Emoji Pictionary, Christmas Trivia, and more. Here is an option for those who celebrate Hanukkah too.
3. Visit the North Pole Together
It's safe to say that no one will be whispering in Santa's ear this Christmas—but that doesn't mean your family has to miss out on the North Pole experience. Plenty of innovative elves are finding ways to virtually welcome visitors to their workshop this year. The Santa Experience is offering North Pole tours and chats with Santa for kids and their families–grandparents, aunts, and uncles included!
4.  Enjoy Seasonal Story Time
Is there anything sweeter than seeing your little ones snuggled up on your parents' laps for a bedtime story? This year, I'm inviting my mom and dad to tuck my girls in by video chat. I'm purchasing a few new holiday reads to send to my parents for these reading sessions—and tossing in some old favorites like The Christmas Magic and Mrs. Wishy Washy's Christmas. I'm hoping this can be a standing date my girls look forward to throughout the Christmas season.
5. Share a Spotify Playlist
Like the mix CDs of yore, a good Spotify playlist invites us to share the songs we love most with our people. My 6-year-old is obsessed with making playlists, and I have every confidence she'll make a proper DJ when designing a holiday mix for family. She goes wild for the old-fashioned goofy tunes like "I Want a Hippopotamus for Christmas"—all but guaranteed to play on repeat in your head all season long.
6. Go on a Holiday Scavenger Hunt
Gather up family across the country to embark on an ongoing scavenger hunt. This can be as simple as starting up a shared spreadsheet to complete—or you can opt to go high-tech with an interactive app like GooseChoose. The app allows for teams, customized missions, and an automatic points tally. Whichever route you choose, invite players to hunt for items around their homes or neighborhoods such as an inflatable snowman, an outlandish lights display, or lawn ornament reindeer. Participants can snap photos to complete each challenge and rush toward winning a prize of your choosing!
7. Try Christmas Caroling
If you live near your loved ones, surprise them with a doorstep Christmas carol. I know this sounds silly, but this year I'm willing to set aside my pride in the name of holiday joy. My little family will be showing up on my parents' porch, ukulele, and tambourines in-hand to serenade Grandma and Grandpa with our favorite carols. Of course, we'll be masked and socially distanced too.
8. Send a Seasonal Care Package
At the end of the day, nothing beats the warmth and simplicity of a personalized care package—especially for out of town family and friends. Load up a box with festive treats, cute holiday crafts your little ones have whipped up, and something sweet like a delicious-smelling candle or keepsake ornament. If you can't make it to the post office, consider placing a surprise order for curbside pickup that's chockfull of holiday goodies.
Want more winter activity ideas to do as a family?