Manifesto
She's the seasoned mom, the new mom, the expecting mom.
She's trying to become a mom. Fierce, smart, always multi-tasking.
She is passionate about life, her family, and her own self-care.
She wants to learn new things and seeks advice on everything
from vacation planning to sleep training to prioritizing time for herself.
She's the working mom, the stay-at-home mom;
She needs a bit of guidance, she wants to be inspired.
She is The Everymom. This is for her.
About The Everymom
Over the past six years, The Everygirl Media Group has grown to become a household name in online media, providing millions of women around the globe with a daily dose of inspiration and guidance.
We're excited to begin the next chapter as many of our readers embark on the journey of motherhood – while still trying to balance a cultured, experiential life.
By offering detailed in-depth features, career profiles of working moms, relatable first-hand stories, budget-friendly shopping lists, and how-to guides, The Everymom inspires mothers and moms-to-be toward leading a well-rounded, financially sound, and stylish life.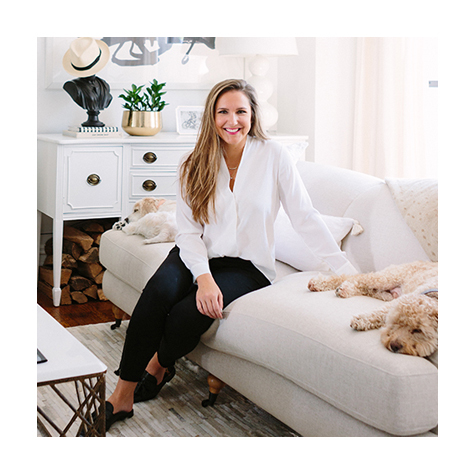 Alaina Kaczmarski
cofounder + editor
A Chicago native, Alaina graduated from the Newhouse School of Journalism at Syracuse University in 2008 with degrees in magazine journalism and psychology with dreams of being an editor in New York City. Not quite able to afford the Big Apple living costs, she packed a U-Haul and headed to D.C. with stars in her eyes and not a single connection to call on. She found her first job the old-fashioned way: a newspaper ad and a solid interview. After a year at a children's advocacy NPO, Alaina headed home to the Windy City and moved in with her mom. A few months later, unsure of what direction her life would lead, she started her blog, Live Creating Yourself, and began writing about everything she loved.
Before long, she met fellow blogger Danielle Moss and the two shared a goal of creating something to inspire women like themselves, who had endless dreams but no idea where to begin. With a minuscule budget but impressive work ethic, the new friends launched The Everygirl in February 2012. Last year Alaina was named 20 In Their 20s by Crain's Chicago Business.
Alaina is mom to Henry, born in May 2018. 
Danielle Moss
cofounder + editor
Born and raised in Los Angeles, Danielle graduated from University of California Santa Barbara with a degree in Sociology. She went through most of her her 20s feeling unfulfilled working jobs in PR and Entertainment, and started her blog Breakfast at Toast in 2007 with the hopes of documenting her life and finding a little inspiration. She studied code and photoshop, redesigned her blog, and months later, found herself running her own graphic design studio specializing in custom blog design.
Once her business became more established, she realized it was time for a change and after spending 3 days in Chicago in 2009, packed her things and along with her rescue dog Buddy, decided to make Chicago her new home in 2010. Danielle designed thousands of blogs for clients around the world and grew her monthly readership to over 70,000 readers, but something was missing. She felt there was a void of relatable, attainable content online and teamed up with Alaina to launch The Everygirl in 2012 and The Everymom in 2018. In 2017, Danielle was featured on Entrepreneur.com.
Danielle is mom to Margot, born in July 2018. 
Julia Birkinbine Poulter
Managing Editor
Favorite thing to do with your mom?
A coffee date to catch up followed by mani-pedis!
Favorite cheat meal?
Chicken fingers and french fries for sure. Gotta love a classic kids meal!
Favorite date night activity?
Dinner and a movie! I'm slightly obsessed with seeing new movies and we go to our local theater way too often.
Dream vacation?
Italy! Give me all the sightseeing, shopping, wine, and pasta.
Best way to end the day?
With an old episode of Friends or a new episode of Real Housewives of New York City — both will always be faves!
Ojus Patel
Senior Content Editor
Last item you splurged on?
Great skincare. I'm not getting any younger, tbh.
Favorite meal?
I could eat tacos for basically every meal. They are a food with an unending amount of potential, in my opinion.
Favorite inspirational quote?
"Fear is always with us, but we just don't have time for it. Not now." Hillary Clinton said this in her 1969 commencement address at Wellesley, and since the moment I read it, it's stayed with me. I have it written on a post-it and stuck on both my desktop and laptop. It reminds me to be vulnerable and encompassing in both my life and work.
Biggest mom fail?
Hmm, where do I begin? Almost every surface or piece of furniture in our house has some sort of kid-art on it. Here's hoping one of these little Van Goghs makes it big as an artist one day, so I can say it was all part of a larger plan.
Keely Geist
Social Media Editor
Favorite thing to do with your mom?
As self-proclaimed foodies, we love trying new and trendy restaurants! Anywhere with yummy cocktails is a must-try for us. 
Cure to a bad day?
Laughing a lot with my friends over sushi and wine cures everything.
Favorite inspirational quote?
"What if I fall? Oh, but my darling, what if you fly?" –Erin Hanson
Guilty pleasure?
Bad (more accurately like the worst) reality TV. I can't look away. 
Favorite way to treat yo'self?
I'm all about the self-care appointments. Nails, brows, facial, my favorite workout class… I love them all! 
Kathy Sisson
Contributing Editor
Self-care activity you love?
Pedi while reading a good book or Us Weekly (mostly there for the foot massage). Also love exploring a good antique store.
Dream vacation?
Back to my honeymoon spot in Lake Como, Italy.
The one food you can't stop eating?
Trader Joe's Dark Chocolate Peanut Butter Cups.
Biggest mom fail?
First trip out of the house with baby and we went to Target. She was strapped in her carseat in the shopping cart and I sent her up the cart escalator — alone. I paused, panicked, and stayed at the ready to hop over and save her. We both survived (me, barely). I've never sweated so much in my life — and I didn't tell my husband until a full year later.
Laura Adom
Contributing Editor
Best way to end the day?
Snuggling on the couch watching something funny on TV.
Favorite inspirational quote?
"And the day came when the risk to remain tight in a bud was more painful than the risk it took to blossom." – Anais Nin
Meal you'd eat every day?
Tacos!  Breakfast tacos, regular tacos, dessert tacos… just, tacos.
Celebrity crush?
Idris Elba
Biggest mom fail?
I was playing with my son on the couch and turned my head to talk to my husband and within seconds he rolled off and onto the carpeted floor! Thankfully he landed on his butt and was completely fine but we both vowed to never tell anyone… until now.
Amanda Shapin Michelson
Contributing Editor
The one food you can't stop eating?
French fries. If I see them on a menu there is a 99.9% chance I will order them.
Childhood dream job?
Magazine editor. This seems pretty close!
Guilty Pleasure:
Any and all Bravo reality shows (top picks are Southern Charm and Vanderpump Rules).
Favorite activity to do with your mom?
A long walk followed by brunch!
Fun fact?
I recently lived in Spain for eight months. And yes, living in Europe is just as dreamy as you might think.
Liz Greene
Contributing Editor
Favorite meal?
I'm a carbs girl, through and through. Give me a plate of pasta with plenty of cheese and good bread for dipping, and I'll be in a blissful food coma before long.
Last item you splurged on?
I recently treated myself to a monogrammed Clare V. wallet and every day when I see its classic French style in my diaper bag, I love it more and more.
Dream vacation?
Since moving to the West Coast a few years ago, I've created quite a "West Coast Bucket List" full of places I want to visit while we live out here, including Big Sur and Hawaii!
Best way to end the day?
Both boys asleep after a bedtime routine that went relatively well, a nice dinner with my husband, super comfy pajamas, and curling up with the latest book I'm reading.
Allyson Trammell
Editorial Director
Weirdest work habit? 
Having full conversations with my dogs throughout the day.
Guilty pleasure? 
Spending hours in Sephora trying every single item.
Cure to a bad day?
A cheese board and a full baguette. If I'm being honest, that's the cure for a good day as well.
First job in this industry? 
An Everygirl intern! 🙂
Alexandra Pagar-Wolf
Director of Partnerships
Favorite playlist on Spotify?
Totally Stress Free!
Favorite cheat meal?
Fried oyster sliders, lobster rolls, and french fries.
Favorite part of my job?
Connecting with people.
Favorite way to treat yo'self?
A glass of dry champagne, sushi takeout, clearing out my DVR, snuggling my puppies, and ordering miscellaneous items from Amazon Prime.
Childhood dream job?
Veterinarian and children's book publisher.
Kelly Etz
Senior Graphic Designer
Meal you'd eat every day?
If it wouldn't kill me, I'd have a juicy burger (lettuce, tomato, all the cheese) + a Bell's Two-Hearted. It's the simple things.
Coke or Pepsi?
Coke, always and forever. Don't ever "Is Pepsi okay?" me.
Fantasy getaway location?
Australia. I'm dying to meet a kangaroo. Also, accents.
Snapchat or Insta Stories?
Insta, all the way. I'm an old fogey when it comes to Snapchat.
Childhood dream job?
Pastry chef. My Easy Bake Oven will back me up on this one.
Leigh Ryan
Junior Graphic Designer
Madeline Galassi
Editorial Assistant & Copy Editor
Favorite activity to do with your mom?
My mom and I have killer shopping days with each other — it's always been our favorite way to spend the day catching up.
Guilty pleasure?
Any of the Real Housewives, but preferably Beverly Hills!
Place you're most inspired?
My soul belongs in New York City — it's impossible to walk down the streets and not feel energized and motivated. I love literally everything about it (the ultimate betrayal to my hometown, Chicago).
Childhood dream job?
A writer! I knew I wanted to be a writer for as long as I can remember. When I was little, I used to sit and pretend to be an editor with my mom's magazines.
Best way to end a day?
A run on the trails in the woods by my house blasting the High School Musical soundtrack followed by cuddling with my dog, and a glass of wine.
Beth Gillette
Editorial Assistant & Copy Editor
Place you're most inspired?
When I'm at home! Cleveland, OH is the most underrated city. I also feel like I'm truly myself inside a Sephora, preferably a large one.
Favorite childhood show?
Lizzie McGuire. I felt connected to her because both of our names were Elizabeth.
Never leave home without?
My planner and lip gloss.
Favorite activity to do with your mom?
Watch scary movies and eat cheesecake!
Celebrity crush?
Donald Glover + Jason Sudeikis. Sense of humor is everything.
Ashley Selleke
Editorial Intern
Favorite thing to do with your mom?
Mani-pedis while she Snapchats the entire experience… yes, my mom is a hip teen!
Guilty pleasure?
Binge-watching The Office for the seventh time through.
Dream vacation?
Literally anywhere in Europe… I've never been!
Last item you splurged on?
Skincare products from Sephora. It all happened so fast!
Fun fact?
I'm a full-time pediatric emergency nurse!