Whether you color your hair sporadically or have been seeing the same colorist every other month for 10 years, being pregnant or nursing will likely force you to pause and think: is coloring my hair safe for my baby? Don't worry, you aren't the only one with this question.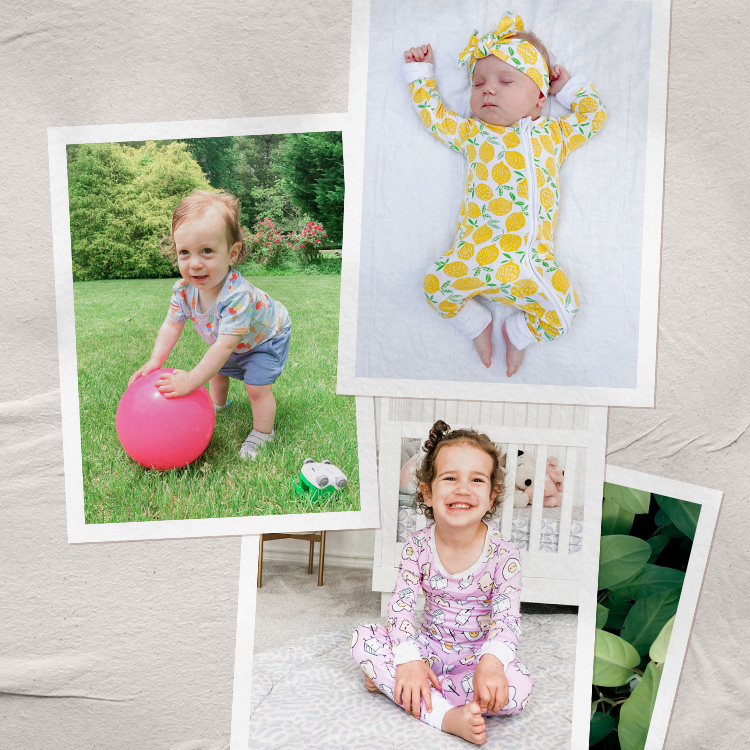 it's more than just their cute PJs... get ready to add to cart! 😍
There's a well-circulated rumor that warns against coloring or lightening your hair while pregnant. But we have some good news for you – the claim that hair dye is a no-no during pregnancy isn't entirely accurate. In fact, you can color your hair safely while pregnant. There are, however, a few things you should know before you call your salon or buy that box of dye. Here they are:
First, talk to your doctor
It's 100 percent okay to ask your doctor questions about anything related to the safety of your developing child. Do not feel embarrassed. When we asked Dr. Sheila Loanzon, a California based OB/GYN, she told us, "Yes, pregnant women can color their hair. Exposure to hair dyes and hair grooming products results in very limited absorption in the body as long as the scalp skin isn't cut."
She also added that, "Data on safety is limited, inconsistent, and based on reports from other women, so it is important to always use caution." So yes, this means coloring your hair while pregnant is technically okay, but if you are uncomfortable or want to be sure, don't ask your coworker who has had four kids – ask your doctor.
Head to the expert instead of doing it yourself
While there aren't any added dangers when it comes to the products used for at-home hair dyeing versus in a salon, in most cases a well-reviewed, accredited salon will seat you in a well-ventilated area and will be careful not to expose your skin to chemicals for unsafe amounts of time. Dr. Loanzon says, "It's important to make sure it [hair coloring] is done in a well-ventilated area to not inhale the fumes, as pregnant women are more sensitive to scents during pregnancy."
A colorist has lots of experience with different types of dyes and will know how to time things properly in order to avoid skin irritation. This is important because even though you may have box-dyed your hair in the past, your skin might be more sensitive during pregnancy. For this reason, doing things yourself puts you at a greater risk of rash or irritation from bleaches and other chemicals present in dyes.
Opt for balayage or ombre color techniques
Because of the limited data on hair dye and whether or not it affects a developing fetus, many women who choose to dye their hair while pregnant opt for treatments where the dye doesn't come into contact with the scalp.
If this is something that makes you more comfortable, there are plenty of on-trend options. Both balayage — a highlighting technique that creates a graduated, natural-looking effect — and ombre —a style where the ends of your hair are a different color than the roots— are popular right now and your colorist will be able to achieve them without applying dye to the scalp. Win-win.
Choose plant-based and/or non-toxic dyes
Even though regular hair dye products are okay, Dr. Loanzon suggests using natural, plant-based dyes whenever possible. She says to, "Avoid ammonia, phthalate, and peroxide based products, and apply the dye several millimeters from the scalp skin to decrease your exposure."
For permanent color, try Madison Reed's line of dyes. They are free of ammonia, parabens, resorcinol, PPD, phthalates, and gluten. Buzzy hair brand Christophe Robin (eponymously named for the celebrity stylist based out of Paris) has temporary at-home dyes available at Sephora that are made specifically for sensitive skin and are an ideal alternative for those with allergies to semi-permanent and permanent dyes. His products are free of ammonia, PPD, peroxide, resorcinol, SLS, silicones, and oxidants. If you aren't sure about the formula of the products used at your favorite salon, ask!
Protect (and boost!) the color you have
It's normal to feel uncomfortable or uncertain about coloring your hair while pregnant or nursing. Instead of visiting a reputable salon or trying a dye alternative, stick it out with the color you have by treating it with a little extra love.
To extend the vibrancy of your color, prevent fading, and protect your hair from drying out, switch to a shampoo and conditioner set that's designed for color treated hair, drop one wash a week, and avoid prolonged sun exposure.
If your roots bother you, temporarily blend your natural hair with your old dye job with a root concealer or tinted dry shampoo. Pro tip: A spray root concealer that matches your hair will make your color look brighter in photos.
Shop the post