While planning for our first baby, my husband and I thought we were financially sound: we signed up for a budgeting class at the local hospital, earmarked money toward labor and delivery bills down the road, and had the good fortune of relying on friends and family members to help cover initial items like diapers and splurges like a Pack-N-Play. Check, check, and check.
Until we did the math on my maternity leave plan and realized it actually meant a month of living on one salary. Or when I eventually shifted from breastfeeding to formula, then we about had a heart attack at the cost of each container. Oh, and that carrier car seat we smartly registered for? Should've gotten two; turns out people tend to use them in both cars for easy daycare pick-up purposes.
But now we know better, and I'm here to share that knowledge with you, along with some expert tips. Keep reading to learn more about the 11 baby expenses you should absolutely plan for, and why.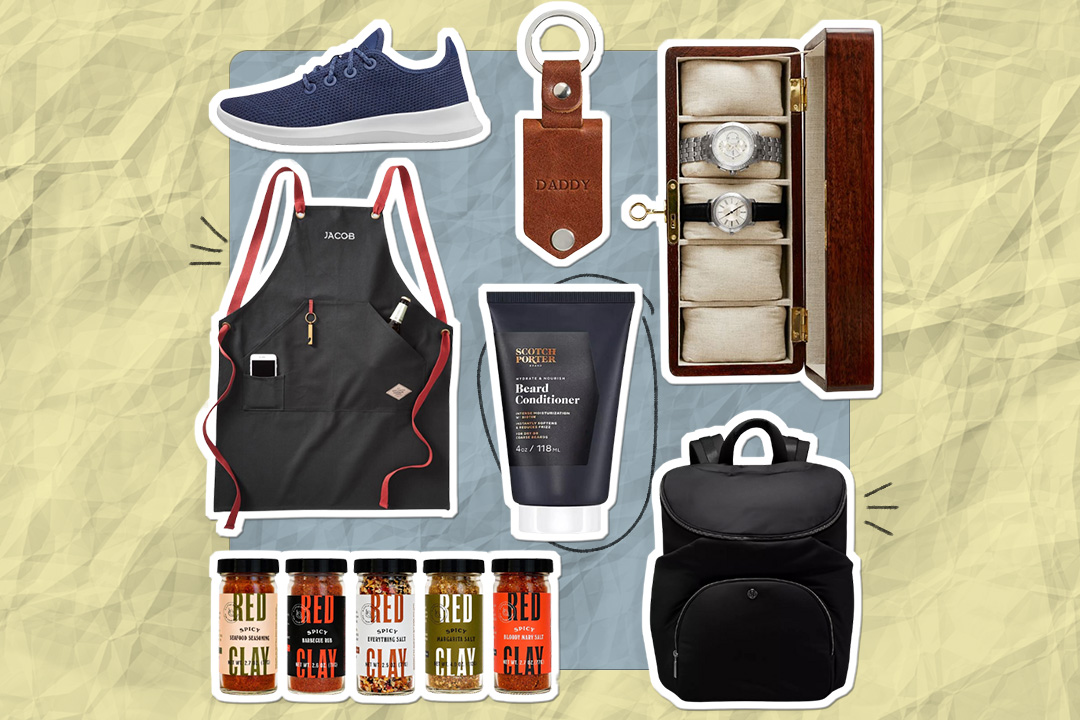 june 18 is coming up fast — have you started shopping yet? 😎
1. A delivery that doesn't go as planned
Sure, you can plan on a certain type of birth experience — epidural at a hospital or at home with a midwife — but if there's one thing all new parents know, it's hard to predict how labor and delivery will go. You might go into labor earlier than you thought, have complications that require an emergency c-section, or your baby could need additional testing and spend a few nights in the NICU.
Melanie Lutz, an Iowa mom-of-two, told me, "Our firstborn was in the NICU right away, and our second had jaundice followed by a five-day hospital stay for RSV, so we had mega bills. And for the record, the bills don't stop with newborns; we've had so much happen that we've met our deductible every year for the past six years."
That doesn't mean you shouldn't plan for the upfront expense of bringing a new life into the world; just know there may be some unknowns. Call your insurance company to see if they can provide you an estimate of what they'll cover for different types of birthing situations, and do your best to set aside funds specifically for those initial hospital bills. Here's a quick breakdown of what to expect for hospital births.
2. Diapers—lots of them
Taking the cloth diapering approach can save you a ton of money, minus the upfront investment, but if you choose to use disposable diapers for convenience, expect to drop a pretty penny. As two working parents, my husband and I went the disposable route, and after working our way through gifted boxes of diapers (thank you, baby shower), basically went to Target every two weeks for more. Luckily, my son wasn't sensitive to lower-cost brands, so we chose whatever was on sale at the time, but some children can only wear a certain kind of diaper to avoid diaper rash or breakouts. And as a parent, you may feel strongly about purchasing eco-friendly disposable diapers, which naturally cost more.
As a result, expect to pay anywhere around $25-50 per month on diapers. Your best bet: try several different types of diapers to see what works for your kid, compare cost per diaper across brands, see if there are sales online versus in-store, and always look for a coupon online or through a store app.
3. Healthcare coverage
This one, of course, seems pretty obvious — as soon as you're pregnant, it's a good idea to call your insurance provider and/or check with your employer to review your healthcare coverage as a whole. Depending on the timing, you may want to take advantage of an upcoming open enrollment to make changes. If you don't currently have health insurance, then now's the time to explore Health Insurance Marketplace or Medicaid options. No matter your situation, make sure you've accounted for insurance premiums, deductible, copayments, and co-insurance for both you and baby, so you can adjust your monthly budget accordingly.
My husband and I are both insured by our employers, but once a baby came into the picture, we had to figure out if it made more sense to add a child to both of our plans, or just one of them. We also didn't think through the number of times we'd see our pediatrician in the first year. Even though my son's "well child" visits were covered by insurance as preventative care, every time he got an ear infection, a bad cold or a weird rash, that meant paying for a trip to urgent care plus a prescription or two. And when he needed to be rushed to the emergency room after having a febrile seizure, we got a bill for $800 in the mail a few weeks later.
Personal finance expert Andrea Woroch, who is an ambassador for Marcus by Goldman Sachs, says that's where an emergency fund can be helpful, because it provides parents with a cushion for medical issues as a child grows. "For instance, I found myself going to the doctor often to check on every little cough or red rash when my baby arrived," she says. "Although the copay was only $20 per visit, it added up quickly. Not to mention, we had to go to the emergency room for a sickness in the middle of the night (an additional $400 bill) and had to get an echo-cardiogram to check on a heart murmur ($1,500). These unexpected costs were stressful to endure but we had cash to cover them so it made us feel safe and avoid high-interest debt."
4. Takeout or food delivery
When you're an exhausted new parent, the last thing on your mind involves meal prep, grocery shopping or cooking. You can definitely take advantage of a meal train with friends, co-workers, and family if at all possible for those early months at home, but at some point, you'll probably notice an uptick in Blue Apron orders or takeout from your local sushi joint. Considering dinner time often coincides with the witching hour for your sweet babe, especially if one or both of you are back-to-work, this approach can save your sanity in the short-term. However, if you're consistently spending all your cash on one-off meals, consider doubling up on meal prep over the weekend when you have a bit more time—your bank account and your waistline will be healthier for it.
5. Maternity leave
Under my company's plan, I was eligible for twelve weeks of maternity leave through FMLA, which is great on the job protection front. Figuring out the financial side of leave was another story, though — I received a reduced salary for six weeks, followed by two weeks of paid time off (all of my vacation time, woo!) and then went a month unpaid. I knew I planned to go back to work, so I assumed getting through those four weeks on one salary would be okay for our family.
The problem is, we didn't really run the numbers. Nor had we practiced living on one salary. We made it through, thanks to a combination of savings, a bonus, and my husband's income, but the experience was incredibly stressful, particularly in addition to the huge change of a new baby. In hindsight, I wish we had spent more time logistically planning for any maternity leave gaps, and being realistic about how our budget needed to fluctuate.
"It's important to understand the details of your maternity leave so you can prepare your finances for while you are out of work," agrees Bola Sokunbi, founder of Clever Girl Finance. "How long is your leave and how much of your salary will you be paid? If your leave is covered at 100 percent, great; otherwise if it's less, you can plan to put some extra funds aside to fill in the gap and even try to live on a reduced amount so you get used to it beforehand."
6. Car seats and strollers that fit your lifestyle
We registered for an infant car seat and a convertible-style one, congratulating ourselves for anticipating the fact that our son would eventually need both. We were right. Then, two weeks into maternity leave, it occurred to us that one car seat equaled… one car. Which could be totally fine for some families, but for us as two working parents with two vehicles, it became a huge annoyance to switch the car seats every time we needed to trade off transportation duties. So we bought another car seat base at the time, and a year later, another "big kid" car seat as well.
Strollers are a whole other ballgame. We had one that fit the infant carrier, which worked perfectly — until I wanted to return to jogging, which technically requires a sturdier version for baby safety. Once our son outgrew the infant carrier, we needed another everyday stroller to replace it. I think at one point, we owned three different strollers for one child, which is somewhat ridiculous but also extremely useful.
Obviously, a car seat falls in the necessity camp, and multiple styles of strollers are more of a luxury. But both can get crazy expensive, so think through your lifestyle and your needs before making a purchase. I also highly recommend biting the bullet on car seats with Black Friday sales, per my friend Mary's advice, and checking Craigslist for gently used stroller options.
7. Childcare
Daycare costs are insane: if you need full-time care for your baby, you're essentially paying college tuition costs. The national average for one child at a center is $196 per week, and nannies can be up to several hundred dollars a week. Children under the age of one tend to cost more than toddlers at a center, not to mention you'll probably be on a waiting list for at least six months, and in-home offerings are even more competitive due to the small number of spots available. And remember: you're paying for daycare or some sort of preschool generally from three months of age until age three, four or even five. It's no wonder many mothers choose to be stay-at-home parents—because when daycare costs more than rent, that may make the most financial sense.  (To figure out how much childcare costs in your state, check out this breakdown by the Economic Policy Institute.)
We planned on a local daycare center ($55 a day per child), and then at the last-minute, switched to an in-home caretaker with a surprise opening ($40 a day per child). All in all, we pay around $800 a month: not terrible, and certainly on par with our state average, but also closer to the cost of a mortgage or student loan payment for most Americans. Whatever you decide (and sometimes you don't have much of an option based on what's available or what works for your family) will absolutely hit your budget, so plan on making some lifestyle adjustments to accommodate.
8. Baby and postpartum clothes
Kids outgrow clothes really, really fast, and they honestly don't wear them all that long before needing the next size. People will most likely gift you baby clothes at the beginning, but you'll breeze through sizes 0-3 months and 3-6 months in no time. And as much as I loved the adorable boutique outfits in general, I also didn't want to spend a ridiculous amount of money on clothing worn once.
Splurge on a few items, but more often, borrow baby clothes from mama friends, find a couple of consignment shops to visit on the regular, or shop online for good deals. Otherwise, updating your baby's wardrobe will start to cost more than your own. Also, my friend Lauren pointed out the cost of postpartum clothes, too: after birth, your body won't be like your pregnancy self or your pre-baby bod, for a few months up to a year, so it makes sense you'd need to reevaluate your closet.
9. Feeding
Everyone kept telling me: you should breastfeed, it's free! Ignoring the fact that, um, breastfeeding is a complicated journey for any woman and you can't always just "decide" to do it, there's also the reality that choosing to breastfeed comes with a whole host of optional accessory costs. To name a few: a breast pump, nipple shields and creams, access to a lactation specialist, special clothing to nurse easily in public or back at work, bottle sanitizers, bags to store milk, travel cooler, supplements, extra pump parts, nursing bras, etc.
If you don't breastfeed, there's the obvious cost of formula, which certainly isn't cheap. And once you veer into the territory of introducing solids to your baby, you might be spending money on prepared baby food (unless you make your own, which I didn't). The point is, I sort of forgot that adding a baby to our family meant adding another person to feed for life — and that can be a significant additional cost as the years go on.
10. Fertility or adoption
When you're trying to get pregnant, it's tempting to focus on all the costs that come after baby. But for those who struggle with infertility or are looking to adopt, the price hits home much sooner: think thousands and thousands of dollars before you can even try to have a baby in the first place, or meet your little one. That wasn't my experience thus far, but I know several friends and coworkers who expressed shock and surprise at just how much those upfront costs added up, and how much harder it made budgeting for baby.
11. College
You just had a baby; you don't have to worry about college yet, right? Think again. You've probably heard the terrifying stats of current college costs, and once you add in inflation over the next 18 years, it's enough to make parents want to throw up. Most experts suggest, right now, saving about $50,000 at the minimum per child for college, which is about $500 a month, assuming interest. I don't know about you, but most people don't necessarily have an extra $500 a month to tuck away; at the same time, starting to save super early is one of the most strategic ways to bulk up a fund for your child.
We decided to ask our in-laws, in lieu of big birthday and Christmas gifts, to start or contribute to a college fund, and in the meantime, we put a set amount of automated money into a 529 plan. Will that be enough, when the time comes? I'm not entirely sure, but I'm glad we started saving well before our son even came into the world.
"Build a line item into your budget specifically to save for your baby and make it a habit to consistently start putting away money for them," says Sokunbi. You can also consider setting up college savings for your child as well through a 529b (or other college savings options) and build the contributions for this account into your budget as well. This would be a great gift to your child and will help them avoid or minimize taking on student loan debt."
Even though the theme of this article might sound like a giant farewell to all your money, forever and ever, it's actually more so a matter of baby-proofing your budget. Nicole Stokes, a financial advisor with Northwestern Mutual, says, "A new baby means new spending habits. But that doesn't mean you have to give up your girls' trips or spa day; you simply need to evaluate your budget and how you'll cover additional baby-related costs. Understand your limits and identify where you'll need to adjust your budget for baby. Work with a financial professional to understand how your new arrival will affect longer-term financial goals. And don't forget to take a break to enjoy pregnancy and parenthood or treat yourself."