One of the great things about finding activities for young children is that they don't always require a lot to be entertained. Who hasn't seen their child forgo playing with one of their many toys in favor of a toilet paper roll or bath cloth? Not only do they love when we take time to play with them, but they are also genuinely curious about things we may take for granted. Seeing the wonder of the world through their eyes is one of the joys of parenthood.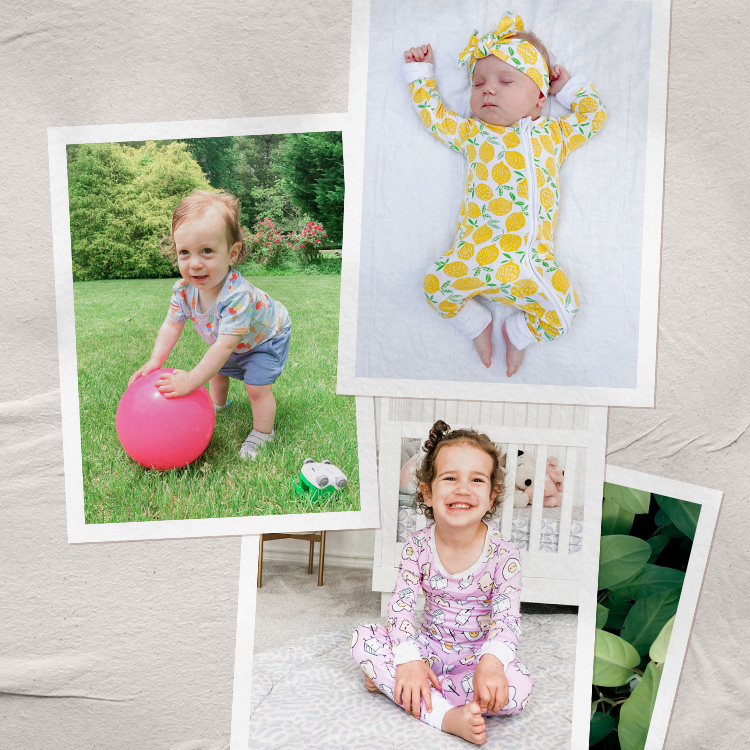 it's more than just their cute PJs... get ready to add to cart! 😍
But finding the wonder can sometimes be tough in the winter, especially if you live in a cold-weather area. Plus, with so much extra time at home—from daycare closures to mandatory COVID isolation periods to snow days—we could all probably use some fresh ideas for winter days at home with kids. Activities with a little learning baked in are always a bonus too. If you're looking for inspiration, here are some simple activities to do with your little ones on winter days at home.
Building forts is such a fun, classic activity for kids of all ages—whether you use couch cushions and a bedsheet to make a tunnel for a toddler or use a fort builder set to encourage creativity and problem solving in older kids. With forts, so much of the fun is in the process of building and decking out the space—and kids are learning while they play. Does the sheet keep slipping? Ask them for solution ideas to fix the problem. Is the fort a castle? A campground? A secret hideout? The imaginative play options are pretty endless, and adding props to bring their ideas to life adds to the fun.
This is one reason we love the fort builder set from KiwiCo: It encourages kids' creativity. Children as young as 5 can start constructing even without a parent's help. The kit includes wooden poles and flexible connectors, making it easy to construct various shapes and sizes—or even two separate forts so siblings can have their own spaces. The poles in our house have also been used as pretend oars for a "canoe" and as part of an indoor obstacle course. The kit also comes in this easy-to-store bag (clearly KiwiCo was created by a fellow mom).
KiwiCo
Fun-to-build forts that are also easy to put away and store? Yes, please. This kit from KiwiCo is a highly rated editor favorite.
Use code FORT for $10 off the KiwiCo Fort Builder Kit + free shipping!
2. Try a Snow Sensory Bin
If you want to play in snow without necessarily being in the snow, a snow sensory bin is such a fun experience for toddlers and kids, and it's so easy to do. Grab a big plastic container, fill it with snow, and grab the summer sand toys, measuring cups, spoons, or little figurines for plenty of indoor snow-filled fun. Pro-tip: Have the kids play in the bathroom to keep mess to a minimum as the snow melts. 
3. Make Art With a Blank Canvas
This is something my son's daycare introduced to his infant classroom and he absolutely loves it. All you need is something that serves as a canvas (try Amazon boxes!), an assortment of finger paint colors, child-safe scissors, cotton balls, and construction paper. You can create a snowman with the palm of your child's hand, a firetruck using their foot, and so much more. When you're finished, you can hang your child's art on the refrigerator! 
Target
Finger painting is messy but fun for any age—and these are totally washable.
4. Have Some Bath Adventures Any Time of Day
As simple as this may seem, kids can play in water for a long time (alway safely supervised, of course). You can incorporate learning bath toys to their bathtub or grab glow sticks and turn down the lights for baby's first glow-in-the-dark bath party. For older kids, turn the shower into a car wash or doll salon for more imaginative play.
Walmart
Learn the ABCs and 123s during bath time with toddlers or reinforce spelling and math with young kids.
5. Take a Mindfulness Walk
If you live in a cold-weather area, it can sometimes seem daunting to get kids bundled up and outside. But fresh air and movement are good for them (and for you). Going for a walk outside is another memorable activity you can do with kids of any age. I've found that walking or hiking while baby-wearing is not only soothing, but it can also be a fun way to introduce an infant to a new area. On the other hand, toddlers can enjoy longer walks by being pulled in a wagon or stroller or put in a backpack carrier. 
Add mindfulness and learning to the experience by pointing out different things you see, smell, hear, and touch. Play identification games with babies, pointing out different things you see. For toddlers and kids, a game of "I spy" can help them notice and appreciate the world around them.
This post was in partnership with KiwiCo but all of the opinions within are those of The Everymom editorial board. We only recommend products we genuinely love.