Just like that, the holiday season is upon us. It seems like this year has flown by, so we know the next few weeks will, too – especially because the holiday season tends to be jam-packed with plenty of holiday activities. While we're gearing up for shopping and decorating, we also have to squeeze in all of those events that tend to just multiply as kids get added into the mix.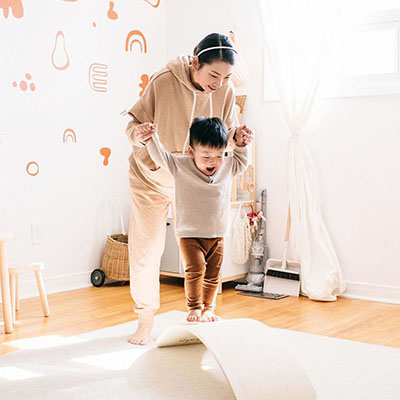 If your kid is turning 2, get ready for hilarious conversations, much more involved play, and lots of sweet, sloppy kid hugs and kisses. As for what you'll need? Leave that to us.
It can seem a little overwhelming, but what always pulls you through is seeing the joy and wonder on your kids faces as they learn to experience the magic of the season. Sharing the little things that create all of that holiday spirit – like giving to others, sharing with each other, celebrating as a family, and believing in the improbable (that's you, Santa!) – truly does make one of the most wonderful times of the year with your little ones.
It does seem as though the list of holiday events grows every year. What started as one office holiday party pre-kids has now grown into a month of holiday affairs, including the office holiday party, going to find a tree, the town-tree lighting ceremony, the school holiday play, meeting Santa, holiday photos, cookie decorating with the neighbors, and going to see the holiday train display at the local Botanic Garden. And you know what each of those events needs? A cozy, comfortable, cool holiday outfit.
Of course, all of the particularities and preferences of kids don't make shopping for clothes any easier. Our secret? We head to abercrombie kids to make sure our kids find something they like that we like too. And now, for a limited time, they're offering free shipping and 30% off select styles (including some we styled below!)
Here are our favorite holiday-inspired looks for your kiddos: 
Leopard Coat / Sweater / Black Jeans / Navy Parka / Button Down Shirt / Khakis
Sweater / Pants / Parka / Dress
Grey Sweater / Dark Jeans / Plaid Shirt / Light Jeans
This post was in partnership with abercrombie kids, but all of the opinions within are those of The Everymom editorial board.