Single parenting is a challenge. Today's dating scene can be quite intimidating. Mix the two together, and single parent dating seems like an impossible accomplishment. Having kids while dating adds another layer of stress to what some describe as a daunting task. Not only do you have to ask yourself, "Is this person right for me?" But you also need to consider if the person will be right for your children. For the newly divorced, the idea of co-parenting and dating also takes some getting used to.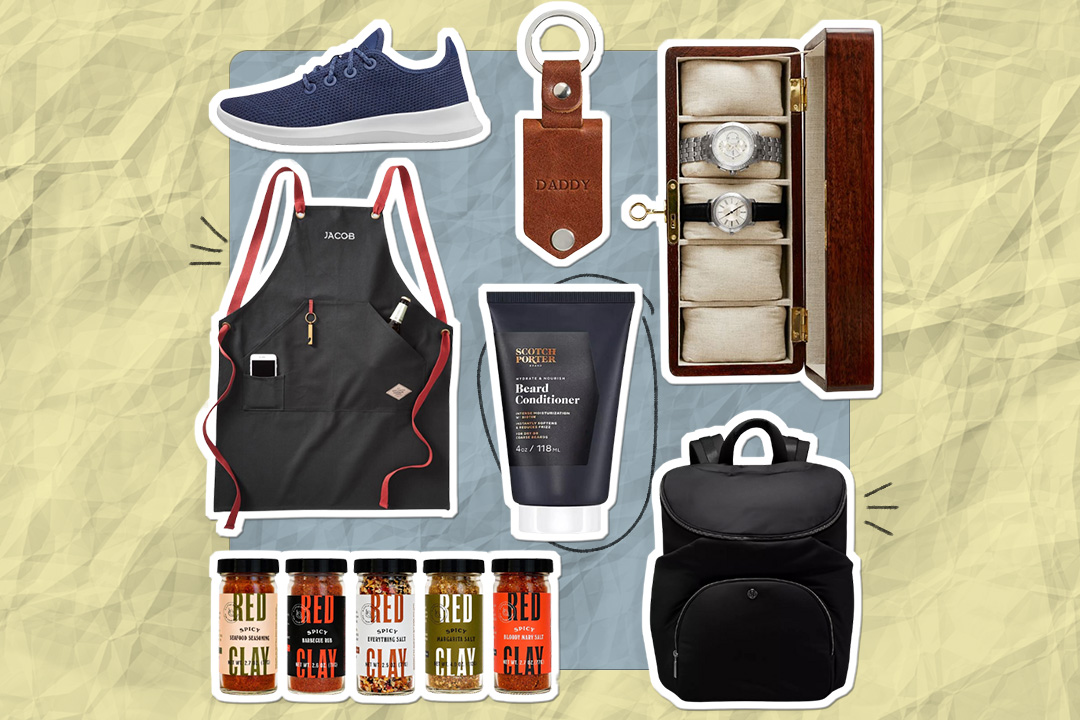 june 18 is coming up fast — have you started shopping yet? 😎
How do you meet people while you're busy being a single parent to your children? The chances of you finding your significant other in the produce section of the grocery store is highly unlikely. The good news is that today's dating scene of swiping through apps is perfect for busy parents on the go. No need to hire a babysitter to go out on a date. With more Americans meeting their partner online than ever before, getting onto a dating app and swiping through to find your next soulmate has never been easier. Here's a roundup of the best dating apps for single parents to meet a partner who understands their situation.
7 Best Dating Apps for Single Parents
Have you ever started a conversation with someone in a dating app only to have them ditch out on the chat the second they find out you have kids? You won't have to worry about this with Stir, described as, 'where single parents meet'. Created by the leader in the dating app industry, Match.com, Stir is a site for single parents to connect, chat, and date.
How Stir Works
The process to sign up and create a profile is fun and very user-friendly. To start, you select your gender, who you're interested in meeting, your birthday, and name. Once you confirm your email address, you get to set up your profile.
Along with your height, you are asked about your relationship status, whether or not you have kids, and, if you're open to having more kids with a partner. Even though Stir is meant for single parents to meet, you can sign up even if you don't have children of your own, but are open to dating someone with children. Next, you're asked fun personality questions like 'a perfect night without the kids includes', 'your most important life goal', and, 'your guilty go-to pleasure'. Lastly, it's time to upload a photo.
Cost: $11.99 per month to $29.99 per month
The premium experience includes seeing who likes you, message before you match, control who sees you, and more. Once you complete your profile, you can see the matches in your area. Each profile gives you a snippet of the person including their location, height, relationship status, child status, a bio if they've written something about themselves, and of course their photo. You can choose to skip, super like, or like. Video chat is available in the app. While the user interface on the desktop was easy to use, this was meant to be consumed as an app on Android or IOS.
Elite Singles is aimed toward those with a higher level of education and prides itself on serious online dating where the truly like-minded match.
How Elite Singles Works
This dating app asks about the importance of monogamy, religion, your ideal first date, and a list of personality based questions. The personality test is broken down into 5 categories: openness, conscientiousness, extraversion, agreeableness, and neuroticism. You are also asked if you have any children, and if you'll accept a partner who has children, which takes the guesswork out of potential matches.
You'll only match with those who are okay with partnering with someone who has kids. The personality test took about 25 minutes to complete, but it's time well spent to get you the best matches. With a free account, there's not much you can do. You are able to create your profile, upload photos, receive 7 matches a day and see recommended partners. You can like their profile and send smiles but you can't message any of your matches without a paid premium account.
Cost: $19.99 to $37.95 per month
Elite Singles is available online, or as an Android and IOS app.
eharmony has been rated the #1 trusted dating site for finding true love. This app is different in that it takes a scientific approach to finding potential partners.
How eharmony works
While the Compatibility Quiz can be quite lengthy, (80 questions and about 20 minutes) eharmony will save time of swiping through matches because they use an algorithm to help connect you to someone. No casual hookups here, chances are, you will meet someone looking for a serious relationship on eharmony.
With the Compatibility Quiz, you go through all your likes and dislikes, personality type, how you communicate, and what motivates you. They ask you questions that really make you think like 'why do you think you're single?' and 'you and your partner have been invited to a wedding, as you get ready for the party, which thoughts are you most likely thinking?' Once you've completed the quiz, you finish setting up your profile by adding a photo of yourself. You have the option to write a little bit more in your bio and what it is that you're looking for in a potential partner. The matches are pulled based on the Compatibility Quiz, not your location. When you match with someone, you can view their photo, profile and decide if you want to connect. To do this, you will need a paid subscription.
Cost: $30 to $60 per month
The cost for an eharmony subscription ranges from $30-60 per month, depending on the length of time you decide to subscribe to. The website makes it easy to set up and complete the quiz, but eharmony is available for both Android and IOS users and is great for on the go.
Match.com has definitely been around the longest. With over 25 years in the matchmaking industry, Match helps singles find the kind of relationship they're looking for.
How Match Works
The user interface looks very similar to Stir, which makes sense since they are run by the same company. Their selection of how you identify varies immensely from the basic man and woman to non-binary and pangender. Match is great for those who know what they are looking for in a potential partner.
To start things off, you enter in your basic information which includes who you're interested in, your birthdate, location, and email. Then you're asked to describe your body type, your height, your relationship status ('it's complicated' is not allowed), whether or not you have children, your race and if you have a religious preference. You're also prompted to select hobbies and activities that you find interesting. Lastly, you add your photo. The whole process takes about 20 minutes to complete.
Once you're in, you can search your matches using keywords or location. You can do it on your own or have Match.com do the work for you.
Cost: Free to $27 per month
The most basic level of Match is free. However, premium subscriptions are available for those looking to have access to more features like being able to view more photos, their full profile, email or chat capability. The premium subscription also has a feature called Missed Connections where you can see potential partners that you've physically crossed paths with, given your location setting is enabled. The cost for subscriptions range from $14.99 to $26.49. Match.com was user-friendly to set up online, however the app is available for Android and IOS users and is a great option for single parents on the go and those who want to have access to location based services.
Bumble is the first dating app where women have to make the first move in order to communicate. The company believes that dating should start with respect and equality.
How Bumble Works
To sign up via desktop, you are asked to create an account using Apple, Facebook, or your phone number. Once you've verified your identity, you are asked your birthday, how you identify, and to upload some photos. You can upload photos from your device, Facebook, or Instagram. Once you've gotten through the basics, you can move onto the fun part: answering some of the personality questions. Some of my favorites are 'What is your love language?' 'What would you do on a rainy Sunday?' and 'What's something you're currently obsessed with?'.
Your matches are based on your location and age parameters that you set. You swipe through the database and once someone has liked you and you have liked them back, it's a match. Next, it's up to the woman to kick off the conversation.
Cost: Free up to $229.99 for a lifetime subscription
Bumble has a free plan that allows you to search for potential partners based on age range and maximum distance location. You also have a limit on how many 'likes' you can give out per day, so use them wisely. However, with a premium subscription, you can see who has liked your profile, send out unlimited 'likes', rematch, and backtrack on someone you might've accidentally swiped left on. Bumble offers 4 paid subscriptions: Bumble Boost, Bumble Premium, SuperSwipe, and Spotlight and range from $1.99 for a daily boost to $229.99 for a lifetime subscription. You can join Bumble from your desktop computer, however this is specifically made to be used in an app which is available for Android and IOS users.
Said to be, 'the dating app designed to be deleted'. Hinge is another behavioral science-based app that studies compatibility to help find your perfect partner.
How Hinge Works
What I loved most about Hinge was the profile prompts I hadn't seen in any other dating app. You start out by filling out the basics and uploading a picture or video of yourself (you have to upload six photos or videos and respond to three prompts in order to activate your profile). Then you can filter through matches based on age, gender, and religion.
Hinge allows you to not only like a person based on their photo and the little information you see in their profile, but you are encouraged to 'like' and comment on their profile prompts. Some of the prompts include, 'Never have I ever', 'A shower thought I had recently', and 'We'll get along if' leaving you to fill out your own answers. Besides adding prompts to your profile, you can also caption your photos.
Cost: Free to $89.99 per month
Hinge gives you the most free features of any other dating app. With the free account, you can send unlimited messages, limit to eight likes a day, and see who 'liked' you so that you don't miss out on a potential match. Hinge's premium subscription allows unlimited likes and more filters. The price ranges from $29.99 to $89.99. To create an account, you have to use the app, which is available for both Android and IOS users. Their website just gives information on how the app itself works.
I'd be remiss not to mention Tinder, which has come a long way since its existence of being a hook-up app. It's where I met my current partner of two years. Whether you are looking for something more casual or searching for the love of your life, Tinder has something for everyone.
How Tinder Works
Very similar to Bumble, Tinder works on a swiping system. You build your profile, upload up to nine photos, and fill out information and a short bio you want potential matches to know. Then you find and filter out matches based on age and location. You can reject someone with an 'x', give out a 'super like', or a heart to 'like' someone's profile. Once you swipe right or 'like' someone who has also shown interest in you, it's a match and either person can be the first to message.
Cost: Free to $29.99 per month
While the free features go a long way, Tinder offers 3 different tiers of premium subscriptions ranging from $7.99 to $29.99. You can sign up for Tinder online but it's best used on an Android or IOS app.
My single parenting advice (for what it's worth)
Before you know it, you'll be dating someone long term and you'll be wondering how to introduce someone new to your child. Until that time comes, enjoy single life, get back to knowing who you are, and have fun with it. My biggest tip when it comes to the apps and online dating sites is to be upfront and honest with the fact that you are a single parent. Anyone who doesn't want to date someone with kids is not the person for you and your dazzling personality won't change their mind about it.