Look, I get it. It's uncomfortable to talk about race.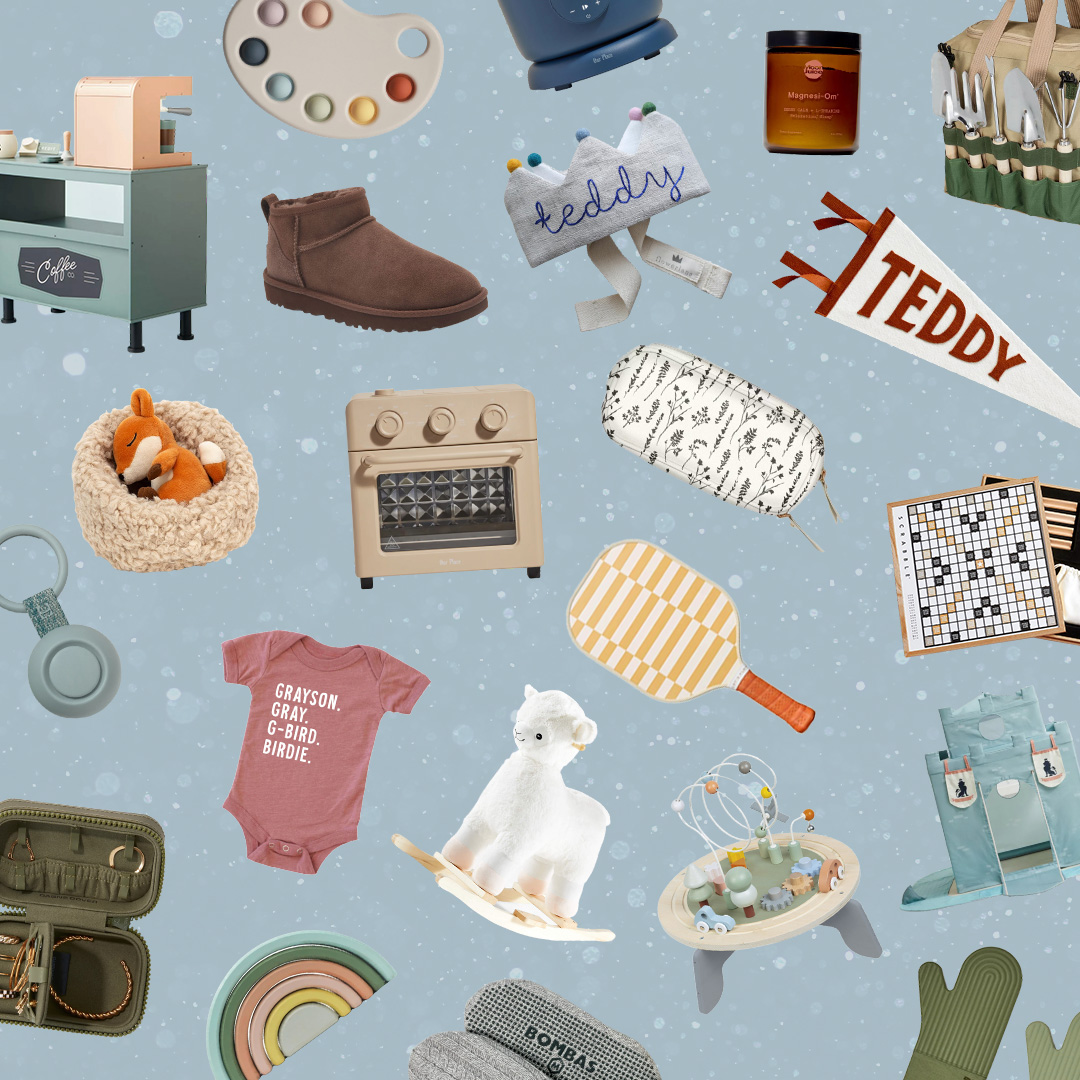 everything you need to ace holiday gifting this year 🎁
I have many close acquaintances who tell me that they "don't see color," which doesn't always sit right with me. I mean, how can you not see all of my beautiful brown melanin right before your very eyes? But I digress.
As a Brown person who finds herself in white spaces quite often, it's safe to say that a majority of white people don't believe that blatant racism exists in our day-to-day lives. And while it's true that direct racism may not be an everyday occurrence for some, there is an underlying, subtle kind of racism that all People of Color face on a day-to-day basis. It happens so often that it can start to feel like a normal part of life. That is, until something drastic happens and wakes you up to the fact that certain situations are, indeed, unjust and rooted in a deeply stemmed racism.
Which brings me to the subject of Black maternal health, something that is often overlooked. It's always been a sneaking suspicion of mine that Black and Brown people are treated differently by the medical profession than our white counterparts. It's something I've seen first-hand with my family, with statements like, "You will not be able to afford this treatment," and "Your concerns have already been addressed. There's nothing more we can do for you."
When I came across alarming statistics regarding Black maternal health, I knew that this was an actual problem that needs to be addressed. According to The National Partnership for Women and Families, "Black women in the United States are more likely to die from pregnancy or childbirth than women in any other race group. They are three to four times more likely to experience a pregnancy-related death than white women and are more likely to experience preventable maternal death compared with white women."
The Center for Disease Control (CDC) recently published data that points out that a Black woman is 22 percent more likely to die from heart disease than a white woman, 71 percent more likely to die from cervical cancer, and 243 percent more likely to die from pregnancy or childbirth-related causes.
And what's really shocking? The CDC also reports that 60 percent of these deaths can be prevented.
So, what's the deal?
It's short-sighted to assume that this has anything to do with socio-economic status. Of course, it's a factor, but not the only one. Dr. Kameelah Phillips, M.D. highlights that "limited access to quality and comprehensive medical care causes delays in care and poorer outcomes. Hospitals and clinics in underserved neighborhoods are often understaffed and under-resourced." And Black women are more likely to experience obstacles to obtaining quality health care, as only 87 percent of Black women of reproductive age have health insurance.
These obstacles are due largely to the huge pay gap that Black women face. On average, Black women are paid 61 percent of what non-Hispanic white men are paid, meaning it takes the typical Black woman 19 months to be paid what the average white man takes home in 12 months. So, there's that.
But more importantly, and what's really shocking, is that a Black woman's high risk of pregnancy-related death spans all income and education levels. So, if a Black woman has the money to afford quality health care and is educated enough to know how to advocate for herself, then what's the problem?
What's really shocking is that a Black woman's high risk of pregnancy-related death spans all income and education levels.
When all other factors are accounted for, the one factor that remains the same is race–and that's a huge problem.
Take, for example, Serena Williams, one of the most decorated and successful tennis players in the world with an estimated net worth of $180 million. After the birth of her daughter in 2017, Williams experienced medical concerns that were dismissed by her medical care providers. Due to her history of pulmonary embolisms, Williams experienced shortness of breath and alerted her medical team. But as they brushed off her concerns, her situation got more critical. After repeated requests for attention, a CT scan revealed several small blood clots that had settled in her lungs.
So if Williams–a Black woman who is famous and worth millions of dollars–experiences pushback from her medical providers, how do you think other non-famous, non-millionaire Black women are being treated?
Dr. Phillips also adds that "Institutional racism creates culturally insensitive doctors, nurses, etc. It creates an environment where bias prevents the medical community from seeing Black women beyond the racist stereotypes that have been perpetrated about them despite education [and] socioeconomic status. It also produces a staggeringly low number of doctors of color (we are only 4 percent). We need to hold our colleagues accountable for better outcomes and have ongoing bias training for all staff."
Decisions are being made at the table by doctors and healthcare professionals who don't look like their patients. There needs to be more Black female representation to advocate for them at the highest of levels.
Dr. Adjoa Boateng, MD, MPH, agrees. "A blurring of unconscious bias and clinical acumen factors. Repeat evidence demonstrates that the concerns of Black peripartum patients are often overlooked, dismissed, or delayed. In this acute setting, the luxury of time is absent. The healthcare workforce in many institutions does not begin to mirror its patient population; this creates a chasm and a disconnect in care at all levels," Dr. Boateng said.
Just like their white counterparts, Black women deserve to have healthy pregnancies and safe births. For someone to say that they "don't see color" or that race isn't a big issue anymore is downright absurd because it bleeds into every part of a person's existence, including motherhood. For a pregnant woman's life–and the life of her baby–to be put at risk because of the color of her skin is an injustice that the medical community needs to promptly address. Education, advocacy, addressing institutional bias, and letting Black women know that they can and should demand adequate care are just small steps to ensuring that they experience the same level of care and attention that non-Black women do.
We must all work harder to protect Black mothers. It's time to stop thinking solely about ourselves.
How to Be an Ally to Black Mothers
Support volunteer doula organizations
Doulas are an incredible support system for all women, but there are volunteer doula organizations all over the country who work to serve underserved communities who might need extra healthcare services throughout pregnancy. Doulas provide both medical and emotional support during pregnancy and labor, and they're especially helpful to make sure women get adequate healthcare services they deserve, regardless of race or socioeconomic status.
Support volunteer doula associations (the Chicago Volunteer Doulas is great if you're in the Windy City!) by attending their events, donating, or simply spreading the word that this type of service exists!
Talk about birth justice with mom friends
This problem will persist without people talking about its importance and demanding a change. While your usual coffee talk with your BFFs is totally OK, make a note to bring up the importance of supporting mothers of all races in your circles. Talk about the statistics, what they mean, and solutions you can implement to make it better. Ask Women of Color for the support they need and how you can be there for them. We should be talking about this issue—that's the only way it'll ever get better.
Support organizations working for Black birth justice
Supporting organizations doesn't always have to be in the form of money. Some organizations have local chapters that need volunteers or have events around the country to learn more about them. Don't feel like you can't support an organization just because it's not in your budget. The simple act of following an organization on Instagram can help spread their visibility!
Birth Justice Organizations to Support
The NAABB advocates for both Black mothers and infants healthcare through research, advocacy, activism and policy change, educational programming, and more. They also work within the actual healthcare system with doulas, nurses, doctors, and midwives to equip them with the tools necessary to provide the appropriate support for Black women.
The NAPW focuses their support on all pregnant women, but they focus primarily on supporting pregnant Women of Color and low-income women. They provide free legal assistance to pregnant and parenting women, as well as create educational programs and outreach.
Sister Song is a reproductive justice collective for Women of Color. Based in the south, Sister Song is an organization working to promote reproductive justice for Women of Color through educational programs, outreach, and events.
Goundswell Birth Justice Fund is a community-based organized working to provide birth justice to all women regardless of age, race, and socioeconomic status. They focus on the importance of midwife care and work with other organizations to make obtaining the care of a midwife possible for all women.