As busy moms, we don't always have time to get ready, and hair wash days rarely line up with when we actually want to look spruced up. We're always juggling a million other tasks that need to be done before we leave the house: getting our children dressed and making sure we don't forget anything on top of putting ourselves together. Sometimes it can be daunting and exhausting wrangling the troops. I can't tell you how many times I've thrown my hair up in a messy bun just because I didn't have either the time or the energy to come up with something easy and cute.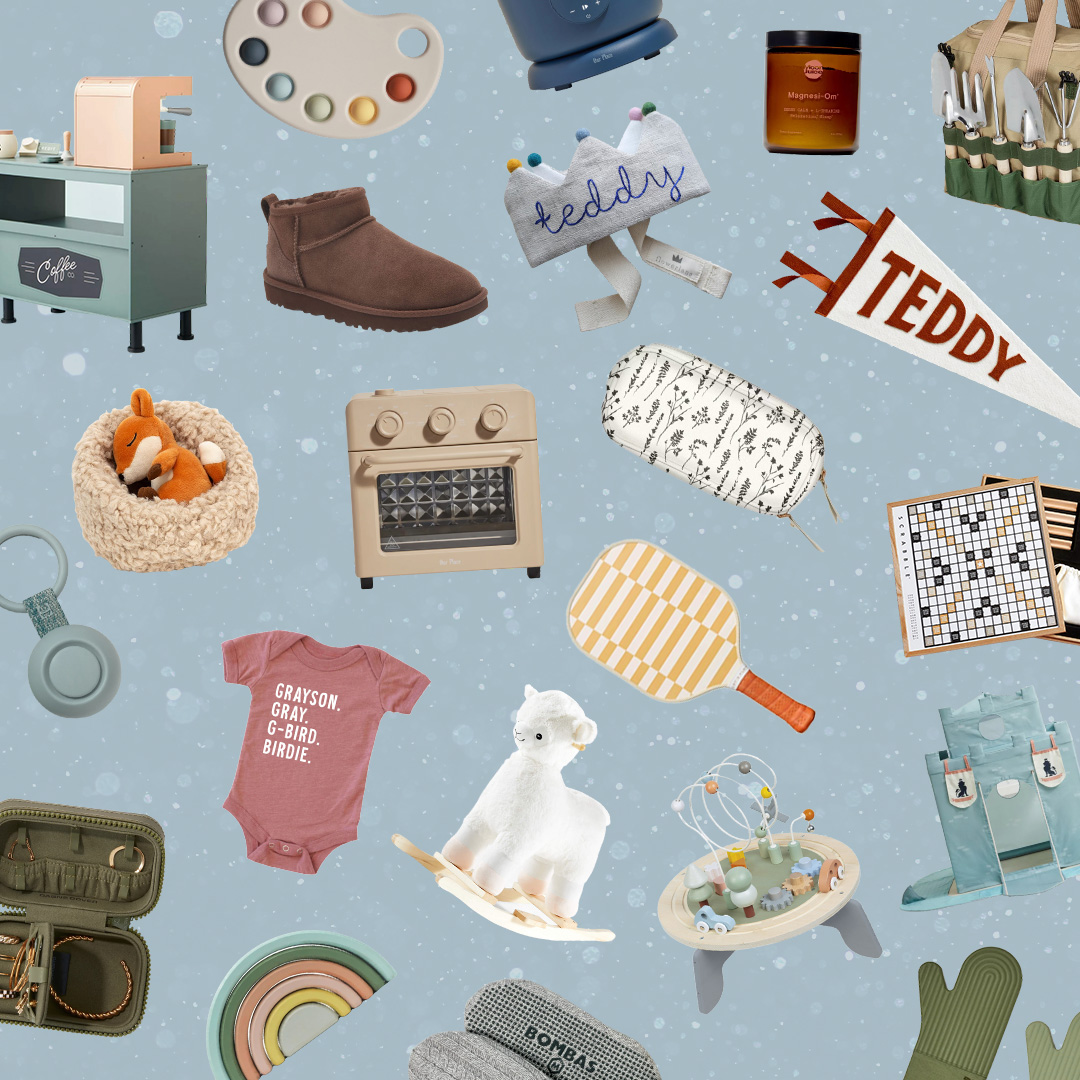 everything you need to ace holiday gifting this year 🎁
With the help of hair artist Luch, here are five easy hairstyles for Black moms on the go, whether your hair is natural or relaxed, with some added tips and tricks to pull these styles off seamlessly.
1. High Ponytail or Puff
A high ponytail, puff, or bun, may be one of my personal favorites because of the versatility. With water, a little gel, edge control, and a hair tie, you can create a chic, playful, or sexy look. These styles can mask our dirty hair days, keep hair out of our faces, and serve as a go-to style for days when we're running late. For the perfect high, messy ponytail, use gel, flip your head upside down, and gather your hair into a ponytail at the crown of your head, then secure with a ponytail holder. You can also use a hair wax stick for a slick look and to tame flyaways, Bed Head's Hair Wax Stick For Strong Hold ($23.00, Ulta) is a great option. You can also get extra volume in your ponytail with Kitsch Pro Ponyfull ($12.00, Ulta), which you insert in the middle of your ponytail to add height and make your hair look fuller.
2. Wash 'n' Go
A wash-and-go is a coveted hairstyle in the natural hair community. It's a method of styling your hair without manipulation or heat, although many stylists do allow for a hooded dryer or a diffuser. If you're doing it right, it's a super quick and easy style that moisturizes your tresses and gives them a break from the damage of heat styling tools. All you need to do is wash and condition your hair, add styling products that work for your curl pattern, then head out the door.
3. Braid/Twist Out
Luch said you can style your hair in twists or braids after wash day, and although this style requires a little more effort, the results are amazing. "You start by parting your hair in four sections, work through section by section depending on how many braids/twists you want (six per section is a good amount) and remember to add a leave-in/curl cream to each section, " Luch said. "You can wear it out for a few days or under a head wrap. When you take it out, you'll get a beautiful style that you can style further or wear as a fro."
4. Braids (Protective Styles)
Protective styles such as braids may take a while to have done, but they end up saving you so much time in your everyday life. There are also so many different styles to choose from: box braids, fulani, crotchet, and knotless, just to name a few. The possibilities and looks you can opt for are endless. Luch said to consider installing complete human hair braids if you're concerned about tension and weight, because they're significantly lighter than Kanekalon hair. "You can style your braids in multiple ways: high ponytail, low ponytail, half-up half-down, bun, or you can even just wear it down."
She added to make sure you remember to care for your braided hair by spraying a light leave-in conditioner, followed by oiling your scalp. "If you're one who washes their hair while it's in braids, after washing and when it's almost dry, follow the same steps with leave-in and oil. Then apply mousse and tie it down with a scarf to lay down the flyaways."
5. A Wig
Even if you've never tried wigs before, there are so many amazing options for beginners. Wigs are also an opportunity to test out styles, hair colors, and looks you've always wanted to try. Glueless wigs come with an elastic band and adjustable straps in the back, so you don't have to use any adhesives and can just pop them on. Headband wigs are another beginner-friendly, ready-to-wear option: They come with a headband attached to the hairline of the wig, which helps secure the wig while also creating a natural look.
Another great type of wig for a quick out-the-door look is a U-part wig. This style features hair extensions sewn onto a U-shaped wig cap made with mesh and clips. The construction has an opening at the top for your natural hair, perfect for people who don't want to use adhesives and who want a more natural look. Mayvenn and Big Chop Hair are great wig brands with a variety of options that take all the guesswork out of wigs and extensions, guaranteeing you a style you'll love.