I'm not sure 2020 is going down as anyone's favorite year, but we did have some favorite products that got us through the year, brought us joy, and helped us maintain some semblance of sanity—that counts for something, right?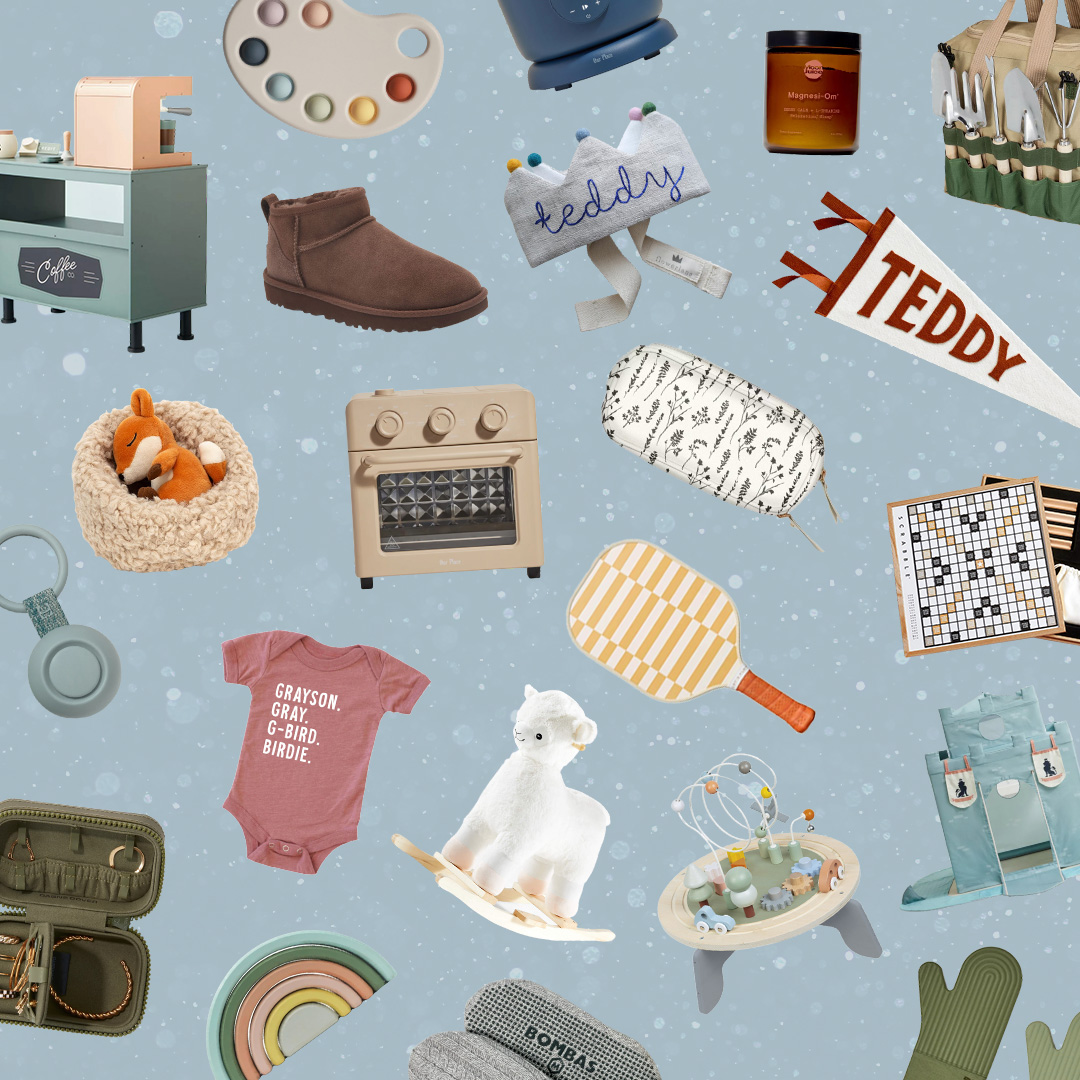 everything you need to ace holiday gifting this year 🎁
From makeup to laptop stands to kids' toys to mom fashion (OK, fine, loungewear), our editors are sharing everything we loved this year. Some items kept our kids occupied for hours on end (looking at you, Air Fort), while others kept us cozy at home (hello, slippers and yummy candles).
Read on for 21 of our favorite items from this year, and let us know on Instagram (@theeverymom) what you would put on your list!
Target
These are so essential to my daily WFH style, I bought multiple pairs in multiple colors and patterns. They're comfy, cute, and with hard-soled bottoms, I can also pop outside with our new puppy if needed.
Shopbop
I confess I'm easily influenced by our editors (I have entire outfits curated by our fashion writer, Jess), so when our cofounder Alaina said these were her go-to live-in joggers (and they were under $40), I had to try them out. I have lived in these soft, jersey pants as part of my at-home uniform all year.
Amazon
My husband bought these to enhance our little backyard so we could continue using our outdoor space into the fall and winter. I'll admit I was skeptical, because I couldn't picture how they'd look strung between our house and our swingset, but they look fabulous! Adding a new firepit and these lights has really enhanced our at-home outdoor living.
---
Manhattan Toy
2020 was the year of a whole lot of things, and in our house, it was also the year we welcomed a new baby. In anticipation (and preparation, perhaps), I noticed my older kids doing a lot more doll play this year. These Playdate Friends dolls are a favorite of theirs, and they ended up being a favorite of mine too--because they are machine washable, I didn't have to worry about interrupting their play, which sometimes ended with leaving the dolls in a pile of dirt outside somewhere. Let's hope that's not the future of their new baby sister.
Use code 20EVERYMOM for 20% off your first order!
Amazon
Did everyone else play a lot of board games during quarantine? Chess ended up being a family favorite with my husband and older son teaching the rest of us how to play. This version is a great learner set and allowed my kids to play on their own when the grownups had to work. They both grew out of the helper cards pretty quickly, but I still keep them on hand because, as it turns out, I am the worst in our family at chess.
Hyper Clear
My skin was overcome by hormonal acne last year and as a result is very scarred. I've been on the hunt for the perfect Vitamin C serum to clear the hyperpigmentation on my darker skin, and this one comes very close to being perfect. I've seen real results in the months I've been using it and have repurchased twice already.
---
NYX Cosmetics
This was one of those drugstore purchases back when I used to be able to browse the cosmetics aisles as long as I wanted. Every time I decided to do a face of makeup during this pandemic, I have splashed out with a bold eyeshadow for a little bit of extra fun, even when I'm just having a glass of wine in my own home. NYX is good quality for good prices too, so I may grab more palettes in the future.
Love Notes
I grew up on the smell of sandalwood and Nag Champa in my house almost on a daily basis. But as my mother likes to remind me: burning incense isn't as environmentally-friendly as we'd like it to be. This candle is the best of both worlds. I love burning it while I'm taking a bath. It increases the relaxation tenfold and helps me destress.
---
KiwiCo
As an almost 2-year-old, my son is constantly looking for the next new thing to help him learn and grow. The KiwiCo box has been an amazing answer for this. As a mom, I love that the toys are safe and developmentally appropriate for his age. And as a kid, he loves figuring out how to manipulate them or use his imagination too. This is definitely a favorite in our house.
Use code EVERYMOM at checkout for 30% off your first month's subscription with KiwiCo!
---
---
Equilibria
I'm basically a broken record when talking about this CBD relief cream but … it's just that good. This topical product is great for daily aches and pains, but it's truly my hero item for migraine relief. I take a small amount and rub it into my temples when a splitting headache hits, and it does wonders to help relieve the pain. Plus, it smells amazing. Highly recommend!
New customers can use code theeverymom50 for 50% off your first month's subscription, plus 20% off ALL subscription orders after that!
---
Amazon
Though I've been working remotely for five years now (yes, I am a self-proclaimed queen of athleisure), I never fully invested in my WFH setup until the pandemic. The daily aches and pains were weighing me down, on top of the emotional stress of it all, so a friend recommended this simple, ergonomic laptop stand. Within the first day, I felt my posture improving, and before long, that persistent crick-in-my-neck all but melted away.
Amazon
Our 4-year-old daughter loves a dramatic morning entrance: she barrels into our room and throws herself onto the bed with the glee of a jungle cat pouncing on her prey. It's very cute; admittedly less so at 5 a.m. I was doubtful that this alarm clock would make a difference, but sure enough, the visual cue of the green glow let her know when it's wake-up time really was a game-changer (6:45 a.m., thankyouverymuch). We're much more rested now, to say the least.
Jamie Beck
I fully believe that one of the best gifts you can give yourself is one of inspiration, no matter what shape that inspiration takes for you. I'm most transported by imagery that opens a window to another story. This Isolation Creation series, by the photographer Jamie Beck, gives us an intimate look at her life as a mother and artist in Provence. She redefines "living the dream" for me.
---

Manhattan Toy Company
My 18-month old daughter loves pulling her pal around from room-to-room with the occasional stop to shape-sort.
Use code 20EVERYMOM for 20% off your first order!
Manhattan Toy Company
My daughter is obsessed with her dino. She's always carrying this guy around the house and playing with it. In particular, she loves marching with it to the sounds of "We are the Dinosaurs" by the Laurie Berkner Band (what I find to be one of the less annoying kids groups and on regular rotation in our house). This dino is a heavier and sturdier material than other stuffed animals and is a favorite around here.
Use code 20EVERYMOM for 20% off your first order!
Storq
I basically live in these overalls. They are so comfortable and an easy choice when it feels like nothing fits. I also think they are worth the splurge if you're pregnant because they have enough give and space to grow with your body, but will also be a staple during postpartum. I have them in black but might need to grab another color as well.
---