If you're like us, you thought you were a fairly clean person until you had kids.
All of a sudden there was ten times the mess – drooling, spit up, diaper explosions, thrown food, and a thousand things that were constantly being chewed on. And, with babies who crawled all over the floor and put everything in their mouths, keeping things clean and safe seems more important than ever.
Finding a few cleaning tricks and products to help manage the mess fast and efficiently is paramount to keeping on top of cleaning with kids around. We love relying on the advice of our mom friends who are a few years ahead of us in the parenting game (what's better than the helpful, practical input of other moms, right?). From their recommendations, we've swapped in safer cleaners, made a plan for sanitizing toys and bathtubs, and leaned on (literally) many mops to keep those floors safe for play.
When O-Cedar reached out to us to test their quality cleaning products on our most messy areas, we accepted the challenge. After all, doesn't every parent want to make this part of their life so much easier? We found O-Cedar to take the tough out of cleaning and save us time in the process, and we love using these products to take care of daily messes.
If you're in the thick of trying to manage a home with a new baby, you are definitely not alone. And, we've got your back. Three of our editors are chiming in with how they keep the most-used parts of their homes clean – because there really is nothing like the pitter-patter of tiny baby feet on a clean floor.
Problem Area: Living Room Playspace

How I Tackle This: Before I became a mom, my home was always clean and organized, so much that I received regular messages asking how I kept it so clean. I swore it would stay that way once I became a mom. So cute, right? Then came Margot.
I still thrive in a clean and organized environment (any other self-proclaimed Type A neat freaks out there?) but there's a little more clutter and a whole lot less time to take care of it, so anything that allows me to quickly and easily clean my home is my favorite.
Half our basement is Margot's playroom and a small family room, but the windows are teeny tiny and I love sunlight – so I set up a small play area in our living room with a mat that's easy to wipe clean of formula spills, spit-up, and vomit. (No one tells you about all the vomit).
O-Cedar's Scrunge®️ features a rippled scrubber surface that breaks up and lifts away dirt and grime. This is so useful when cleaning play mats and toys, especially when they have dried food or spit-up on them. Margot's activity center gets so gross, and it really gets in all those little nooks and crannies.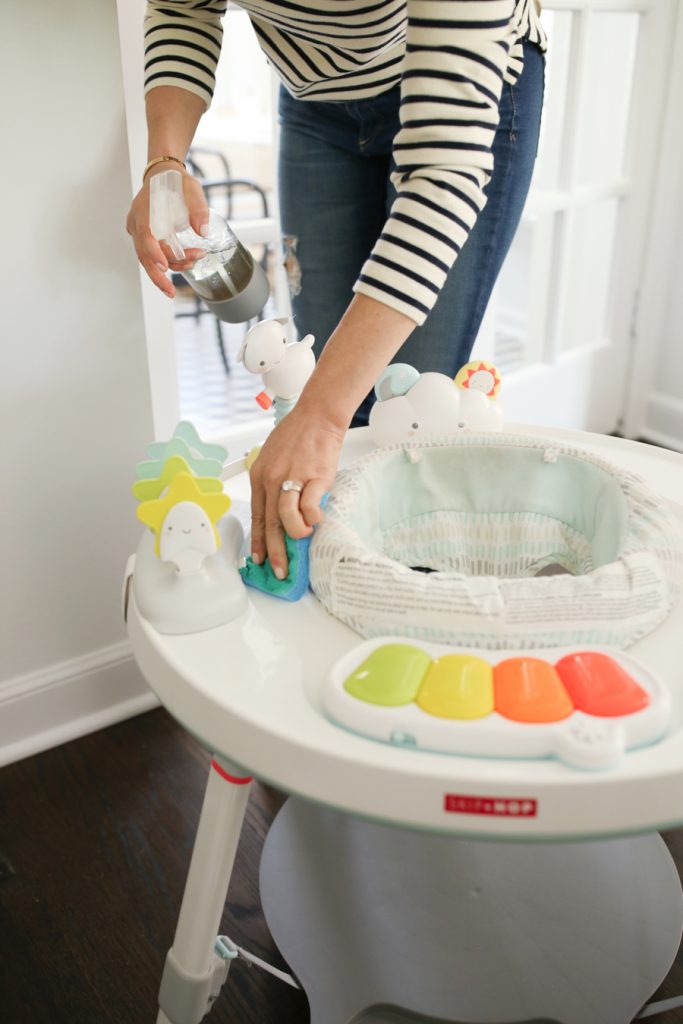 Our dark wood floors look beautiful but they show every kind of mess, so I like to wipe them down every couple of days. Having a spray mop like the O-Cedar ProMist® MAX is perfect. It's super slim, so it's easy to stash at the top of our basement stairs. And the microfiber mop pad is washable and reusable. You just fill the spray bottle with water and add two teaspoons of your favorite cleaner.
The best part about the mop is that the dual-sided mop head flips 180 degrees, so if you're cleaning a big mess – say, spilled milk or a squeezed out puree pouch – you can clean the entire mess without having to stop to change the mop pad. Small things like that make such a big difference when cleaning with kids around. And, the mop is safe to use on all hard floors including hardwood, tile, vinyl, laminate, ceramic, marble and stone, so I can use it to tackle our bathrooms and back entry, too.
Problem Area: Kitchen and Stovetop
How I Tackle This: We moved into a new condo about 6 months before our son was born. We lived in Manhattan before moving to Chicago, so compared to our tiny apartment there, our Chicago home feels like a mansion (though it's definitely not).
With more space leads to more responsibility, especially when it comes to cleaning and maintaining our home. This cleaning increased ten fold after a baby was added into the mix, particularly with our energetic 7-month-old who loves to throw food everywhere.
Between the constant baby messes – food, vomit, poop (I was warned about the poop everywhere and didn't believe that it really could get everywhere), and my daily cooking routine, our kitchen always ends up being quite a mess.
I will try anything to make the cleaning process easier and faster. The ProMist® MAX spray mop is a game changer. I can use my own cleaning products, something that has become much more important to me since having a baby around, and also don't have to worry about harsh products hurting our new hardwood floors. When I'm done cleaning up a mess, I just throw the mop head in the washing machine to clean it.
The Scrunge®️ is perfect for times when I can't get to a mess immediately because I have to attend to a crying baby. It's rippled scrubber surface gets off stuck on messes quickly and effectively without scratching our countertops. I love knowing that even if I can't address a mess right away, I will be able to get it cleaned later without a ton of elbow grease.
Problem Area: Under the High Chair
How I Tackle This: As you can see, my child loves to eat.
I kid you not when I say we have to clean his eating area – the counter, the floor, and the high chair itself – at least five times a day. He eats a breakfast bar and milk in the morning, a heartier breakfast after his first nap, lunch, a dinner, and of course, has a snack somewhere in between.
We love having this high chair that attaches to the counter, but the cloth material means it's more difficult to clean than your standard plastic or wood high chair. Henry spills or rubs his food-covered hands all over it, and we obviously are not going to throw it in the wash after every use. I've tried wet paper towels, washcloths, other sponges – but nothing has compared to O-Cedar's Scrunge®️. The scrubber side gets the heavy stuff off and cleans the seams of the fabric thoroughly, then I use the soft side to wipe it all clean. We rarely ever need to throw the seat in the wash now because the Scrunge does such an amazing job. So that's step one.
Then I tackle the floor since, inevitably, bits of food fall off the high chair while I'm cleaning it. I made the mistake of cleaning the floor first a couple of times – and now I recognize that was an amateur move, Alaina. Our dog Tucker is a huge helping in keeping the floor relatively clean during mealtime, but there's always crumbs or sticky grime leftover that needs to get wiped up. Here's where the lightweight ProMist® MAX spray mop comes in. I use a simple water and cleaner solution which is safe for pets and baby and on our hardwood – I spray, mop, done. It takes 30 seconds and is so much better than getting on my hands and knees every time.
Now I just need to figure out the best solution to clean my child after meals, considering he acts like he's being tortured every time I go to wipe his hands and face. All advice is welcome!
You can purchase the ProMist MAX on Amazon, Target, and Walmart. The Scrunge is available on Amazon.
This post is sponsored by O-Cedar but all of the opinions within are those of The Everymom editorial board; we all tested and loved these products and wholeheartedly recommend!