With thousands of different diets in existence, it's really hard to know what qualifies as "healthy" and what you should be feeding your family. In our home, I try to feed my kids the same way we eat – which is a clean, minimally processed diet.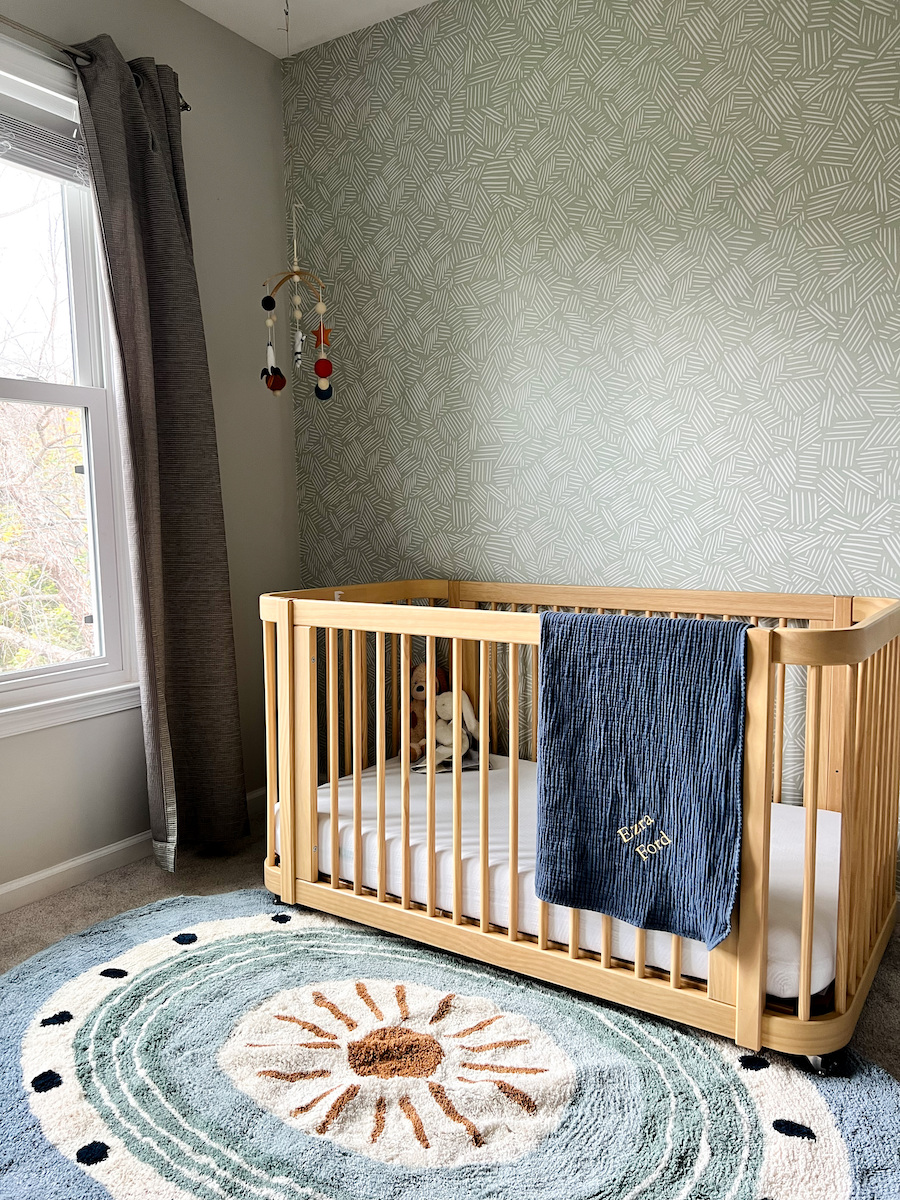 editor-favorite crib brand Nestig just released gorgeous new wallpapers that will easily transform any space 😍
What exactly does "clean eating" mean? I like to think of this approach to food as the "perimeter of the grocery store" diet, which is where all the good stuff typically lives – produce, meat, dairy, and grains. With clean eating, you're really only taking a dip into those middle aisles when necessary. This also saves you loads of time at the grocery store, which is an added bonus.
You'll need to do a good amount of label reading, which might seem tedious at first, but you'll be surprised how quickly you find your new favorite go-to brands. So, what exactly are you looking for on a label? Less is more when it comes to clean eating. Look for minimal ingredients that don't include added sugar, preservatives, and words you can't pronounce.
Fill your cart with fruits, veggies (frozen fruits and veggies are great and often hold nutrients better), poultry, meat and fish if you don't follow a vegetarian diet (plenty of nuts and beans if you do), whole grains, healthy fats, and some clean dairy too.
The below shopping list is a great outline to get you started with clean eating with some tips on how to make clean eating even more approachable for a busy mama.
Healthy Fats
Healthy fats are a staple in any home. You'll want to make sure your pantry is stocked with these, replacing as you run out. We find ourselves using healthy fats in almost every meal, whether it's peanut butter and chia seeds on top of toast, in a salad dressing, or while cooking.  
olive oil or avocado oil

coconut oil

chia seeds

grass fed butter or ghee

nut butter
Pro-Tip: Switch up your nut butter for variety. We rotate through peanut butter, almond butter, and cashew butter. Make sure you're shopping for nut butters that only have nuts and salt (minimal salt before the age of one). Skip brands that add sugar, soy, or other preservatives to the mix.
Eggs & Dairy
These items are kind of a staple for any functioning kitchen. We go through eggs and milk quickly and typically have to replenish weekly. Even if your kids drink whole milk, you can introduce almond milk or other milk alternatives in smoothies, baking, or with a bowl of cereal.
Check with your pediatrician before swapping out cow's milk for nut milk entirely because the nutritional value isn't always the same. Keep cheese selections clean by avoiding the following – sliced and shredded cheese, low fat or non-fat cheeses, and powdered cheese.
organic eggs

almond milk or organic whole milk

whole milk yogurt

whole milk organic cheddar cheese
Pro-Tip: Whole milk is best for kiddos when it comes to dairy products, and you'll also find that most low-fat items keep their products tasty by adding loads of sugar. Check your labels to make sure that there's no added sugar in the yogurt and cheese you're buying. You can also swap whole milk yogurt in place of cream or sour cream in many recipes. When it comes to buying cheese, purchase a block so you can slice or shred it based on your needs. Blocks of cheese also tend to be the cleanest, least processed option.
Fruits & Veggies
I've found that the best way to eat more fruits and veggies and for my kids to do the same is by keeping plenty of options readily available. This doesn't mean buying the entire produce section every time you shop, as that's just a recipe for tons of waste. Instead, choose three or four fruits and three or four vegetables that you know you'll cook with or serve as a side.
Serve fruit as a side to breakfast or lunch. Avocados can be used in salads, on top of burgers, or for basic avocado toast. Try spiralized zucchini in place of spaghetti. Afraid your kids will freak without their beloved carbs? We do 50/50 zucchini and whole wheat spaghetti for the best of both worlds and apply the same trick with rice and riced cauliflower. When it comes to buying greens, choose one or two to keep on hand for the week to prevent spoilage.
whole oranges

berries

bananas

grapes

avocado

zucchini/squash

cucumbers

peppers

broccoli

sweet potatoes and red potatoes

tomatoes

greens – kale, spinach, or arugula

lemons and limes

white and red onion
Pro-Tip: If you find that your produce is constantly expiring, purchase a few bags of frozen fruits and veggies that you can grab as needed. You'll reap the same benefits without risking food rotting in your fridge before you can use it.
Bread & Grains
I feel as though it needs to be stated at the very start of this section. Clean eating does not mean excluding bread and grains. Purchased correctly, bread and grains can be a part of any wholesome diet.
whole grain bread — Pro-Tip: look for labels with minimal ingredients

frozen quinoa or brown rice

whole wheat tortillas or corn tortillas

whole wheat tortillas
Pro-Tip: Bread and grains don't need to be a part of every meal, but they can be incorporated into some. I aim for one meal a day without grains to keep things balanced. You'll want to pay close attention to labels in this category. Look for unnecessary additives, high amounts of sugar, and oils like palm oil and soybean oil. If you find bread expiring in your pantry before you reach the last slice, try keeping it in your fridge, or better yet, your freezer.  Thaw or toast as needed for a longer lasting shelf life.
Poultry, Meat & Fish
This list will vary based on your preferences and how much meat you eat in your home. We typically have poultry two or three days a week, red meat one day, and skip meat in the rest of our meals. If you're vegan or vegetarian, this section will look much different for you.
ground turkey or chicken

organic chicken breasts

grass fed ground beef

salmon filets

organic deli turkey

peeled and deveined shrimp

canned tuna
Pro Tip: Freeze ALL of your meat, thawing whatever you plan on using for the next day or two at most. This way if plans change or you decide on takeout instead, you're not left with an unused pack of chicken in the fridge that's bound to expire before you use it.
Fresh Herbs & Dried Spices
Stocking a home with herbs and spices can be a daunting task. We all know how it goes. You buy a bunch of herbs for a recipe, use them, and then throw them in the back of your pantry, not to be seen again for months or years at a time.
I keep things simple by skipping recipes with overly complicated ingredient lists. If it asks for 1/8 of a spice I don't already have on hand, that spice is certainly not making it into the dish. Here's a great starting list of herbs you should always have on hand.
fresh parsley

fresh cilantro

cinnamon and nutmeg

oregano

basil

dill

paprika

red pepper

turmeric and curry powder

garlic and onion powder
Cans, Jars & Condiments
This list will vary based on your family's preferences. We like to keep our pantry stocked with these:
beans – black beans, chickpeas, white beans, or kidney beans

tomato sauce (just tomatoes!)

whole kernel corn

coconut milk

honey (no honey for kids under one!)

maple syrup

hummus
Pro-Tip: Add extra flavor to dishes with easy-to-store canned items like sundried tomatoes, roasted peppers, olives, and pickles.
What are some of your favorite healthy essentials for your family? Tell us in the comments!