If you're someone who can take your kids to a store and shop while they try on things patiently, please tell me your secrets. Because that is not my reality.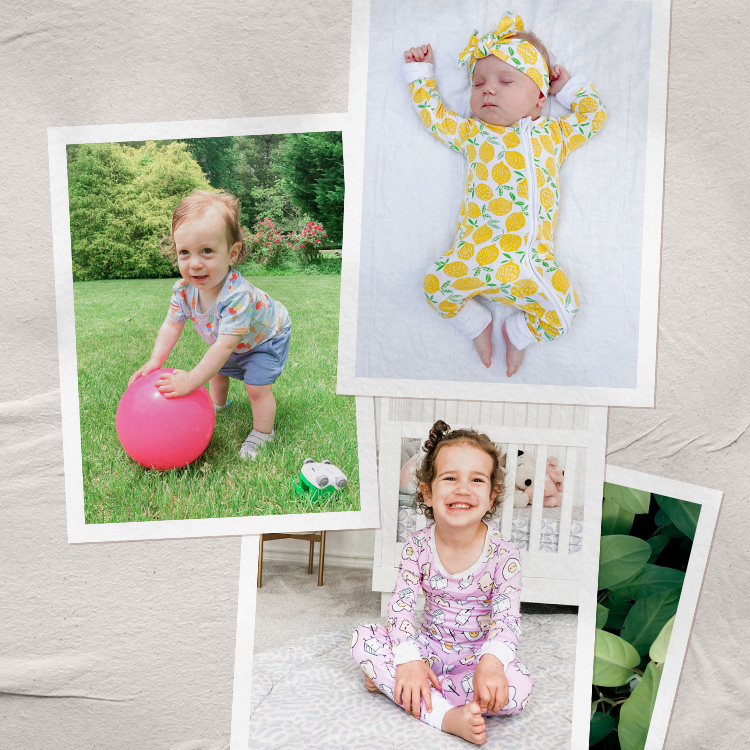 it's more than just their cute PJs... get ready to add to cart! 😍
When my kids were babies, shopping was epically easier. But now, at 6 and 3, their shopping threshold is pretty low (they get that from my husband, I think). And since I don't often have time during the week to hit stores without them, I shop online for their clothes and shoes at least 80 percent of the time.
I won't say it's a foolproof process – it is hard to judge sizing and quality online. But the more I do it, the better I get at predicting fit, wear, and durability. And it's much easier to have them try on a piece of clothing in the comfort of our own home without dealing with fitting rooms and bare feet and pulling clothing over a resistant kid while wondering what the hell the other kid is picking at in the corner.
Here are my eight best tips to make online shopping for your kids a successful effort – because we all need a #momwin at some point.
1. Measure your kids
OK, this might not be the most pleasant 10 minutes of your life, but it'll make shopping much easier.
I keep a note on my phone with my kids' heights and weights, the length of their feet in inches, the inseam and waist measurements of a pair of pants that fits properly, and the length and width of a shirt that fits properly. This makes it way easier to read sizing charts online and see where your kid falls, ensuring that you'll get pretty close to the correct fit on the first try.
When I notice they are outgrowing something, I go ahead and take their measurements again and update my note to keep things consistent.
2. Shop both sections
This might not be the most popular hack (the notion of gender roles and stereotypes runs deep, y'all), but it works great for us.
Both of my boys like pink, purple, glitter, and female characters like Moana and Wonder Woman. This stuff is impossible to find in the boys' section. Granted, that girls' clothing tends to be cut differently and often has scalloped necklines, so the fit doesn't always work out – but that doesn't stop me from looking. I've successfully bought leggings, jeans, joggers, pajamas, shoes, t-shirts, and hoodies from the girls' section for my two boys.
My favorite recent finds for my 3-year-old son include these leopard print jeans and these moto jeggings – both from the girls' section at Target.
Similarly, I'm always shopping the boys' section for my nieces – I mean, they love Harry Potter and Star Wars and look great in navy and gray, so why not?
3. Gear up in advance
Once August hits, I start browsing for fall clothing.
My first buy each year is a pair of "cozy boots" – I grab the same pair of Bearpaw boots for my kids (again, from the girls' section) every year in the next size up. Buying them early lets me get them at nearly half the cost of what I'd pay as soon as the temperature drops.
Since the heavier winter clothing is not out yet, I start scooping up long-sleeve shirts, lighter pants and joggers, long-sleeve pajamas, and hoodies to throw on top of t-shirts for those cooler mornings. My younger son gets a lot of hand-me-downs from his brother, and I just fill in the gaps of what he's missing or could use new.
Having this prepared lets us transition into fall seamlessly—here in the Midwest, it tends to happen quickly without warning.
Then, once fall hits, I buy all of the winter gear we might be missing—heavy sweaters, new parkas and snow pants, hats and gloves (depending on how many singletons we might be left with from last winter), and thicker, lined pants. By the time the temps drop below freezing, we are ready to go.
Shopping early and buying online lets me have ample time for try-ons and swaps for things that might now fit.
4. Organize your returns
Yes, this is for sure the worst part of shopping online. But every time I started to get annoyed by returns, I just remember how much more annoyed I'd be trying to drag two kids through Old Navy to buy clothes.
First, of course, always make sure wherever you are shopping online has a flexible and easy return policy (most places do). And then, make sure you keep track of what you need to return.
In order to stay organized, I first file all of my online order confirmations in a separate folder in my inbox. I also keep all the tags on whatever I'm buying for as long as possible. If I know something is going back right away, I keep it stored in a designated basket in its original packaging in our hall closet—this way, I'm seeing it constantly and don't forget to drop it off when I get a chance.
I also make sure I'm always stocked on packing tape.
Returns are almost inevitable at some point with online shopping, but they definitely lessen over time as you start to get into a groove with sizing for the retailers that you frequent.
5. Learn sale schedules
Similarly, once you notice yourself shopping more and more at one place, you'll start to catch on to their sale scheduled. For instance, I know that Gap will have a 40 percent off sale at least once a month, and Old Navy will have 30 percent off often too.
If I'm adding stuff to my cart, I'll try not to click buy until a good sale is live. If something seems to be popular though or if I know my kids will really like it (a favorite character or color), and it's a decent price to begin with, I'll buy right away and make note to check for a price adjustment in the next few weeks (most retailers will honor a sale price adjustment if something has been bought in the last 7-14 days).
6. Know when to splurge
Since my kids are a bit older, I've learned a lot in terms of what kind of clothing wears out quickly, doesn't stand up to stains, or just isn't worth splurging on. Simple t-shirts, pajamas, and most activewear pants don't last longer than a season, usually – my kids are extremely active and that tends to be rough on their clothes.
When it comes to shoes, winter coats, and items I know will be handed down (cute graphic tees, trendier items, team gear, and most outerwear), I prioritize quality over cost.
In the same vein, if I come across something that is "so them," I'll go ahead and get it. There's nothing better than seeing your kid light up over their new dinosaur hoodie or Paw Patrol pajamas.
7. Let them help
This, again, might not be the most popular hack. There seems to be a lot of external pressure on parents to have their kids dress one way or another.
When my kids were younger, I had a great time buying whatever I wanted for them. But now that they're older and beginning to learn their likes, dislikes, and means of self-expression, I know that it's important for their clothing to be about them.
So, I always keep them involved in the process. I choose the base – say, these particular winter boots or these easy outdoor shoes or these long-sleeve pajamas. But they always get to choose color, style, or design. This started as soon as they were old enough to have a real opinion and will continue as long as they still have one.
I'll be honest – sometimes I cringe internally at what they pick. But my priority will always be to let them be who they are.
Fortunately, shopping online makes this entire process that much easier.