The holidays are such a fun time for crafting and sweet treats, and an even better time to mix the two together. I love making treats with my kiddos to enjoy together at home or to gift to our friends and family! We made these reindeer peppermint hot cocoa bags for the teachers at school and we slip them into our neighbor's mailboxes, too. These festive marshmallow pops are a fun playdate activity or easy after school treat. We wrap them up in a bag and gift them as well.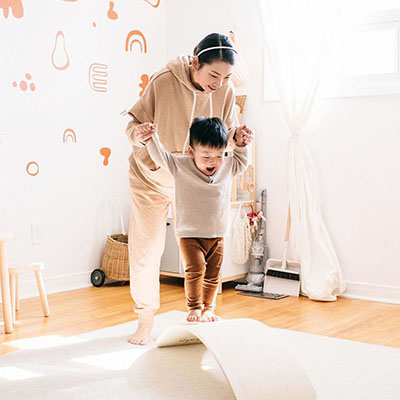 Shop Our Most-Used Items From Amazon for Toddlers!
If your kid is turning 2, get ready for hilarious conversations, much more involved play, and lots of sweet, sloppy kid hugs and kisses. As for what you'll need? Leave that to us.
This way to shop —>
As a mom of two kids, Marlowe and Major, I love knowing that they created something special for the ones who mean the most to them, and I can't resist a fun afternoon activity!
Reindeer Cocoa Bags
What You'll Need
Instructions
Take a treat bag, and fill about two inches with hot cocoa powder.  
Add a layer of mini marshmallows and a layer of crushed peppermint candy.
Tie with a twist tie.  
Create antlers out of the brown pipe cleaners and wrap around the top of the closed bag.  
Apply hot glue to the back of the eyeballs and stick on the upper portion of the bag.  
Apply hot glue to a red pompom and attach to the pointed tip of the bag.  
Fill out a gift tag instructing the recipient to add hot water or milk to the contents of the bag to create a delicious hot cocoa holiday treat!
Festive Marshmallow Pops
What You'll Need
Instructions
Begin by melting your white chocolate in a double boiler, stirring often.  
While it's melting, insert your sticks or straws into the center of each marshmallow.  
Once the chocolate is liquid, remove from the heat.
Carefully dip each marshmallow in the chocolate and then in the sprinkles of your choice.
Place on a sheet of wax paper to cool and harden.
Once hardened and set, you can enjoy as it, or wrap up to gift!