When Lindsay Weber and her husband, Nate, bought their first home in Pullman, Washington back in 2010, they aspired to create a cozy home that incorporated both vintage-inspired decor and a few DIY projects. Today, the Webers are parents to three adorable little girls and working mom Lindsay now lovingly refers to their abode as a "sorority house" because of its feminine interior design.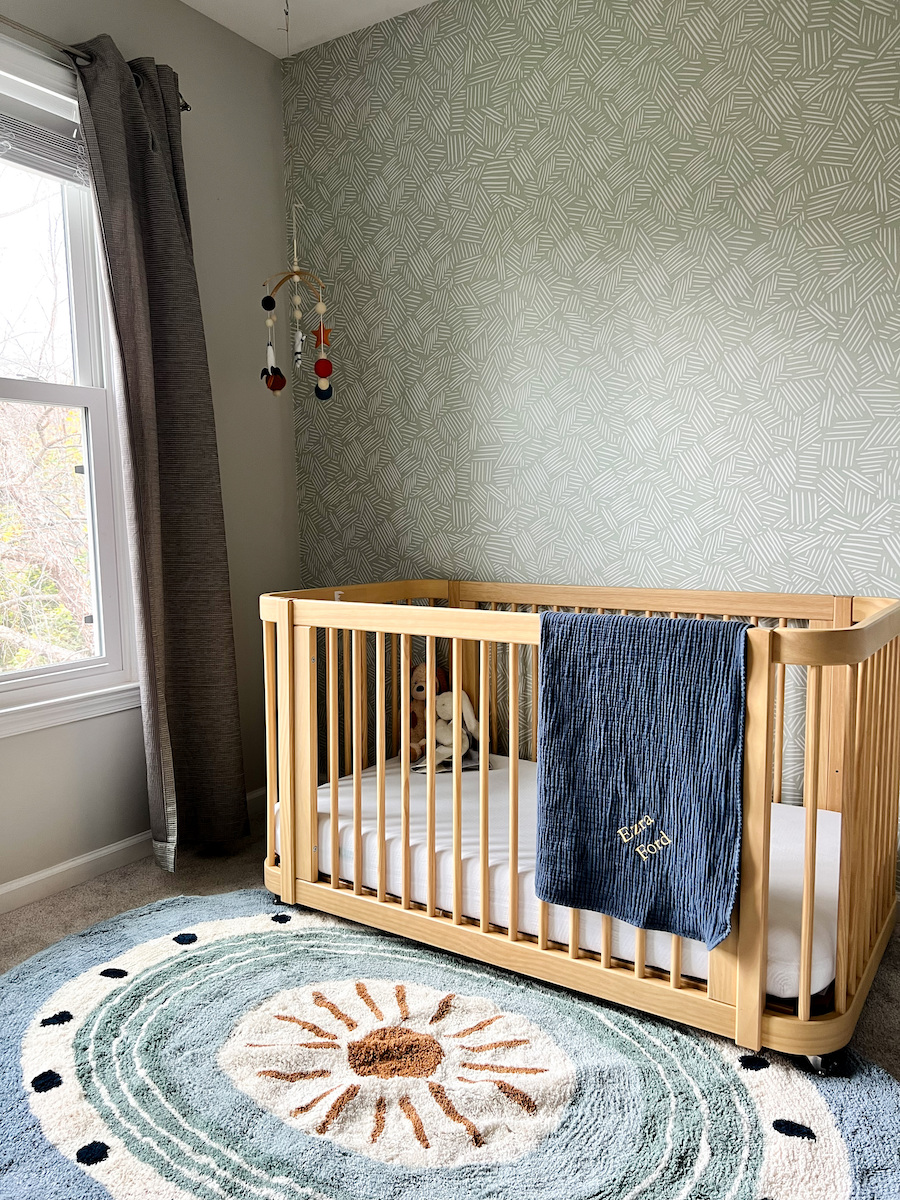 editor-favorite crib brand Nestig just released gorgeous new wallpapers that will easily transform any space 😍
Keep reading to find out the cute reason why Lindsay knew this house was "The One," how she runs a successful business out of her home, and how her daughters are already following in her design footsteps.
Name: Lindsay Weber, Owner of Kay & Edna
Age: 35
Square Footage: 2,400
Rent or Own: Own
City/State: Pullman, Washington
Children: Kenley, 7, Nellie, 4, Sutton, 10 months
What was your first job, and how did you land it?
I was a barista on and off throughout college, but my first job that paid the bills was as an office manager for a civil engineering firm. My friend's parents owned the firm and were looking for someone to fill the newly vacant role about 3 months after I graduated. The job was in Seattle, which is where many of my friends had moved after graduation, so when they offered me an interview, I jumped at the opportunity and luckily got the offer! It wasn't the most exciting job, but I learned everything from professional email etiquette to some basic accounting knowledge.
How did you get into event planning?
I dreamt of becoming a wedding planner in high school. I started buying Martha Stewart Wedding magazines around age 16 and probably made my mom (and my boyfriend's mom!) pretty nervous. But I just loved flipping through them and finding inspiration. I didn't actually start planning events until I landed a job in the College of Business at Washington State University (my alma mater, Go Cougs!) when I was in charge of the school's business plan competition. It was a beast of an event, and I had no idea what I was getting myself into, but I learned so much about coordinating with other professionals and making sure everything was planned down to the most minute detail. Currently, all of my event planning knowledge goes towards our market.
SHOP THE LOOK

You're also an owner of a retail business and a co-owner of Flagship Market. Tell us about those entrepreneurial endeavors as well!
I quit my full-time job in marketing about a year and a half after having Kenley, and while I enjoyed staying home with her, I craved using my brain in a different way. I found that on the days I put more thought into what I was wearing, even if it was just a cute pair of sweatpants and a T-shirt I loved, I felt way better throughout the day. I decided to create a brand for women with the goal of providing cute and comfortable loungewear and lingerie that made them feel good no matter what their day looked like — whether it involved toting around toddlers or hopping on a conference call or both! That is how Kay & Edna (named after my grandmothers) came to be!
The Flagship Market came to fruition about a year and a half ago when a couple of friends (who also own small businesses) and I were chatting about the need for a place for local makers to sell their products. We live in a college town, and "Mom's Weekend" is one of the busiest weekends of the year; it also brings in a lot of new customers and revenue. The local craft fair was basically the only place for small businesses without a storefront to sell, and we wanted to change that, so we created the market! We started with very humble beginnings in the conference room of a hotel, but we've grown tremendously since then and can't wait to see where it goes!
What are the next business ventures you intend to be a part of or start?
Nate and I also own an Etsy business. He hand-makes beautiful wood hooks and hook racks, so we're working on combining our businesses to create more of a "lifestyle" destination. Look for a rebrand coming later this year! We love working on our home together, so it makes sense to bring it all together under one umbrella. Part of the rebrand will include providing design/styling services. We get asked pretty often to help friends with various design and redecorating decisions, so why not see where it could go?
SHOP THE LOOK

You bought your home in 2010 with your husband, Nate, and it currently plays a role in your business. Tell us about what it's like running a small business out of your home.
Running a business from home is tricky! I'm a total homebody and love getting to spend as much time here as I do, but it's hard to create boundaries, especially with kids at home during the day. We try to spend as little on childcare as possible, so most of my work is done during nap times and after they've gone to bed. Sometimes it's hard not to get caught up on where we could be at this point after nearly three years in business if we were more willing to fork out the money on childcare to be more productive during the day. But I also feel a lot of peace knowing that we aren't stretching our budget in that way. As they say, balance is impossible to achieve, but if your priorities are in line, I think you can get to a place of peace.  
What was the process of buying your home?
Oh man, we got so lucky! We bought in 2010 during a buyer's market. There weren't a ton of homes available that we were super excited about, but I kept my eyes on one that had been pending sale for weeks. I refreshed the real estate website every morning to see if the status had changed, and finally, one morning it was back on the market! Nate was out of town, so I toured it with our agent solo and fell in love. Right after Nate saw it we put in an offer. It was a little out of our price range, so our offer was a little low, but the sellers were motivated, so they took it. It set the bar high for a pretty seamless experience which we now realize is rare.
Tell us what drew you to the home when you first laid eyes on it. How did you know it was "The One"?
Before seeing it in person, the features I couldn't stop thinking about were the vaulted ceilings and big windows in the living room. They let so much light in! After seeing it with our realtor, I fell in love with the spacious bedrooms, big closets, and the laundry chute. I knew it was "The One" when I saw the laundry chute! I also loved having access to the deck from the master bedroom. Everything just felt so open.
SHOP THE LOOK

What projects have you done to it over the years?
The only thing we did during the first year was paint, and looking back I'm grateful that we took our time before making any major decisions. Since then, we've installed hardwood floors, replaced carpets, installed new interior doors, renovated bathrooms, and replaced sliding glass doors with French doors. Besides the hardwood floors, the French doors were the biggest game changer — they really elevated the look of our entire house.
Is your home still continuing to evolve? In what ways? What are the next projects you intend to take on?
I always have the next project brewing in the back of my mind! Even if we lived here forever, I don't think we would ever be "done." I would love to build out a new fireplace surround. There's a bathroom in the basement that could use some love, it's still rocking a mustard yellow Formica countertop. Since the big girls have moved downstairs, that area has become more of a priority, so it will be interesting to see how it evolves as they get older.
Were there any quirks in the space you had to design around? 
Yes, and it took us nine years to problem solve! We have a corner fireplace, and I've always felt like we needed to align the living room furniture to that corner, but it never felt quite right. The living/dining area is one big open space, but the way we had everything arranged really cut them off from one another. I recently bought a wicker daybed which replaced a love seat, so we started playing around with the arrangement again. My good friend came over and suggested that we square everything up with the window wall instead of the fireplace, and it changed everything! I love that space even more now.
SHOP THE LOOK

What advice would you give to couples buying a home for the first time?
Buy within your price range and put down as much as you can afford to. Life never gets less expensive, especially if you plan to grow a family.
What would you say your design style is, and where do you draw your design inspiration from?
I would say my design style is collected and eclectic. I'm drawn to a lot of styles, but I love a good combination of traditional and boho with maybe a little rustic or farmhouse thrown in. I love anything that would have been in my grandma's house. Floral print will always be my favorite print. I've been a magazine addict since high school which is where I get a lot of inspiration. Domino, Better Homes & Gardens, and House Beautiful are my favorites. I'm also a big fan of Emily Henderson and Kate Arends of Wit & Delight. I love everything they do.
How has becoming a mother and raising a family informed your aesthetic?
My goal has always been to have a cozy home, and I think that desire has only increased since starting a family. We don't have any areas that are too precious and can't be played in, but I do try to keep toys to a minimum in the main living area. I want to be able to relax in there and not be annoyed about stepping over Legos — even though they definitely still find their way in there from time to time. 
SHOP THE LOOK

You refer to your home as the "sorority house." Tell us about that nickname and how it came to be.
We have three daughters and our dog is a girl, so the ladies rule the roost! I spent four pretty amazing years of my life in an actual sorority, so it's hard not to make the comparison — mounds of clothes strewn about the house, impromptu dance parties, and lots of matching shirts.  
Tell us about designing with your little girls. What sort of design elements did they want to add to their rooms? Bet it was a blast designing with them!
Their room has by far been the most fun to design! They weren't too opinionated about things like paint color or an overlying theme, but they both love animals and lots of color, so we started with the wallpaper. The rabbits in the print reminded me of Alice in Wonderland, so once I found the sketch by Rifle Paper Co., I had a really good direction to run in. I've never been very "matchy-matchy," so we had a lot of fun choosing different patterns for the bedding. I've always loved the idea of having a fireplace in my own room, so when I found that surround, I knew it would be so fun to incorporate into their space. It makes the room feel more like a tiny apartment than a bedroom! Nellie loves decorating and adds her own little flourishes every once in a while — a favorite stuffie on the mantle, some pretty ribbon strewn through her footboard. It's really sweet to find them without her prompting me to. When their room was finished, she told me that it "made her pink, sparkly heart SO happy!"And that made my pink, sparkly heart very happy.
SHOP THE LOOK

What are your favorite elements of your home? Maybe it's a favorite room or piece of art, a family heirloom hung somewhere — what aspect of your home makes you smile every day?
I love waking up to sunlight coming in through the french doors of our bedroom. Painting them black is still one of my favorite design decisions we've made. Walking into our main living area makes me super grateful too, especially when it's clean! Nate built our dining room table, and some of my favorite antique store finds — the ornate gold mirror and floral print — sit on the fireplace mantle. If we're having a slow morning, I love to grab a cup of coffee and just sit with all of the pretty light coming in.
Where are some of your favorite places to find decor pieces?
Antique stores, thrift shops, and most recently Facebook Marketplace. I just found the wicker daybed in our living room on there and about passed out from excitement when I did. I think that's why I like antiquing so much, it's the thrill of the hunt. I also love H&M and Zara Home for little modern touches if things are starting to feel a little to grandma's attic — it can be a slippery slope with so many antiques. 
What are some of the challenges of running a business out of your home?
Staying organized. I considered myself a pretty organized person when I was working in an office space, but now everything overlaps. I'll go to the grocery store and buy apple sauce pouches on our personal card, and then photoshoot supplies on my business card, and both receipts end up hanging out in my wallet for longer than I'd care to admit. My office is also our guest room, so depending on how close I am with whoever is staying in there, they might be surrounded by a couple of racks of bralettes while dozing off on their air mattress.
SHOP THE LOOK

What does a typical day look like for you?
During the school year, Nate gets the big girls fed and ready for school so I can focus on getting Sutton and myself taken care of. Some mornings I get showered and completely ready, but if I've been up late working the night before, getting ready happens later in the day, and I steal every last minute of sleep I can before heading out the door for drop off. 
I'm lucky to have good friends who also have flexible work schedules, so before I pick up Nellie from preschool, I'll grab a cup of coffee with them or stay home and do some cleaning. If Sutton is sleeping, I try to sneak in an hour or two of work. After Kenley gets home, we either have a playdate (which sometimes turns into a low key happy hour for the parents) or we just have a quiet afternoon at home. We aren't quite to the point of having extra curriculars everyday, and I'm going to enjoy that downtime for as long as possible. 
After Nate gets home, he'll typically play with the kids while I get dinner ready. I really look forward to that time because even though I'm still present, it feels like I can turn my mom brain off, or at least down, for a bit. Nate does bedtime with the big girls, and I put Sutton down, and then we either work for a couple of hours or hop on Netflix with a glass of wine.
How do your kids inspire you?
Lots of ways but mostly just the fact that they are so excited about how many possibilities the world holds for them. They don't second guess if they're smart enough to become a doctor or talented enough to run a design firm. It makes you wonder at what point we start questioning those things about ourselves. 
If you have to pick just one, what has been your favorite moment from motherhood so far?
Hardest question ever. But it has to be watching them discover things that bring them joy. Technically that's more than one moment, but that has to be it. Watching them relish in whatever the activity is brings me joy too, but I also feel like I get to know them better with every little thing they love or don't.  
Lindsay Weber is The Everymom…
Proudest DIY? The tassel chandelier in Sutton's room.
Happy Hour or Brunch? Happy Hour!
Last movie you saw in theaters? Mary Poppins Returns.
Go-to song for a Sunday afternoon? Allen Stone, can't pick just one.
Best way to unwind at the end of a busy day? A magazine and a glass of red wine.
Coffee or Tea? Coffee — a hot Americano with a splash of cream.
Most embarrassing mom fail? Forgetting picture days. More than one of them.
Kids show you secretly love? Disney's Descendants.