When you're pregnant, you may get a lot of support and advice at each step of the way from your healthcare provider, from friends who've been there, and maybe even some unsolicited advice from your mother-in-law. Thinking about your growing baby's nutritional needs and taking prenatal multivitamins are top-of-mind for expecting moms. Then once the baby is born, life can become quite chaotic and priorities often shift.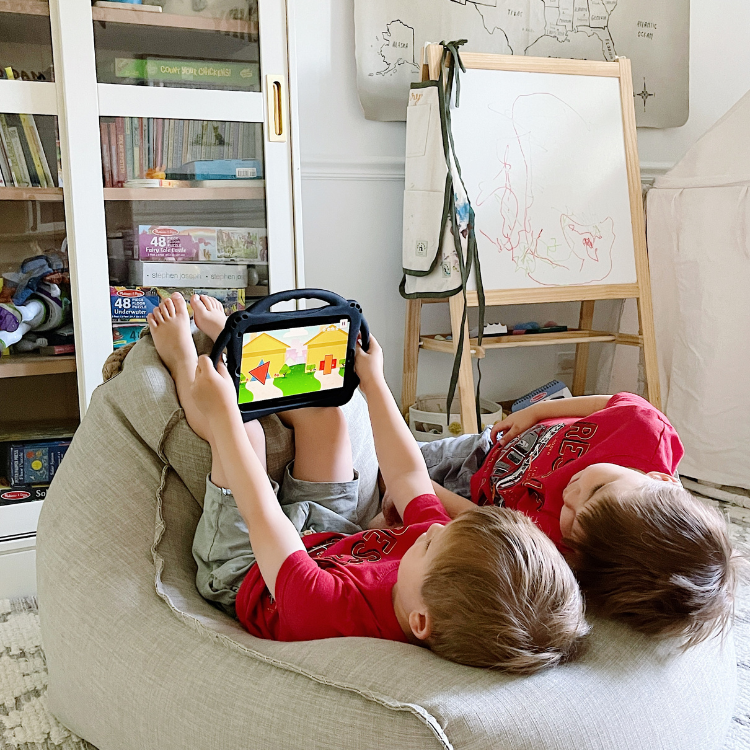 a pediatrician shares what she *really* thinks about LOs and screen time
With the constant tending newborn babies require, new moms often forget the importance of their own nutritional needs. While pregnancy is full of appointments, blood work, and a general focus on mom's health and well-being, once the baby is delivered, that support sometimes seems to disappear. New moms aren't always given the resources and knowledge that they need.
Given how demanding postpartum is on the mind and body, it's pretty surprising that postnatal multivitamins haven't been quite as talked about as prenatal multivitamins, so we were excited to find out about Ritual's NEW Essential Postnatal Multivitamin, something so many new moms can benefit from. The new multivitamins are formulated to support the specific needs of new moms, along with key nutrients needed to help support breastfeeding. And on top of that, they are vegan-friendly; non-GMO; sugar-free; and formulated without major allergens, fillers, or artificial colorants and perservatives.*
As new moms, it's incredibly important for us to take care of ourselves in order to provide for our children.
So, how can we best do that? One simple element to add to your routine is a postnatal multivitamin, like Ritual. We know new moms are stretched thin, which is why it's so great the small act of adding a multivitamin to your routine can have such a positive impact. Plus, Ritual offers a subscription service so your postnatal multivitamins are delivered right to your door—there's no need to run to the store when you're out.
If you're unfamiliar with postnatal multivitamins, here's what you need to know.
Prenatal Mulitvitamins vs. Postnatal Multivitamins
Just like pregnancy has a specific set of demands on the female body, so does the postpartum period. While a prenatal multivitamin is essential during pregnancy, a postnatal multivitamin is key following birth.*
Postpartum requires a specific set of nutrients that are different from pregnancy. This is true whether or not a new mom is breastfeeding. Postnatal multivitamins are made specifically to help support new mothers' nutrient needs.*
Why is it important to take a postnatal multivitamin?
The time after giving birth can involve a lot of challenges, but it's important to focus on your own health while caring for your newborn. During the postpartum period and the fourth trimester, your body has unique needs. You may feel overwhelmed, and thankfully there are small steps you can take. Taking a daily multivitamin specifically formulated for where you are in life is one of those easy small steps you can take to help support health.*
While for new new mothers it can be incredibly challenging to balance caring for yourself and your new baby, a postnatal multivitamin is a quick addition to your daily routine that can help.
What about postnatal multivitamins and breastfeeding?
If you're planning to breastfeed, the nutrient demand on your body can be high. According to Healthline, during breastfeeding, a female's recommended dose of many nutrients is even higher than it was during pregnancy. And as we already mentioned, taking care of a newborn while also trying to take care of yourself and your nutritional needs can seem like an impossible task. Since your nutritional needs are heightened if breastfeeding, it can be important to take a multivitamin that specifically addresses those unique needs.
Why are Ritual's Essential Postnatal Multivitamins different than a standard multivitamin for the postpartum period?
A postnatal multivitamin is formulated in a specific way to help support important nutrient stores after pregnancy. Some key nutrients can be hard to get enough of from a healthy diet alone (though a well-balanced diet is also important). A postnatal multivitamin can help to support the needs of new mothers and can also help to support normal immune function. And if you are breastfeeding, it's yet another way to ensure you are taking care of yourself, because breastfeeding can be nutritionally demanding on your body.*
A surprising challenge I found in early motherhood was finding the time to eat. Usually, one or both of my arms were occupied taking care of, rocking, or feeding my baby. While a postnatal multivitamin isn't a free pass to skip out on nutritionally dense meals, it can help support key nutrients that might otherwise be missing from your diet.*
Not all postnatal vitamins are created equal. Ritual's Essential Postnatal Multivitamin is made up of 15 nutrients and specifically addresses many of the key nutrients that have been found to be important during postpartum, including choline, biotin, vitamin A, and zinc.*
Additionally, Ritual's Essential Postnatal Multivitamins are clean and free from additives and fillers, so you know what you are putting in your body. They have a no-nausea delayed-release capsule design and are made with quality ingredients.
How long should new mothers take postnatal multivitamins?
There's no hard rule to how long to take a postnatal multivitamin, but Ritual's recommendation is to take a postnatal multivitamin for at least six months following birth, and potentially longer if planning to continue breastfeeding.
No matter how prepared you are for life as a new mom, postpartum will include challenges. You will rise to those challenges and be the best mom to your baby. A big part of that is remembering to also take care of yourself. Thankfully, adding a postnatal multivitamin to your routine is one easy way to be supported so you can best show up for yourself and for your baby.*
*These statements have not been evaluated by the Drug Administration. This product is not intended to diagnose, treat, cure, or prevent any disease.
This post was in partnership with Ritual but all of the opinions within are those of The Everymom editorial board.