One of the primary reasons I wrote my second book, Elements of Family Style: Elegant Spaces for Everyday Life, is because I felt that there is this misconception that when you have kids in your household, you can't also have nice things. That is categorically untrue — you CAN have both, you just have to be really smart about where and how you spend your money! There is no need to relegate yourself to "disposable" furniture and decor, but you don't want to be afraid to actually live in your home, either. Here is a cheat sheet that can help you make smart decisions so you can live in a space you are not only proud of, but are also comfortable in.
Invest in high-quality seating in shared spaces
This means looking for sofas, sectionals, and chairs that are well-constructed of high-quality materials with great, timeless lines so that you can always re-upholster them if wear and tear takes too much of a toll. Cheap furniture may look good in the short term, but will not last and you will eventually spend MORE by having to buy replacement pieces again and again.
Always look for durable fabrics
There is such a wonderful array of indoor/outdoor fabrics available now that you would NEVER guess were made of acrylic (even super-soft velvets and linen-like weaves). Spend the extra money to buy pieces covered in these kinds of materials as they will last SO much longer and are a breeze to clean up.
Think you can't possibly have a white sofa with kids? Think again, as long as it's a thick white denim or cotton duck slipcover, you can bleach it as much as needed — which you actually can't do with darker colors!
Invest in ways to get rid of clutter
Built-ins are pricey, but nothing gives you better storage than a customized piece to fit your space exactly! If that isn't a possibility, use great, sturdy bookcases with a matching set of bins to keep things off the floor. A bevy of attractive baskets is such an easy way to hide the bazillion toys strewn across your living room in a quick sweep, and allows the kids to help out cleaning up too. Get a few with lids to really help minimize the mess.
Look for high-traffic rugs
Just as indoor/outdoor fabrics have made leaps and bounds in quality and options, so have rugs. I always use this kind of rug in family-centered spaces as a dropped juice box (or glass of wine) can be cleaned up with all-purpose cleaner or even bleach (in fact I have several styles in this material in my own rug collection coming out soon!) If you want something more natural, wool is naturally stain resistant and busier patterns — like in vintage, Persian-style rugs — hide stains incredibly well.
Go with the marble fake out
Marble is beautiful, but if you are stressed about stains, you'll always be worrying — and who has time for that? There are so many fantastic quartz options available today that really do mimic marble closely, and for tile there are also some very convincing porcelain fakes! These will be nearly indestructible but still give you that elegant look of marble you want.
Choose affordable accessories
While I encourage people to spend well on the larger pieces of furniture, accents and accessories are a great place to save money. Pillows, decorative objects, art prints, and even side tables and lamps are all things that you can find designer-looking options for at very affordable prices. So if a lamp gets knocked over by a rogue ball or a pillow gets formula on it, you aren't completely devastated by the financial loss.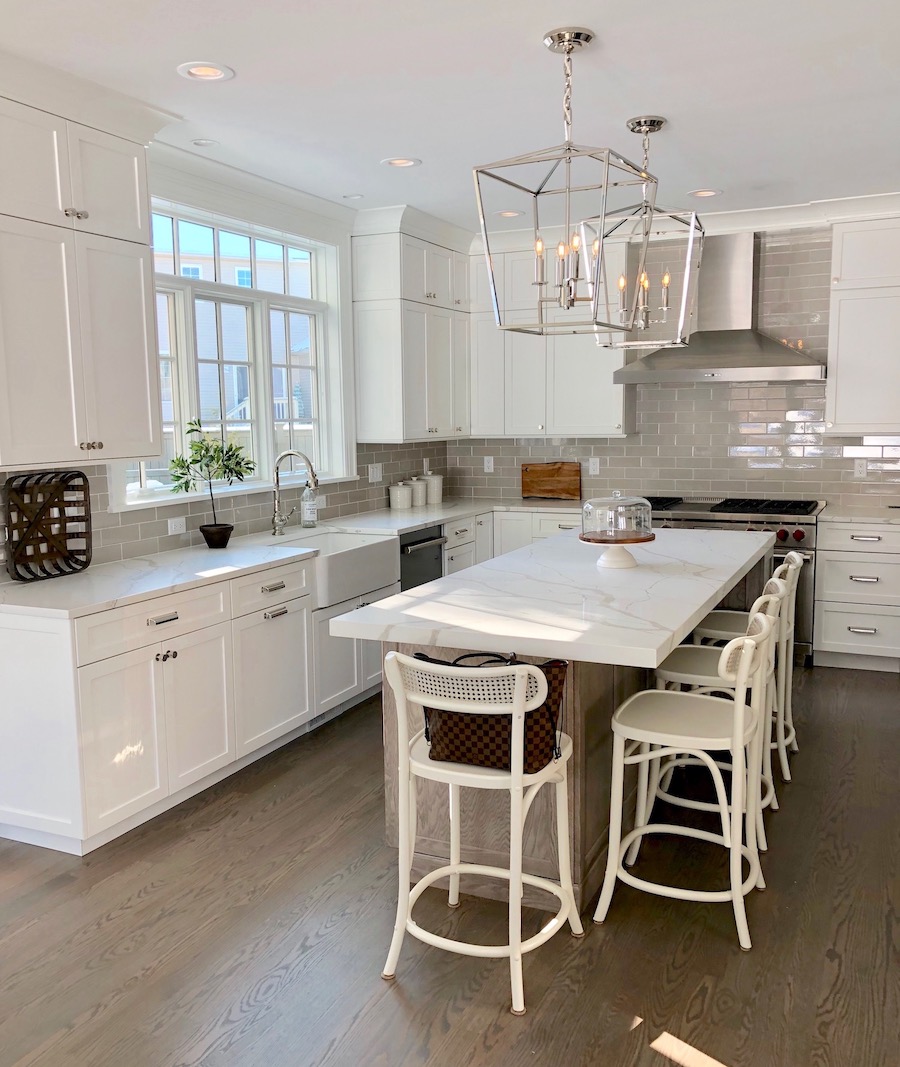 Create a catch-all space
If you have a mudroom, GREAT — trick that baby out with as many hooks, baskets, and bins as you can. Having a place for everyone to dump their coats, mittens, mail, cell phones, and the like right when you come in the house is key to not having clutter strewn all over. If you don't have a mudroom, create one by finding a place for a few hooks, a storage bench, and baskets.
Don't forget about a space just for you
All parents should invest in creating a space just for them that helps them recharge and unwind from a long day of parenting, work, and the stressors of the world. My clients tend to put their own spaces last, which I understand, but it can make a marked difference in your attitude and health to gift yourself a little peace!
Having kids is a lot of work, and keeping a home tidy with their toys seemingly multiplying in the night is hard. Taking pride in your home and teaching your children that same pride and respect goes a long way for everyone snuggled under that roof of yours!
Erin Gates
New York Times bestselling author and popular lifestyle blogger Erin Gates shares everything you need to know about designing a beautifully stylish—yet practical and functional—family home through candid advice, inspirational ideas, and lessons learned.