It's not often we get to interview a mom who has not one, but two, flourishing and fulfilling careers – and even rarer to find someone who handles such busyness with as much honesty, passion, and grace as Julia Dellitt. Content Manager at UnityPoint Health by day and freelance writer and upcoming book author by night (and wee morning hours), Julia is pursuing her passion of sharing the world as she lives it, all while raising a two-and-a-half-year-old and writing a manuscript. While pregnant. Phew!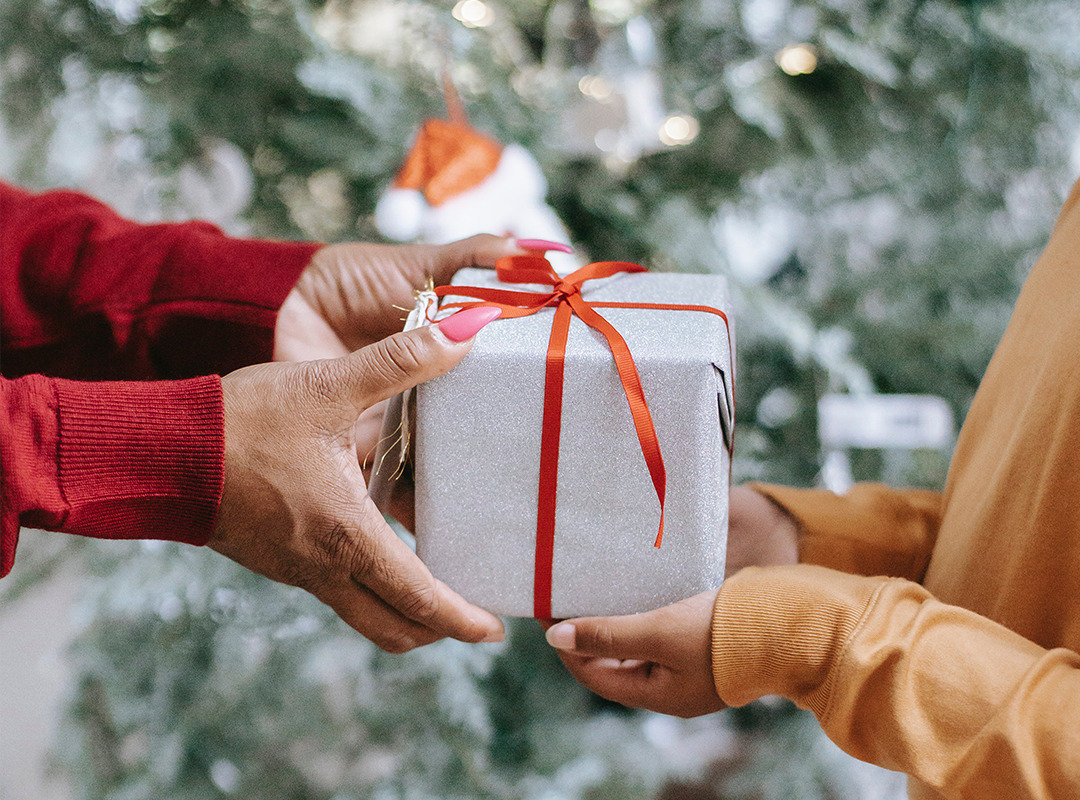 this makes gift buying so easy—trust us! 🎁
Our favorite thing about Julia (besides the amazing articles she writes for The Everymom)? Her uncompromising honesty; from her Instagram to her blog, Julia's laying the good, bad, and ugly out there. Read on for her best advice on how to land the freelance gig of your dreams, her daily routine that brings two careers and a lovely home life together, and how she's preparing to be a second-time mom.
Name: Julia Dellitt
Age: 32
Current Title/Company: Freelance Writer and Content Manager at UnityPoint Health
Location: Des Moines, Iowa
Education: Bachelor's degree in English and political science from Augustana College  and master's degree in religion and literature from University of Chicago
Children: Ezra, 2.5 and due with her second this month
How did you find your current position as Content Manager for UnityPoint Health, a company that offers coordinated clinic, hospital, and home-based care for patients in Des Moines?
From a career standpoint, I hopped around a little bit in my twenties. I worked in editorial communications for a large urban church in Chicago, then graphic design at a chamber of commerce in the Quad Cities. Neither was the perfect fit but as someone who graduated with an English major in 2008 (hello, recession!), any job was okay by me.
So in 2011, I heard that a coworker's sister knew of an opening in Des Moines at a hospital. I knew nothing about healthcare, but I wanted to be back in a somewhat larger city, and my long-distance boyfriend at the time (now husband) lived there, too. I started in fundraising for the hospital's foundation, and then slowly bounced around different positions.
My current job actually didn't exist when I started at UnityPoint Health; I ended up advocating for the creation of the role, working with mentors and leaders to make it happen, and now manage a team of six.
In my role, I develop and lead my company's executive communication, internal and external content and communications publishing strategy. Meaning, I basically function as a lead editor for a team of creatives (writers, video storytellers, content strategists) using a journalistic and publishing mindset. Content can be anything from thought leadership op-eds from CEO's to branded initiatives to health and wellness articles to internal videos featuring awesome employees/company culture.
Along with your full-time job, you're also a freelance writer! Why did you decide to freelance, and how does it influence your role as a content manager?
I love writing, and I always knew I wanted to find a way to incorporate it into my career. I just wasn't exactly sure how. For me, freelance was the perfect balance: I could rely on a stable 9-5 from a practical sense, but also push myself creatively and make a little income on the side. I held two to three jobs through high school and college, so working full-time and freelancing never felt like a big deal in terms of time management.

At my day job, I'm doing strategic communications, writing and editing all day long, so freelancing is a nice change of pace. I'm constantly exploring different topics, writers, stories, and mediums, and I'm basically practicing writing all the time, which helps me not only mentor others, strengthen my skill set and be at the top of my game.
What's the key to curating a good pitch, and what tips do you have for freelance writers who are hoping to have their own work published?
A good pitch is short, sweet, and most of all, relevant. Imagine an editor has 30 seconds, maybe, to glance over your email — you need to be efficient but also position your voice to stand out. Not easy, but definitely doable if you put in the work upfront. Tell them who you are, what your idea is, and why the story is a good fit for their publication. Include your contact info, link to a blog or previous work, and reread it out loud to catch any typos before hitting send. And this sounds obvious, but follow their rules. If they have a submission form on their website, be sure to submit there as well as follow-up with an individual ask.
One big misconception for those wanting to be published is that you can't pitch editors if you don't have a huge backlog of work to show. That's not true. A great story is a great story no matter what. I remember pitching editors saying, "Well, I wrote about venture capital for this one local online website…" and feeling kind of silly about it, like it didn't count and I wasn't "good" enough to even reach out. Don't do that to yourself. Editors want to see that you have a clear voice and point of view, a firm grip on a publication's style, and a narrative or angle to package up a story. Evidence of previous work is a bonus.
A lot of people ask me how to "get started" with freelance as if there's a secret path to success. I wish that were true! The reality is, you start by writing. You come up with story drafts, and then you research editors and publications to craft pitches, and then you do it over and over again until you get a yes. It's a grind, and there's nothing fancy about it. In the beginning, I think it's valuable to take whatever assignment allows you to grow and learn — even the low-paying ones — because you can build upon that experience and hone your voice.
You can certainly join writing groups to make peer connections and reach out to other freelancers for advice, but at the end of the day, your ability to get published is mostly dependent on how often you sit down to write.
How do you write on-brand content for different clients while also remaining true to your voice?
My writing voice strives to be conversational, smart, honest, and thoughtful. I want readers to feel like they're talking to a real person, not a bot spitting out SEO. At the same time, when I have clients, my job is to deliver content that fits their goals, platform, and audience. Does a piece need to be more formal, or casual? Is the objective to provide quick-hit how-to tips, or a deep-dive with researched context? Might there be a place for my first-person opinion or perspective, or not? Sometimes with a writing assignment, it's not about you — you do the work to get paid, and that's that. But stories where I can incorporate my own voice while sharing information often end up performing better and resonating more powerfully with readers.
What skills are necessary to be a successful freelance writer?
Resilience, curiosity, integrity, and confidence. You have to get comfortable with hearing "no," dealing with imposter syndrome and taking criticism without letting it derail your day or sense of self. As a freelance writer, for the most part, nobody is tapping you on the shoulder saying, "Hey, do you want to write about this?" Every single day you have to wake up and think, "What am I curious about? What stories am I not seeing? Whose stories can I help tell?" You need to believe in your voice and trust that you have something worthwhile to contribute in the first place.
And you must maintain a sense of integrity. People joke about clickbait and fake news, but it's really crucial for writers to avoid being part of the problem. Check your sources, explore all possible perspectives, dive into the data or research, and then tell the truth as you see it. Make your stories matter.
You're a mom to your 2-year-old son, Ezra, with another baby on the way. How has motherhood shaped you as a person and a professional?
It has taught me I'm not perfect — ha! Seriously, though. I spent a lot of years trying to meticulously plan out my career, family, and relationships, and becoming a mother forced me to be more flexible, open-minded, and compassionate toward myself and others. It also gave me a sense of stability and purpose that I previously lacked, which helped me take more risks and pursue creative opportunities. I'm a role model to a little person who looks up to me, so what examples do I want to set? The answers are different for everyone, but I think the identity shift that comes with motherhood crystallized what is important to me and what is not. And I've realized there are only so many hours in the day — instead of trying to control schedules and outcomes, I try to just go with the flow and feel content with progress over perfection.
Tell us about transitioning to being a working mom and what surprised you the most about it.
I actually loved going back to work, which surprised me — I fully expected to struggle with that transition, and I really didn't at all. I would hear other moms talk about crying at daycare drop-off, and I just straight up never had that experience, nor did I ever really feel guilty about that fact. I like my career, and this is probably taboo to say, but I appreciate having a break during the day from 24/7 motherhood, too.
I think it's completely possible to love your kid more than anything as well as need (or want!) time and energy to focus on something other than parenting. Those two things are not incompatible, and it's bogus that we expect moms in particular to choose one or the other.
Additionally, the term "working mom" is broader than I originally thought. Whether you stay at home with your children, go to an office all day, or juggle three part-time jobs — it is all work. I have the utmost respect for mothers whose paths are different than my own, but just as valid.
Being a successful working mom also requires a fair amount of privilege. It's easier to be a working mom when you are fulfilled by your work, you have a supportive team or boss, you can benefit from flexible hours, and you're getting paid a fair salary with healthcare. And it's easier to go to work when you have a partner to split the load at home, you can access affordable daycare, and you have a positive relationship with the caretaker of your kids. Plenty of parents across the country often don't have the emotional, financial or practical support or resources they need, and that's something that needs to change because working moms are the backbone of our workforces and families.
You have a full-time job and freelance writing 15-25 articles per month. How do you separate your work life and your home life? How do you work in self-care time?
Obviously, it's super easy to work all the time and let work obligations creep into home life, so I am super intentional about setting aside or labeling certain times of day for different elements. I generally wake up around 5 a.m. at least three or four times a week, and that's when I do the bulk of my freelance work. I spend a little time with my son and husband when they wake up, and then once I get to my regular job, I aim to be as efficient and productive as possible. I think the hardest part about a corporate gig is balancing meetings and time to get things done, so that's probably my biggest struggle. I view the window of time between when I get home to when my son goes to bed as family time, too; I put away my phone and computer and focus on being present.
Then, around 8:30 p.m., I make one of three choices: more work, quality time with my husband, or self-care time. I can't do all three every night, or every week for that matter, so I just go back and forth depending on which "bucket" needs to be filled up.
As for self-care, I make it a regular part of my daily routine. I don't "save" it for when I have time, because then it'll never happen. I try to just pick one thing per day — that might mean hitting up a yoga class over my lunch break or going for a walk after work. Doing a face mask while my son takes a bath. Waking up with enough time to eat breakfast versus rushing out the door. Calling a friend on the drive home for daycare to catch up for 15 minutes. Shutting the computer to cuddle on the couch with my husband and watch Billions. Going to bed early instead of scrolling through Instagram for an hour. Taking a few deep breaths during a busy day. Self-care can look like a lot of things, and I've learned to avoid burnout by making it as habitual as brushing my teeth.
What sort of maternity leave will you take with your second? How was your decision influenced by your first maternity leave experience?
My first and second maternity leaves will likely look very similar, as I'm fortunate to work for a company with a policy of 12 weeks in full, based on a portion paid at a set percentage, and the rest based on saved or unpaid time off. My husband took off two paid weeks, which helped a lot. I know some people like checking in with work periodically, but I really took a full break with my first kid and didn't touch my email at all. I completely disconnected because I knew I wouldn't get this time back and work wasn't going anywhere. Even though it felt kind of long and monotonous some days, it was also a critical and special opportunity to bond with my son, get to know him, recalibrate myself emotionally, heal physically, and adjust to the transition at home with our family.
One thing that will be different with our second kid is that my husband's company now offers 12 weeks paid parental leave, so he will probably be at home much longer than the first time around. I wish that approach were the norm — parents deserve at least three months of paid time off, and even though some businesses are shifting their benefits accordingly, the U.S. as a whole continues to fall way behind in this respect.
What differences have you noticed between your first and second pregnancies?
My first pregnancy felt more emotionally challenging, as it was a bit of a surprise. I spent much of the time trying to wrap my head around being a mother, adjusting to my changing body, and wanting to feel like myself. My second pregnancy has been the opposite — I had a miscarriage in between, so despite a lot of fear and anxiety about potential loss, I mostly felt grateful to be pregnant in the first place.
Physically, it's way more exhausting because I'm chasing a toddler around all the time, so if I want to feel energetic and strong, I have to be super mindful of drinking enough water, eating fruits and veggies, exercising without overdoing it, getting enough sleep, etc. Sometimes I even forget I'm pregnant, whereas the first time around, I checked milestones and apps every single week and the whole thing seemed to take forever. Overall, I'm really excited to meet this baby!
Let's talk adjusting to a family of four: How are you preparing for the change – both at home and preparing your son?
With my first kid, I had baby showers, made registries, got the nursery prepped, read articles, and did whatever I could to prepare. This time, I'm like, "Well, if we can get the extra bedroom painted by my due date, great!" I know there will be a huge adjustment period, so I'm not too concerned about trying to prepare in advance. I care about properly planning for maternity leave at work so my team is equipped to handle everything while I'm out, and then on the home front, I just want to prioritize recovery and get to know our new addition. I still feel a little nervous about parenting two kids — the words "family of four" sound intimidating! — but we'll figure it out.
While searching for a daycare for Ezra, what were the most important factors? Why did you choose your current one?
We were originally going to send him to a local center, and then at the last minute, a spot at an in-home provider opened up through word of mouth. I wanted it to be safe and clean, of course. I also wanted him to have the chance to play with other kids on a regular basis, experience a daily routine that complemented our parenting approach, and most of all, be cared for with love and respect. I wasn't too stressed about educational factors with daycare because that stuff will come over time, and he has his whole life to be in school.
Our parents both live several hours away, so I kind of needed someone to play the grandparent role and help us as new parents as much as care for our son! I knew our current caregiver was the right fit from the very beginning — it was sort of like dating. I felt comfortable with her, we could talk about anything and everything, and she treated our son like one of her own children.
What are the benefits of daycare, and how do you believe it has impacted Ezra's growth?
When I drop him off most days, he races in to see his friends and yells, "Bye, Mom!" without a second glance. That makes me happy because I know he feels happy, safe, and confident. I think it's good for him to form a strong relationship with an adult outside of our family unit and to learn how to share and play and communicate with babies and little kids his age. He also sees mom and dad go to work every day and trusts that we come back, and he can have a good experience when we aren't around.
What's your plan to encourage a strong sibling bond from a young age?
I think in the beginning it'll just involve spending a lot of time together. I want him to understand that his sibling is a regular part of his life and not going anywhere. And it's okay to be frustrated or annoyed or mad with a member of your family, but you still love them and treat them with respect and empathy. Communication and loyalty are important — I'm really close with my two younger sisters and definitely hope my own children have their own strong relationship as well.
How do you and your husband, Jared, divide parenting roles?
I once listened to a podcast by Esther Perel who explained that parenting roles are actually not necessarily rooted in gender — you know, the whole "moms take care of the kids and dads handle the yard work" mentality. In her view, it happens to any couple with children, and it's a very normal conflict within a relationship. Hearing that made me feel better because sometimes I worry that we're falling into traditional arguments or traps, and then I have to remember that dividing parenting responsibilities is an ongoing, complex effort.
We try to communicate as much as possible and take turns regarding who is doing what in order to give each other a break. I think the biggest challenge involves letting go of recognition or keeping score or a sense of what's "fair," because we both feel like we're doing so much, and parenting is relentless.
We try really hard to say thank you and show appreciation for the little things, like handling bedtime several nights in a row, or being "lead parent" while the other goes to happy hour, or scheduling doctor's appointments, or doing the dishes. And if one person is feeling overwhelmed or underappreciation, then it's okay in our relationship to vocalize that instead of letting resentment build.
How has your marriage changed since having your son? Any tricks forfitting in one-on-one time?
It's incredibly easy to put your partner on the back burner in favor of your child or other obligations since you never feel like you have enough time. It's also dangerously easy to take out your worries or frustrations on your partner since they're the closest target. Remembering you're on the same team is key and carving out time for each other is the only way to stay connected.
I think before having kids, we assumed quality time would just happen — and it usually did — whereas now we have to plan for it. We plan out monthly dates, even if it's something really small like going to get coffee one morning. We hug and kiss and make eye contact, which sounds so simple, but it goes a long way. If one person is telling a story, then we try really hard to actually listen, despite a two-year-old shouting his ABCs in the background or work emails blowing up on our phones. We sit down for dinner at the table, not in front of the TV, at least a few times a week. And we've learned to prioritize one-on-one time in small increments versus waiting for a whole weekend — sometimes we'll joke about going on a date to Target or holding hands on a walk, but the little things matter so much.
Do you have any advice for new or expecting moms?
Be kind to yourself. Your body is growing a person, and your life is going through – or about to go through – a massive change. It's okay to feel however you feel, and don't forget to ask for help. You'll make it to the other side, I promise, and it'll be different, but also better than you ever expected.
When it comes to being a mom: what are you most insecure about and what are you most confident about?
I'm most insecure about making the "right" decision because parenting is often a game of, "Um, so what do I do?" But I'm most confident about the fact that I'm a resourceful person who figures things out, and I give 110% to the people and things I care about most.
If you could only pick one, what has been your favorite memory from motherhood so far?
My son recently started singing along to songs, and he likes to run through his favorites at bedtime together. Hearing his little voice sing "Twinkle, Twinkle" makes me want to cry in a good way every time. It's so sweet.
Julia Dellitt is The Everymom…
Go-to book to read to a toddler? Dragons Love Tacos.
You can't leave the house without… My planner, because I'm a die-hard "write everything down or I'll forget" person.
Best place to write? A coffee shop.
Where your inspiration comes from? My family — all the strong women in it, as well as my husband who encourages me to rise up to my best self. And I'm constantly inspired by the stories, struggles, triumphs, and endeavors of other women and mothers, whether I know them or not.
Best movie for the family to watch? Big Hero 6.
Brunch order? Coffee, eggs, bacon, and toast, with a fruit pastry thrown in for good measure every now and then.
Most embarrassing mom moment? Every time I lose my train of thought mid-sentence, which unfortunately happens at least once a week.