It's no secret that paying for childcare is one of the biggest stressors amongst parents today.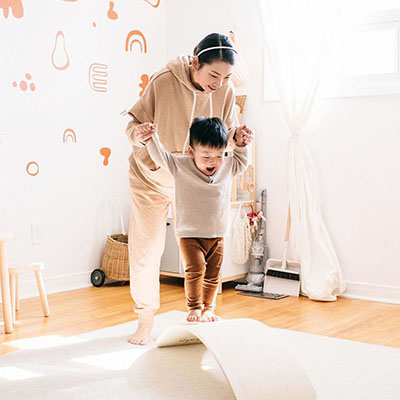 Shop Our Most-Used Items From Amazon for Toddlers!
If your kid is turning 2, get ready for hilarious conversations, much more involved play, and lots of sweet, sloppy kid hugs and kisses. As for what you'll need? Leave that to us.
This way to shop —>
It's an even heavier burden to bear for those of us who still are paying off student loans in addition to basic living expenses. As noted by Fast Company, the average yearly cost for daycare is higher than the average cost of in-state college tuition; American couples spend at least 25 percent of their incomes on childcare, while single parents spend over 50 percent of their income on childcare.
Because mothers 1) make 80 percent or less in salary than their male counterparts, 2) are returning to work well before they are ready due to inadequate maternity leave, and 3) disproportionately shoulder the burden of caring for the children, moms all over the country are left feeling overwhelmed, ragged, and as if they are stuck between a rock and a hard place.
We know you feel it; we do too. In the spirit of learning, connecting, and empathizing with each other, we asked you: How do you do it? How do you manage to pay for childcare?
This is what you said.
Some of us lean on family (whether we want to or not)
"My husband and I pay my mom to care for our two kiddos, who are 4 and 2 years old. The peace we have with knowing my mom is caring for our kids is priceless to us. She provides such great care, and we feel so absolutely lucky that we could pay for her to do something she already loves doing." -Anonymous 
"We have one child and have hired a nanny for four, 10-hour days. We are splitting this cost 50/50 with my father who has generously offered to help us pay. My father-in-law watches him on the fifth day." -Anonymous
"We have our 2.5-year-old in a Montessori program three days a week, and my mom watches her two days a week. My husband and I both work full-time. It feels like the perfect combination for her. She is learning so much, and I love the deep bond she and my mom have. When she was born, we did a nanny share for about five months, but it didn't end up working out so we switched to the Montessori program and love it! It's insane how expensive childcare is, but we keep reminding ourselves that it is temporary and we budget our salaries to make sure we are able to achieve our financial goals (we just recently bought a house in Chicago, we travel as much as we can, but we also save by not eating out or buying coffee out too often, and shopping is pretty minimal)." -Anonymous
"It's a hodgepodge. Our 5-year-old is in full-time pre-k (tuition), and our 2-year-old is with my mom three days a week (free) and a nanny two days a week (not free). I work remote with super flexible hours and ultimately end up working with a kid or two under tow for at least one hour per day while waiting for my mom or waiting for my husband to come home from work. We actually moved halfway across the country just so that we could have family watch our children. My mom's our lifesaver, and I will never take it for granted. Ever. It's the only way I felt comfortable going back to work full-time. Oh, and all of that was to say that we feel grateful we have my mom for part of the time to better be able to afford tuition and a nanny. Next year, my 2-year-old will be in preschool and tuition for two at private school is looking harsh, so we'll have to consider our situation again." -Anonymous
"We are doing a nanny share for our little one. This is our first child, and it's been such a process to find childcare. In Boston, the daycare waitlists are insane. We started looking in November 2018, and our due date was May 2019; to date, we are still not off of a single waitlist. We are a dual-income family, however, my husband works freelance so his pay is very inconsistent, therefore, my in-laws have offered to help by paying for one week of childcare per month." -Anonymous
"We have two kids (one school-aged and one in preschool). My husband and I both work, but there is absolutely no way we would be able to pay for full-time childcare for even just one child on our own. My parents help by paying for half of the childcare cost (we alternate weeks). I literally don't know what we'd do without their help!" -Anonymous
"I'm paying approximately $2,400/month for two kids in daycare in the Nashville area – a 3-year-old and a 4-month-old. It's outrageous! My husband and I both have full-time careers. Even if we wanted another kid, we couldn't afford it. It's a fantastic school, but we've had to become indebted to my husband's family to be able to afford it and still put food on the table." -Anonymous
"We are a dual-income household – two teachers – and just put our older son in daycare two days a week. We still rely on both sets of grandparents for childcare. My 7-month-old is with grandparents full time, and my 2.5-year-old is with them three days a week." -Anonymous
"I am a single mom fortunate to have my mom watch my daughter Monday through Thursday while I work 10-hour days to take Fridays off work. I have Friday, Saturday, and Sunday to spend all day with my daughter. I wake up at 4:30am Monday through Thursday. It hasn't been easy, but I'm fortunate to have my family to help out!" -Anonymous
Some of us take on a side hustle
"We have a 3-year-old and a 1-year-old both in daycare full time. It costs $600 a week. The only way we're getting by is by renting out our guest house on AirBnb. It brings in about $1,500 per month and is a true lifesaver." -Anonymous
"We run a small coffee shop in a small Texas town. That covers most of our bills but not childcare. I manage a 4 bedroom boutique boarding house in order to send our 4-year-old to Montessori. Our 1-year-old comes with me to clean the boarding house, and now I have a nanny share going on for her twice a week for four hours a day. I use that time to run my other business, event coordination and florals. It's busy times! But we make it happen. Somehow." -Anonymous
"Being a dual-income family keeps us afloat. But recently, [we started] working part-time for the grandparents' business to earn extra money for savings." -Anonymous
"It takes two full-time incomes (plus a side hustle) to pay for two in a full-time private preschool. We 'joke' that we're basically paying college tuition ($40,000/year for both combined) without having had the benefit of saving for 18 years!" -Anonymous
"I have a 2.5-year-old. She has been in daycare for the last year. When she was 4 months old, I started waitressing some nights while being home with her during the day (mostly to keep my sanity). In order to make going back to work financially feasible, I kept my waitressing job to pay for daycare so it never comes out of my regular-job paychecks. That way it doesn't really feel like an expense. I waitress two nights a week, and it covers daycare expenses. If I didn't do that, I'm not really sure how we would pay for it. It amazes me that my parents did this for three kids back in the day. I have so much more appreciation for the hard work and struggle now." -Anonymous
"I'm a single mom and paying for my now 4-year-old by working extra jobs and trying to get another side business going to give me a bit more cushion and safety net. I did apply for a grant to help due to being a single parent, but the cost is still beyond expensive, and I can't afford to send my 19-month-old as well!" -Anonymous
Some of us leverage job benefits to help out
"We just relocated to Dubai, UAE due to my husband's job. I'm a SAHM, and we have a daughter. So, we are a single-income family, although I'm thinking about going back to work again. As one of the most expensive cities in the world, nursery here comes with exorbitant fees. You start to appreciate that back at 'home,' you don't have to pay at all or even just have reasonable fees. Luckily, during the job negotiations, my husband managed to raise this to his employer, and they agreed to pay for nursery. We are very lucky." -Anonymous
"We are dual-income with no family around to help. We use a Dependent Care Account through my job that takes a set amount each month out of my paycheck pre-tax. Then, we pay the preschool and are reimbursed from the account. Our son is 2 and goes Tuesday and Thursday from 9am to 3:30pm. My job is pretty flexible – I work for a public charter school, but I do have monthly meetings with all my students that I have scheduled on those days to minimize the amount of time we have to pay for care. Definitely nervous for next year because we'll be adding twins to our family in December and will need the same hours for all three kiddos." -Anonymous
"I have twin girls who are 2.5. My husband and I both work full time. I feel very lucky both of our salaries can cover daycare, monthly expenses, save for retirement and put some (very little is left) into savings." -Anonymous
"In Minneapolis, we are paying for one (soon to be two) at a daycare center. Once the new baby is here, we will be paying $700/week as a dual-income family. I recently took a new job, changing directions in my career, and part of my consideration was higher pay." -Anonymous
"I am a single mom, and I do not receive support from my daughter's dad (in the works). Currently, my parents help me out. I did opt into the full amount for the FSA through my work. The FSA covers about three months of her daycare. Daycare is so expensive, but she needs to go so I can work. I love her school, so it's worth it. The state only accounts for up to $10,000 in childcare costs even though that's only about half of what I pay a year. We definitely make sacrifices, and it is tough to make ends meet right now. I am so beyond lucky to have my parents though." -Anonymous
 "We are a single-income family – I am a physician and my husband is a law student. [We have a] 1 and 3-year-old in university daycare, so we get a small break in price since I am faculty and he is a student. Nevertheless, 23 percent of our income goes to childcare. When a kid is sick, grandma helps and/or I take sick days." -Anonymous
"We are a dual-income family with one child. We both work in tech in San Francisco. With that being said, childcare is EXPENSIVE. I toured a Montessori daycare/preschool that with a company discount was only $10K less than I was making in a year. We opted for a nanny share, but that was still expensive. I was up for a review at work and met with my boss (who happens to be HR) and the CEO of the company, and in my pitch for a promotion/review, I gave them a number that would allow me to go 50/50 on a nanny share with my husband. It required a $17K raise. I let them know their option was to get me as close to that $17K raise or that I'd have to quit because I wouldn't be able to pay for childcare. Thankfully, my company values me and my family, and I secured a $23K raise!" -Anonymous
"We have one currently in daycare but will have three in 2020 (expecting twins any day now). We are a dual-income house, however, my husband is a full-time Ph.D. student, so his stipend is not very substantial. Because he is a student, we were able to qualify for a child care subsidy through the financial aid office at his school. We were also able to negotiate with our daycare for a multi-child discount off two children instead of one. We also use our FSA to pay tuition pre-tax." -Anonymous
Some of us had to lean towards the least expensive option
"We have two kids (3-year-old and 9-month-old), my husband and I are both in grad school, and we have an au pair from Costa Rica. She's amazing, adores them, and we LOVE having them at home, able to run around and go outside and have the childhood we wanted them to have. Bonus: they were both sick this week, and neither of us had to take time off because they couldn't go to daycare. Instead, they got to lounge around the house, snuggle, and eat popsicles in bed. Au pair was the least expensive option where we are located, but we have really felt so LUCKY to have such a wonderful woman taking care of our little ones." -Anonymous
"We have two boys (ages almost 4 and almost 1). I'm married, and my husband and I have had to plan our family and spacing our kids apart around being able to afford childcare (we pay for them to go to daycare). We'd like another one but will have to wait until at least the oldest is out of daycare.  Daycare is an awesome choice for our family – they learn so much at their school, have built great friendships and the teachers nurture and delight in our boys with us. However, it's expensive. I can't imagine being a single parent or a family of lesser means. And our daycare is a church-based one that is partially subsidized, so one of the most affordable daycare options." -Anonymous
"We have 4-year-old twins, a 7-year-old, and a 13-year-old. We went with an au pair as it was the only thing affordable for us when twins were born. Had we gone with traditional daycare, it would have been my ENTIRE SALARY for the twins' daycare alone. This '10 percent discount' BS for twins or siblings is not feasible. So, we went through an agency called Cultural Care and are on our fourth au pair. All of them have been amazing and are our 'adult kids.' Our current au pair is from South Africa, and she has really taught our oldest a lot too." -Anonymous
"I have two in daycare currently in NYC. Luckily, I was able to find an in-home daycare about a half-mile walk from my home and close to the subway I commute to work on. The larger daycares that run more like schools grouped by age were around $500-600 per week per child. We couldn't even afford half of that when we had our first. This in-home one is with a local woman and two helpers in her apartment. It's approximately 10 kids ages 2 months through 5 years. She teaches them Spanish, cooks and feeds meals, and they spend 10 hours a day there Monday through Friday for $185 per kid per week. With two, we actually got a discount so it's just $350 a week for both. And it's still tight!" -Anonymous
"Our baby is due in December, and I will bring him to work with me when I get back from maternity leave in March. And then the daycare I chose will be able to take him in May. It was the only place we could afford, and it's $230 per week. We are dual-income, but San Diego is just so expensive. We are really lucky that my work lets me bring him for those first few months because any other daycare was $1,100+. We make about $100K between the two of us, but the cost of living wipes us out." -Anonymous
"We live in an area with limited childcare options, so we have our daughter in a small home daycare. Last year, the amount we paid weekly was about the same as my weekly take-home pay. I can't stay home because our family health insurance is through my employer, so without my career, we have no health insurance. It feels strange to work so many hours and send my daughter to someone else's care the whole time, yet the pay I make during that time goes directly to paying for her care." -Anonymous
"My husband and I both have incomes to be able to afford my daughter's childcare. But to be able to afford it, we had to choose a daycare that is located further away from home. I also work from home on Fridays to get time with her and reduce the costs." -Anonymous
Some of us had to transition to (or stay with) part-time work
"My daughter is in daycare three days a week. My husband has a demanding job with fairly regular hours, and I always knew I wanted a job where I could be home at least part-time with my kids. I am in real estate, and making part-time childcare work means working a lot of nights and weekends and during nap time on the days, she is home with me. It's hard, but I also love the benefits my daughter gets from being in daycare in terms of learning and socialization." -Anonymous
"My husband works Monday through Friday, and I work three days per week. Our childcare is a constant juggle. Monday is covered by grandma (my mother-in-law), Tuesday we have an in-home sitter who comes to our house for $12 per hour. Friday morning, we have the same in-home sitter and afternoons are covered by nana (my mother). My husband covers all childcare costs as they can alternate depending on needs, vacations, etc. I cover the more fixed costs like the mortgage and student loans. We took my daughter to an in-home sitter for her first two years, but now that we have a second child, we find someone coming to our home to be worth the (substantial!!!) additional cost." -Anonymous
"We start daycare for our son next week! Our son will be going three days a week, and my husband is now working part-time to watch him two days a week. Three days a week is $950 a month in Ann Arbor, MI. I'm in tech and make more than my husband, so this seemed to be the best arrangement. This money used to go into our savings. We also made other tweaks to our budget. We're spending less on going out, I canceled the gym membership and bought a treadmill, and I try to be more efficient with our grocery bill (don't overbuy, buy in bulk, buy store brand)." -Anonymous
"We are a two-income household paying for daycare for one child. We moved from Chicago to Milwaukee, WI a year ago knowing we were planning on starting a family. We have over $200K in student loans from grad school, and we realized there was no way we could afford to live in Chicago and pay for daycare at the same time. We were lucky to both find jobs here that actually pay more than what we would make in Chicago as well. We are saving about $1,000 a month in childcare costs here in Wisconsin and were able to buy a house since the home prices are so much cheaper. Our entire family still lives in Chicago, but we are happy with our decision and can still see them often. I was even able to go back to work part-time (four days per week), so I can stay home with my little one once a week. It was a huge sacrifice but worth it for a little bit of financial freedom (just working down those loans now!!)." -Anonymous
Some of us had to transition to (or consider) becoming a single-income household
"We brought our daughter to our nanny's house, who had her daughter at home with her, as well. We had to negotiate hourly rates, formally draft a contract and offer her PTO, for just two days a week. Eventually, we gave a 30-day notice and ended our contract. As a new mom, I didn't feel comfortable being confined with a certain amount of days that we could not bring our daughter to her, without financial penalty. We are now figuring out how to live in a single-income household. Not having the weight of childcare costs had eliminated a huge emotional stress off of my shoulders." -Anonymous
"My husband and I both work full-time (dual-income) and pay a lot for our 18-month-old to attend daycare (we live in Orange County, CA). We love his daycare, but would love more than anything for me to be home with him but can't afford it! Maybe we'll be forced to afford it when baby #2 comes because there is no way we could afford twice these payments." -Anonymous
"We're two working professionals with well-paying jobs, and it's still tight. With each kid, we've done the math to assess the cost-benefit of the lower-paid adult staying home instead of adding a daycare expense and decided for number two that it was better for both adults to remain employed, but we're going to feel it out." -Anonymous
"We didn't realize how big of a deal everyone makes MDO programs or school for toddlers here in Dallas, so we made a very last-minute decision in August to enroll our daughter in school two days a week at a local private school (which is actually way cheaper than most daycares here in the city!) at 18 months. We're a single-income family; I've been fortunate enough to stay home with her since she's been born, but we definitely didn't have the wiggle room for that large of an added bill, so I've started working part-time at a Pilates studio to offset the cost and take a little bit of the burden off my husband. It gives her and I both a chance to enjoy our own 'things,' and it gives me a good feeling knowing that I've contributed to the family a bit, even if it's minimal!" -Anonymous
"We have two kids, and one on the way. We have been double income [family]; but when baby #3 is born, my husband is going to stay home. As my career has progressed, we are in a position where I out-earn my husband 10 times; it just doesn't make sense for him to keep working. My older two will both be in elementary school next year, so that helps." -Anonymous
"I work two days a week, and my husband works full-time. My Fridays are my son and I's time together. My salary basically pays for the cost of daycare; we haven't made a ton of sacrifices, just saving less per month than before. It's frustrating because when our second child is born if we continue this situation, I will be PAYING to go to work every day. That is something I'm struggling with." -Anonymous
"Since our daughter was 6 months old, she has been in a full time daycare that we pay ($$$) for as we both work full time and live four-plus hours away from any family. She is now 2.5, and we are expecting a second baby and are in a position where we love our childcare for our daughter, but it may no longer make sense with two kids, as this would be a high 5-digit cost yearly for us (upwards of $60K per year for two kids). Even if it's a stretch for us financially, for the time being, we will most likely still make that choice since it's safe, clean, and our daughter has been so loved there. Some of her teachers have even babysat for us so we can go on dates once a month. We really trust them, and that is worth every penny!" -Anonymous
"We currently pay $1,270/month (metro DC area) for full time, co-op pre-k program for our 3-year-old son. It is affiliated with our local school system (which I keep hours at solely for the purpose of reduced tuition), but he has access to a full inclusion program (amazing at this age!), music class, PE, OT, SLC on staff. We pay for it 100 percent on our own. However, with baby #2 on the way, they asked us to pay tuition starting this September when she's not even born until November and won't attend until March! We would have paid $17,500 simply to hold her spot. THIS IS HOW COMPETITIVE IT IS! Actual insanity. So, we are moving this summer, and I'll now stay home because two in childcare doesn't make sense. It's the hard reality of many families." -Anonymous
Some of us have had to reconsider having more children
"This can keep me up at night! We have one child and are a dual-income family in the DC area. Due to the high costs of housing/living in the area, the grandparents are graciously helping with the costs of daycare for our 11-month-old. The #1 thing preventing me from thinking of having a second child right now is childcare." -Anonymous
"We live in MetroWest of Boston. We chose a non-profit daycare, which is 20 minutes from home but one hour from work. Grandma drives four hours on Sunday night after a 12-hour shift as a nurse to babysit on Monday. She drives back to NY Monday after dinner. I work from home on Fridays, which singles me out at work. I work at a private college as an assistant to the director at the museum, my husband is a radiology resident, and we still struggle to afford our nonprofit daycare. Daycare costs are one of two reasons we haven't had a second kid yet – daycare and rent. And we are two well-educated, decently paid people!" -Anonymous
"We're a dual-income household, and a good chunk of my monthly income goes to daycare costs. And that's just the tuition. The supplies we need to provide all add up too. I have a pretty well paying, full-time Wall Street job and am terrified to have another kid knowing how much money we'd spend to send another child to daycare." -Anonymous
"My husband and I pay for our daughter to go to a daycare two days a week. My husband switched shifts at his job so he works nights so that we don't have to have our daughter be at daycare as much. We love our daycare, but it is expensive. We are not able to go on vacations or go on as many date night as we would like to because of it. We want to have another child too, but it is difficult when thinking about having two in daycare at the same time." -Anonymous
"My husband and I are a dual-income household, and we have one daughter who is turning 2 shortly. Her daycare tuition is our most expensive monthly bill (followed by the mortgage and student loan payment). In fact, it's so expensive that we are holding off on growing our family at the very least until she starts kindergarten or we finish paying off student loans. We recently moved to the DC suburbs but don't let location fool you — even in our mid-size, rural town, daycare was still our highest bill. In fact, childcare was tougher to find in that small town (evangelical town where most have at least one-stay-at-home parent), driving up the costs." –Anonymous
"I have twin 2 year-olds who are in full-time childcare since my husband and I both work full-time. We chose a place that is not a 'corporate' daycare because we wanted a more intimate environment for our kids where they can get a lot of attention. We absolutely love the place we chose, but the cost is the hardest part. Especially for two kids the same age. We pay full price for one child and get a 10 percent discount for the other, which helps but not a ton. The total cost is almost my entire monthly paycheck (there is about $200 leftover). We have a mortgage, student loans, a car payment, and utilities to pay on top of that, which all comes out of my husband's paycheck. He makes about $30K more than me per year, but we still feel like we are scraping by each month. We are counting the days until they go to public kindergarten and we can have some disposable income again. The cost of childcare has also led us to decide that we probably won't have any more kids." –Anonymous
"I am a military spouse who teaches full-time. We have a 1-year-old and a 3-year-old in daycare. They go to the base daycare that costs $1,300 a month. Their previous daycare cost us $1,900 a month. Over half of my paycheck goes to daycare costs each month. We don't have the luxury of family nearby and have too much student debt for me to stay home with the kids. I have to have an income. We want more kids but can't comfortably financially afford one." –Anonymous
Most of us have had to tighten our budgets or make major sacrifices
"Paying for childcare SUCKS! I have two boys and even in an affordable city like St. Louis, MO, it is a lot. I am self-employed, and my husband is in sales, so while we make a good income, it fluctuates month to month. When our second son started earlier this year, it was after I'd taken two months of unpaid maternity leave, and we definitely felt it. We lived really lean to avoid going into debt. You'd be amazed how much you can save when you really take a hard look at your expenses. We cut cable channels, renegotiated our home security contract, found a better deal on car insurance, shopped Aldi (which I now LOVE), canceled our house cleaners, paused the gym membership to run outside all summer, and skipped takeout. We are in a better spot now that I've rebuilt my business momentum, but it took hard work and was really uncomfortable. I am glad we took the opportunity to look at all of our spending. There were some no-brainer ways to save that we weren't even thinking of." -Anonymous
"We live in southern California. We have a dual-income household and just one child. We pay $800 a month for childcare, which is super cheap in these parts but also not my first choice. We don't have our own place to live. We live with my parents now because we cannot afford our own place to rent. When it was just my husband and me, we had our own apartment. But once we had a baby with childcare and adding baby to insurance and other baby expenses, we just couldn't afford rent, so we moved in with my parents who are out of the way from our social life and work and daycare. With two car payments, two credit cards, loan payments, childcare, and long commutes, we barely have extra money for rent." -Anonymous
"We pay $3,200 a month for two children in the Seattle suburbs. We are a dual-income family, but childcare still costs more than our mortgage. We are prepared that for the next few years, we won't be saving as much as we have in the past (won't be saving at all unless our budget drastically changes). I realize we are lucky we can afford childcare at all. This is the same price we would pay at a daycare, and the closer to the city you get, the more you pay. So, we will be paying a nanny this amount." -Anonymous
"We are a dual-income family with two kids in an HCOL area (WDC suburbs). Our 3-year-old is in daycare, full-day (7:30am – 5pm), five days per week at $1,245 per month (includes lunch and snack). Our 5-year-old is in kindergarten but has before/after care at $550 per month. All said, this is a MAJOR improvement over last year when they were both in full time daycare at $2,600 per month. We skipped funding a college savings fund (529 or other) until the daycare years are/were over. And often relied on my bonus or savings to cover any short falls. Our 5-year-old now has a 529 started which we're funding with extra money from reduced care costs. Oh, and most importantly, although neither of our families is nearby, grandparents travel to visit/help when one of us is traveling for work (6-8 weeks a year). In-laws are a two to three-hour drive away, and my parents will fly in." –Anonymous
"My husband and I both work and send our three kids to a daycare near our house. We have twin boys and a 6-month-old daughter. We have a very detailed budget, and that is how we manage the process. We originally had a nanny for our twin boys. But when she wanted a raise and for us to put them in some type of Mother's Day program for social interaction, so we knew it was time for a change. We review our budget every month to make sure we are on track and then try to make big adjustment every four months when coincides well with the daycare calendar (fall semester, spring semester, and summer session). Not only do we look at this from a monetary perspective but also a quality of life and quality time with our children. For us, we want prioritize the relationships with our children. Each month we reflect on the time we had with them and make adjustments as necessary." -Anonymous
"We currently have one child in daycare. Thankfully, our older daughter started kindergarten this year. We are technically a two income household, but my husband is a realtor, so his income is not consistent. I've made daycare costs my responsibility. My husband takes care of all the house costs. It's tough. One and a half of my paycheck goes to daycare, which leaves very little for all the extras. We sacrifice. We pick and choose. We make it work." -Anonymous
"Just this month we went from one kid in daycare to two kids in daycare. The price per week obviously more than doubled. My husband and I both work to pay for childcare, but with two now, we've had to be smart with other bills, necessities, and wants." -Anonymous
"My husband and I both work full-time. We live in Washington, D.C., and our parents and families live back in the Midwest. We family planned, and we're lucky to have timing on our side that we only had one year of double daycare, which we just finished in August. We're also lucky that we found childcare that we loved and trusted. But paying for two kids in full time childcare in DC ended up being more each month than our mortgage payments, which we also had to keep paying. Needless to say, we lived on a pretty strict budget and dipped into our savings to make ends meet. It was insane and hard and stressful. I am so thankful to be done with that year but also know that we were very blessed to have wonderful teachers caring for our boys and steady jobs and understanding employers." -Anonymous
"Paying for childcare is so hard! You want the best for your child, but you need to keep a roof over your head and food on the table. We are a dual-income household but like many 30 somethings, my husband and I are paying off student debt (from reasonable state schools!), car payments, and a mortgage as well. We manage to make it work by cutting back on buying new clothes for ourselves and trying to not order takeout or coffee. It is a hard struggle every month. We're definitely not saving money like the books say we should be." -Anonymous
"Paying for childcare is so brutal! We have started a nanny share with a friend of a friend to subsidize the cost of a full-time nanny for our two children. Our nanny takes home as much gross pay as my husband (a surgical resident). Daycares' hours were too restrictive, and due to my husband's insane work schedule (80+ hour weeks) and my full-time job, we needed help with housework, errands, etc. We view our nanny as more essential than going out for dinner, shopping, or vacations – all of which we forgo to afford her full-time help." -Anonymous
"We have two girls, ages 4 and 2. They are in full-time care at a very reputable child development center. Our total cost per month is $2,814.60. Both my husband and I work full time in executive level jobs. His is much higher paid than mine, but mine has better benefits, so we use my salary to pay for daycare, and it's about half of what we spend my take home pay on. I also carry all of the medical insurance for all of us. Then, we save the rest of my salary and live off of what my husband makes. It sometimes makes me feel like my work is a really expensive hobby, but I feel like I would be a terrible stay-at-home-mom, and I know my benefits do help us a lot. We could also choose a less expensive option, but if my girls are going to be there for 40 hours a week, I feel like it has to be somewhere where they are thriving and learning more than they would with me at home." -Anonymous
Most of us feel like we are just scraping by
"We are a dual income family, my husband has what you would consider a decent paying job, and I actually make under the poverty line in a government job. We have two girls in daycare, ages 3 and 1, and for me to go to work and send them to daycare, I only bring home $25 after taxes. It's hard; basically my husband's entire income has to sustain our family. It's almost worse than when I was off on maternity leave. I basically work for my benefits package – thank goodness it's very good or else I may have taken a leave from my job. Also, we live in a smaller town, and I know what we pay for two girls in daycare is what some people in the city pay for one child a day! I can't even imagine!" –Anonymous
"My husband pays for childcare, so over half of my income can go to student loans ?." –Anonymous
"I spent my whole income on childcare last year (I think there was 300 EUR left between my salary and the invoice from the childcare facility). This covered a baby and a toddler for four days in daycare and a schoolkid for a lunch break, one afternoon after school, and all day Tuesdays and Thursdays during holidays. In the Netherlands, the government gives you a childcare allowance based on your costs and your income – without that, it would not be feasible. Still, childcare is our biggest expense – even before our housing costs. I see it as an investment in the long run – continuing to work on my career has meant that I have increased my salary over the past four years whereas my childcare costs are slowly reducing. We have always chosen the safe route: I pay for more than I use because I want to avoid stress, and I want my kids to have consistency in the caretakers when I am working. My parents help out sometimes but do not want to be babysitters on a fixed-term basis." –Anonymous
"While we have now found stable and consistent childcare through a nanny share, our 2.5-year-old daughter has had four nannies in her lifetime because there weren't enough daycare openings for infants and they were financially inaccessible. We're a dual-income household and currently pay an average of $1,400 per month for childcare. We don't have any family here, so days when we couldn't afford childcare, my husband would take our daughter to work or I would take a day off from work to stay at home with her." –Anonymous
"I have a 9-month-old and a 3-year-old in daycare and work as a freelance graphic designer and illustrator. Because my work is feast or famine, some days I barely make enough to cover the cost. I try to remind myself that I'm paying to maintain my career through these young years, but some days, it feels awful." –Anonymous
"We are dual income and basically took on a second mortgage by paying for childcare. Our mortgage and childcare payments are the same. How do we do it? We struggle each month, but we make it work. We cut back expenses and sacrifice it all for the little one, but man is she worth it." –Anonymous