After college, making new friends can be a daunting task. In fact, a recent study published in the Journal of Social and Personal Relationships concluded that it takes "about 40-60 hours of time spent together in the first few weeks after meeting for people to form a casual friendship. To transition from a casual friend to friend takes about 80-100 hours of together time."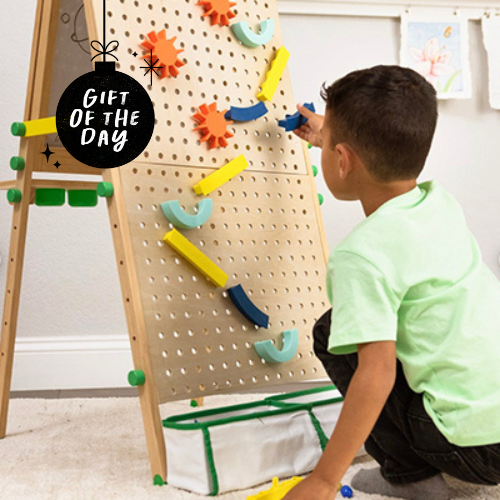 Art, fine motor skills, and fun all mixed into one great gift! Kids will learn engineering with the marble run but also get creative with the art easel mode.
Long story short, making new friends takes time – a lot of time. When you factor in motherhood, which consumes a lot of time and energy, making new friends almost seems impossible.
This is where Michelle Kennedy comes in. An attorney by trade, Kennedy set out to develop authentic friendships when she became a new mom. In her quest to do so, she found a lack of resources for moms to connect in a genuine way. She founded Peanut, a matchmaking app for moms, and the landscape for making new mom friends became significantly easier.
Name: Michelle Kennedy, Founder & CEO of Peanut
Age: 36
Location: London
Children: Finlay, 5 (one on the way)
Education: Law school
What was your first job and how did you land it?
I was a bank teller at a bank in the UK called Nationwide. I got it by going in every Saturday to speak to the Manager and tell her why they needed more young people behind the counter (I was 17). She eventually relented.
You've been involved in the dating app game for quite some time now. What got you interested in that?
Purely by accident! I joined as general counsel. A combination of being nosy, and wanting to understand the business more meant I eventually rose to deputy CEO of Badoo.
You were in key positions at both Badoo and Bumble – two very different dating apps. Did you have different experiences working there? What did you learn at each?
Badoo is the majority shareholder of Bumble, so I was on the board of both. Each differed in terms of growth, strategy and brand narrative. Badoo was already huge when I joined, so it was a growth story. Bumble was a startup journey. I learnt from both the importance of product, consistent messaging and authentic brand goals.
Your background and education are actually in law. How have you seen that skillset and education serve you in your social product career path? What advice do you have for women who want to pursue a career that's not directly related to their education or past experience?
I think that my legal background has served me well – I wouldn't be where I am without it. It gave me a baseline understanding of business and provided foundations for critical analysis. The only thing that is stopping women from a change of career is their mindset. Provided you're open to always learning, being humble and starting over, there is nothing to fear, you can do it! Besides which, you have a safety blanket of knowing you have had another career, this is just the next chapter. I really think job roles are less binding than ever before, and look to the younger members of my team who see no barriers to entry in trying anything for the first time.
You launched Peanut, the dating app for making mom friends (THANK YOU), in 2017. Where did the concept come from? Did you think it would be as successful as it has been when you first started it?
We launched in 2017, and the concept was simply – I needed some mom friends! I'd been working in dating for such a long time, it felt like a natural progression to take what I knew about dating and apply it to a new market. The market felt ready for something new, and women deserved and needed a new way to form social ties and connections. Why couldn't I be the one to do that? We never thought it was going to be as successful as it has been at all, but to me, that just demonstrates the need and shows how overdue a platform like Peanut was.
The only thing that is stopping women from a change of career is their mindset. Provided you're open to always learning, being humble and starting over, there is nothing to fear.
Building a "village" as a mom is so much harder than it seems, especially since we know how necessary it is to have real friendships in motherhood. What kinds of relationships did you find yourself craving when you launched Peanut? Beyond the wonder that is Peanut, how did you go about making new mom friends?
I just wanted relationships which made me feel like me, not generically "mom." I wanted to connect with women on shared life experiences and that took more than "you're a mom, I'm a mom," it took depth, and commonality, and experience! I also made friends IRL (!), women who I met at classes, at school drop off, and I suppose throughout building Peanut, hearing their stories.
What's been a moment since launching Peanut where you've gone, "Yes, this is why I do what I do"?
Every day. Every day we receive emails from women who have met through Peanut and it's changed their perspective of motherhood. Whether they've met to start a business, to have a playdate, to drink wine, all of it makes me so happy. No woman should have to do this alone. When we hear women forming strong communities on Peanut, on starting their own community groups as a result, using Peanut as their resource and companion for motherhood, well, how could we ever have wanted more than that?
Were there any sticking points or obstacles you had to overcome in launching Peanut? How did you work through them?
Of course! Still are! Every day! Hiring is tough, running your own business is tough, and at the start, convincing people that women needed a product like Peanut was tough. I think the fact I knew we were right, and that we never deviated from that belief pushed us through. We focused and iterated, and then the data supported us!
What does a day in your life look like?
Ah! There is no typical day! Somedays I'm working on product with the team, some days I am out speaking to people and partners, some days I am traveling. A real mix! Which keeps life exhausting and fun.
How did your career change, if at all, when you had your son? How did you handle childcare and maternity leave?
Well, but for Fin, Peanut wouldn't exist, so in that respect, in every way. I am even more driven in many respects, I want to do well for him, so he will be proud of me, but also so he will see what success requires – hard work, some failure, bravery. I think I'm a more patient version of the working woman I used to be and going back to the juggling? I just multitask more successfully! Ultimately Peanut allowed me to use my experiences of early motherhood, that isolating, daunting time, and combine with my professional experience of tech and the dating world to form a community of like-minded women, to bring women together at a time in our lives when we really need that. From that perspective, motherhood shaped and inspired my career in a way I could never have thought possible. The other way in which is changed me is actually in terms of how Fin views work. I want him always to see that hard work, determination, and sheer grit pay off. That, and it's ok to mess up, and get things wrong – it's how we get to the correct answer.
What's next for you and Peanut?
More features! More growth… and another little Peanut on the way!
When it comes to motherhood, what are you most confident in? What are you still insecure about?
My love for Fin. That never waivers, and that gives me confidence. Insecurities? Gosh, I have those every day too. From whether I'm getting it right with parenting, to working long hours. I think the key is giving myself permission to be ok with sometimes feeling guilty, and then moving forward.
I wanted to connect with women on shared life experiences and I wanted depth, and commonality, and experience. No woman should have to do this alone.
What are some of your favorite activities to do as a family?
Long walks with our dog. It's the best, to get out in the open, walk for miles, and watch Fin and the puppy go crazy and run. It's so carefree, and how I always thought childhood would be.
How do you and your husband divide parenting roles? How has parenthood changed your marriage?
My husband is incredible, and I am very fortunate to be able to say that. Everything we do is 50-50, and I travel a lot with Peanut which leaves a lot to him to deal with some weeks. That is tough, but he never ever complains, and he knows I will do my very best to give him a break when I get back. How has it changed us? I think we're more patient with one another, we have to be!
How does your son inspire you, in your career or otherwise?
I love how fearless Fin is. That makes me fearless. I also love how purely he looks at the world… he hates injustice, that makes me feel ennobled to stop injustices, too, I suppose. I get scared of forgetting any of the beautiful things he does. Currently, my favourite thing is that he creates all of these weird, abstract works of art from boxes and paper, and I find them in various places around the house. Maybe he'll be the next Damien Hurst, I don't know, but after a hard day, there is nothing better than finding a 'creation' on my bed with a note from him explaining what it is.
If you have to choose just one, what's been your favorite moment from motherhood so far?
Can't choose! Honestly, I can't. I love every day (that sounds cheesy, but it's true). But every mom loves watching their little ones sleep soundly in that completely relaxed arms above the head manner, don't they? Such contentment, I wish I could sleep like that.
I want him always to see that hard work, determination, and sheer grit pay off. That, and it's ok to mess up, and get things wrong – it's how we get to the correct answer.
Michelle Kennedy is the Everymom…
Weirdest dating/mom profile you've come across? Nope! I won't bash other moms – we're all amazing, even if some of us have our quirks.
Kids book you really love? The Things You'll See
Guilty pleasure TV show? Real Housewives of Atlanta
Best way to end a long day? When I'm not pregnant, a big glass of red vino!
Great opening line once you've made a match? You'll never guess what my kiddo did today…
Type of friend you're most grateful to have as a mom? The non-judgemental kind (who opens the wine bottle)
Most embarrassing mom fail? Trying on a really expensive silk top in a store when I'd just had my son only to see my breast milk slowly seeping into the silk… devastating! I hadn't realised I needed to wear breast pads AT ALL TIMES.