Ten days after our daughter, Greta, was born, my husband and I bought a house in a suburb north of Chicago, a city I'd called home for 16 years. When Greta was two months old, we moved into our new home and shortly after that, I resigned from my corporate job — where I'd worked for a decade — to be a stay-at-home mom. We were in a new community where we hardly knew anyone, we had a beautiful but very colicky baby, and I was suddenly without my co-workers who were my daily support system. I was totally unprepared for how lonely that would feel.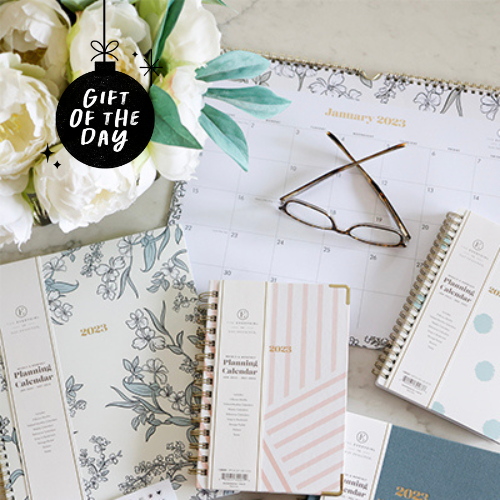 Help a mom stay organized and keep track of important doctor's appointments, playdates, and (hopefully) some scheduled 'me' time with this pretty wall calendar.
My wonderful friend Mary, who has four kids, came by to visit shortly after we moved in and immediately started brainstorming baby classes and activities. At the time I thought she was trying to help me socialize Greta. In reality, though, she knew I was going to need a community of mom friends.
Why do you need mom friends?
Whether you're a stay-at-home mom or work full-time, you need mom friends for so many reasons. More than I can possibly list here, but to put it simply: Mom friends will keep you sane. They know what you're going through and they know how to support you better than anyone else.
Having a hard time speaking in complete sentences because you haven't slept in days? No problem – your mom friends know what you're trying to say and they're not going to judge you for being incoherent.
Freaking out because your baby has a weird rash and you can't get in to see the pediatrician for another day? No biggie – your mom friends have seen that rash before and it will go away. In tears when your baby turns one year old and you're wondering if it's normal to be so sad? Absolutely – your mom friends will tell you how they cried for days over such a big milestone.
How do you build your mom squad?
One of the biggest lessons I've learned these last two years is that moms want to make new mom friends, too. Making friends as an adult can be awkward. I'm friendly, but definitely on the shy side. Approaching strangers isn't something I do gracefully. 
But I've found that moms have an immediate bond because we're all going through the same thing, which makes it easier to strike up a conversation. Having something so significant in common helps some of the awkwardness fade away.
The key, and sometimes the hardest part, is finding opportunities to meet moms. So, where are they?
Parent-Tot classes
When Greta was six months old, we started attending a music class run by a local music school. Eighteen months later and we're still taking a music class at the same school. Honestly, Greta has probably aged out of some of it, but we met two of our best new mom and toddler friends in these classes, so we go every week to see them. It's still a highlight for us.
Many preschools offer parent-tot classes starting as early as 18 months. These can be a little pricey, but if it fits your budget, they're a great way to meet other families and check out potential preschools.
We've also done classes at an indoor gym, swim school and our community recreation center. In some cases, the classes have been duds, but in every situation, we made a connection with another family, so they were worth the effort.
Libraries
Many community libraries offer free weekly storytimes for infants, toddlers, and older children. These are perfect for drop-in participation and are an easy way to meet moms who live in the area.
Parks
This can be tricky in colder climates and for babies who are too little for the swings. But when it does finally warm up and your baby is old enough to sit in the swing, you'll feel like you just discovered the motherload. I remember thinking, "So, this is where everyone is!" As time has gone on, I frequently run into moms I've casually met in our playgroup or a class at the park, which has given us a chance to get to know each other better.
Community pool
I know. Wearing a swimsuit postpartum is about as appealing as… well, it's not great. But, here's the thing – the baby pool is the safe zone! All the other moms understand why you're leaving your cover-up on in the water and they don't care!
Indoor play spaces
In the Chicago area, we have a few great options, but Growth Spurts and Little Beans are two of our favorites. When it's too cold for the park, these are especially helpful.
Playgroups
We joined a free neighborhood playgroup thanks to the invitation of a mom friend we met in a toddler class. The group is affiliated with a local private school, but is open to the community. We meet every week in a classroom filled with toys and it's been such a sweet way to meet moms with toddlers who are Greta's age. I recommend checking out nearby schools, local Facebook pages for moms and asking at kids stores in the area to see if they offer any activities for families with babies or toddlers.
Social media groups
One of my good friends recommended looking online for existing playgroups when Greta was born. She found an awesome community playgroup through Facebook and it's how she met her squad.
Bookstores, children's boutiques, zoos…
You may find opportunities in unexpected spots. My friends who are still in Chicago take their kids to the free kids' concerts at Lincoln Park Zoo. There are also drop-in music classes at a few children's boutiques, and our park district hosts free concerts for kids in the summer at a nearby park. So check out your local museums, zoos, park district and favorite children's boutiques; hopefully, there are some fun options available in your area.
Keeping connected
None of this happens overnight, at least it didn't for me. I've had plenty of tearful moments since Greta was born when I felt isolated. But when we were invited to our first play date with new friends from music class, I felt like we turned a corner, and we did!
Setting up a regular play date schedule is also helpful. One of my mom friends and I get our toddlers together every Thursday and either go for a walk or meet at an indoor play space for an hour or two. That playdate, our weekly music class, and our playgroup have been the foundation for building our squad.
Keep at it and know that you're not alone. It's worth the effort, not only for you but for your little one, as well.
Tell us, how do you find mom friends?