They say parenthood takes a village. But what if you live across the country (or across an ocean) from your village?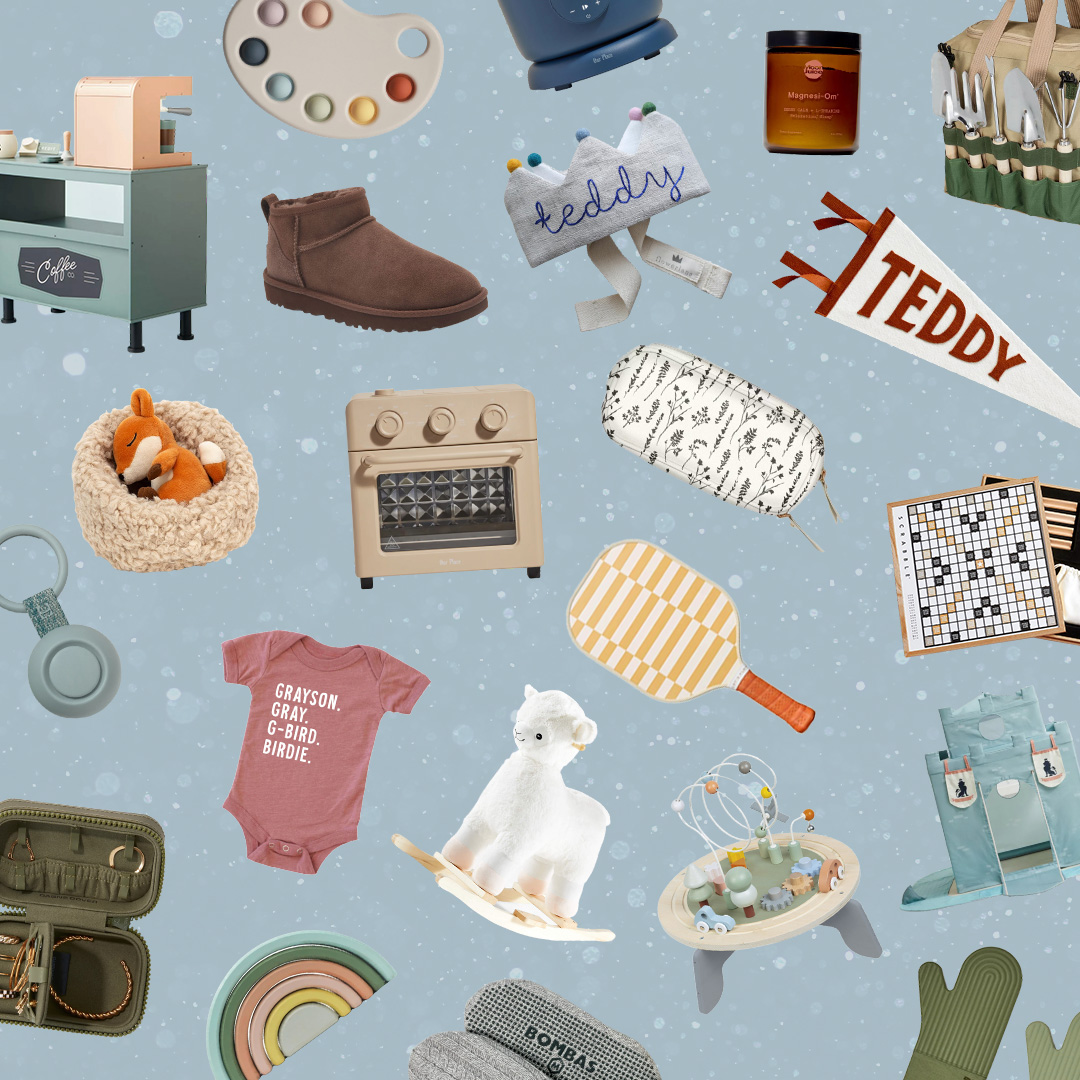 everything you need to ace holiday gifting this year 🎁
About nine months ago, my husband and I relocated to Portland, OR while both of our families live on the east coast. And as for close friends, the closest ones are at least a flight away. 
One week after our move, we found out the great news that we were pregnant. The baby will be arriving any day now, and while we couldn't be more excited for the newest member of our family to join us, the reality is setting in that as new residents of the PNW, we are short on friends, family, and baby help. 
We're lucky – our families will be visiting for weeks at a time (this is the first grandchild on both sides, and everyone is very excited!). It's not the same as having close friends and family a short drive away to swing by when we need them, but it is amazing. 
I haven't been overly concerned about being far from family, but when I hear about the challenges and realities of parenthood, especially during the newborn phase, I realize that I have no clue what I'm in for. 
Per the suggestion of my mom and many of our friends, we decided to hire a postpartum doula to help with a couple of daytime hours and overnights as we adjust to parenthood. I was apprehensive and a bit resistant about hiring help – shouldn't parenthood be so natural that we're able to handle it on our own? 
We had an initial meeting with the doula, and she explained the importance of finding help and not being afraid to ask for it. She shared that the phrase "it takes a village" is very true, and it used to be a given that you'd bring home a baby and have your parents, siblings, cousins, aunts, and uncles right there to help with the baby. Now that families are spread out, this typical village doesn't often exist, but you can and should create your own village.
With our village many miles away, it became clear that hiring a postpartum doula doesn't mean I can't handle caring for our baby. It means that needing help is OK. In addition to hiring our doula, I knew there was more help and advice to be had. 
To help us prepare for bringing baby home, I went out asking for advice from other families that are raising little ones a far distance from their families. Here are the insightful tips that moms shared with me.
Leave your house & be open to meeting new people
It requires getting out of your comfort zone and out of your pajamas, but it's important to get outside and chat it up with people you meet as you settle into your new role as mom.
"Leave your house! Walk around the block, visit a nearby coffee shop, stroll through the dog park — whatever. The first step is to leave your house and interact with other adults now that you have a baby. Be open to meeting and interacting with people wherever you go. Look up mommy & me exercises classes, swim lessons, art classes, etc. When you're not around family, it's important to cultivate a community or 'home team' of friends and colleagues who can support you and love on your family."
–Andi Teggart, Nashville-based digital marketer, home decor enthusiast, lifestyle blogger, grad school student, and mom to one-year-old, Lucy. 
Find your mom tribe
Even if your family and trusted network are far away, it doesn't mean you can't create a new tribe. 
"Finding your tribe, whether it is 10 people or 2 is so important. It takes effort but in the end is worth it. It is key to find someone who can understand the annoyance of watching your husband sleep at night while you're awake for feedings, the joy of hearing your baby laugh for the first time, the sadness of your baby growing out of a size of clothing, and all the things in between that make motherhood simultaneously the best thing on earth and the hardest thing you've ever done. The simple act of being heard and understood goes a long way for your mental health. Your mom tribe lets you know you are not alone."
–Lindsey Bybee, blogger and mom of three who has lived in Germany, Ukraine, and is preparing to do a third international move to Tbilisi, Georgia
Embrace your own situation
Everyone's situation is different, remember that yours is special and unique to you.
"Whatever you do, don't compare your situation to anyone else's. Remember that nobody's situation is perfect, and you have to do the best with what you have. Most importantly, know that the best thing for a new baby is to spend time with their parents. Even if you don't have a lot of support and help around you, the newborn phase is fleeting, and it goes by much faster than you think. Enjoy those baby snuggles and know it's OK to cry a little here and there and drink a bit of wine too."
–Ashley Pitt, mom to a blue-eyed toddler boy, personal trainer, group fitness instructor, and healthy lifestyle blogger
Explore your birth options
Take the time and do the research to find the best birth option for you and your family.
"Learn about your birth options, as they may be different than the ones you know of from your home town or country. Homebirth sounds like you're going rogue in the USA, but in the UK, it's a public health supported birth option. I chose it and was able to have all my appointments at home with a hospital midwife who came to visit my house every month. She coached me through delivering a 10lb 10oz bowling ball of a baby at home. And when I gave birth in South Africa, a place that has a very high percentage of Cesarean deliveries, I was able to find a birthing center that was all about natural birth but also had a wing with an operating theater just in case. I hadn't heard of either of these options in the US,  but just by researching and asking, I found my way to two amazing birth experiences while away from home."
–Erica Levine Weber, family travel expert, blogger, expat, and mom of two
Use the healthcare that is available
Offerings will vary based on coverage and where you live. Learn what is available and take advantage of anything that may be helpful.
"One thing that helped me was the mandatory five days in the hospital after giving birth in Zurich. I also had a midwife visiting my house every couple days to make sure my baby was thriving and that we were both settling in well. In the US, I was in and out of the hospital within 24 hours with my first two children with no aftercare. Having five days in the hospital to get myself and my baby organized before going home was especially nice, as I was so far from family. I've also found local places to get the baby weighed and checked in between pediatrician appointments. Just knowing there are people to reach out to makes all the difference in the world. Go to your OB-GYN/gynecologist the moment you don't feel yourself, and be open and honest to your doctors about how you are doing."
–Kate, an American living in Switzerland, blogging and traveling the world as a family of 5 
And finally – ask for and accept help
The one piece of advice echoed by nearly every mother I spoke with was that you need to be OK with asking for help and if help is offered, taking it.
Whether it's a coworker offering to bring you a home-cooked meal, a neighbor asking to walk your dog, an acquaintance willing to have a playdate with your older kids, or a new friend willing to do your laundry – let them help.
It can be hard to accept help, and it might seem like you can do it all by yourself, but know that everyone truly does want to help, and it's OK (and necessary!) to accept the help that is offered.