Naptime can be the most productive time of the day. There's so much you have to do (like eat, shower, and clean), and since you never know just how long naptime will last, it's always a mad rush to get through your to-do list. While you're busy keeping the house clean and everyone fed and safe, it's easy to let self-care take a backseat. But it doesn't have to be that way. Naptime is a great opportunity to savor a quick moment for yourself and put those yoga pants to work with a quick workout (and yes, it's ok to forgo that pile of laundry).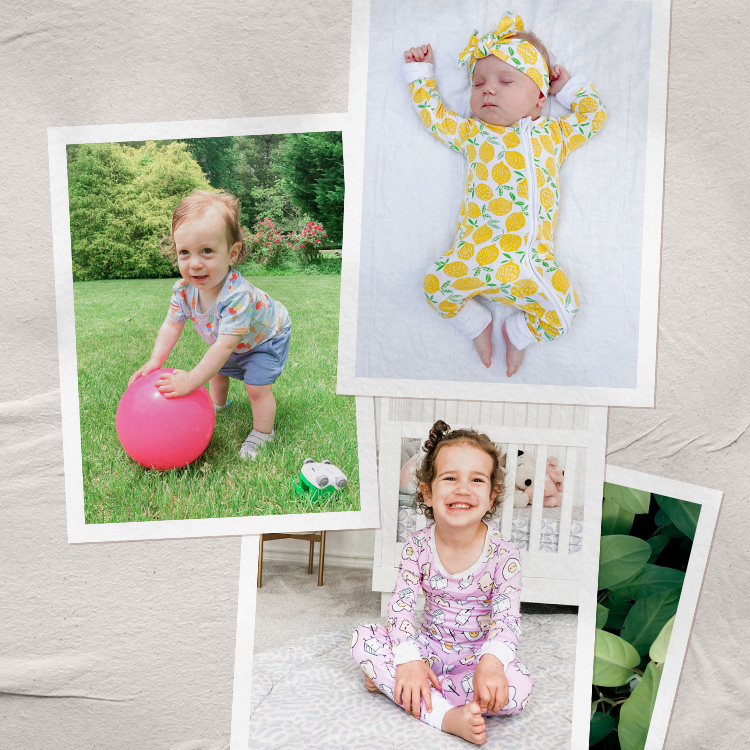 it's more than just their cute PJs... get ready to add to cart! 😍
Because let's face it – it's hard for moms to find time to get active. When you're feeling out of shape, tired or busy, it's often working out that gets the heave-ho because it seems like so.much.work. But, working out regularly can actually boost your energy levels, your stamina, and your peace of mind. 
As a parent, you constantly have to prioritize what needs to come first throughout the day, and making your health a priority will help you be a better parent. And, since naptime can be so unpredictable, here are seven easy workouts you can do in 30 minutes or less to boost your supermom powers.
If You Only Have 15 Minutes…
If you have 15 minutes but want a full-body workout, try this one from Self. It has cardio to get your heart pumping and core-strengthening exercises that target your abs from every angle. It doesn't require any other equipment and is easy-to-follow. Because you're using your own body and competing against yourself, you can do it over and over again while still pushing yourself. 
If You Want an Easy-to-Follow Plan…

Sometimes it's hard to know where to start when you're just starting to work out again. Following a workout plan is the best solution because someone else is telling you exactly what to do, how to do it and when. Enter the inspiring Tone It Up ladies. Each day they post a daily workout that shows you how to do each move. They also have a ton of videos on their YouTube page, so you'll never get bored.
If You Want to Feel Like You're in A Workout Class…
It can be hard to get motivated when it's only you there holding yourself accountable. If you've always loved workout classes but can't fit them into your busy schedule, try Fitness Blender. The website offers more than 500 free workout videos. You can choose your fitness level, type of class, video length and calorie burn. They also offer fitness programs if you get hooked.
If You Want To Get Your Heart Rate Up, Fast…
Think all the way back to elementary school. You probably loved jumping rope, right? Well channel your inner kid and get jumping.  Jumping rope is a great cardiovascular activity that helps you up your heart rate and burn calories quickly. If you're a beginner, consider getting a heavyweight jump rope, which will let you focus on improving your form by slowing you down a bit while you're learning. This 15-minute jump rope workout walks you through five different jump rope moves, which will keep your quick workout exciting.
If You're Easing Back Into Working Out…
This super-simple workout is perfect for the mom who's just getting back into the swing of working out. It's a printable (or pinnable) workout that focuses on cardio, body weight exercises and encourages water and breathing breaks. Because it's not a video, you can take as long as you need to recover. Every move is simple to understand (they'll remind you of middle school gym class), and the workout itself is easy to follow.
If You Want to Quickly Hit Every Muscle Group…
So you have to eat, clean and workout all before your kid wakes up from their nap. The workout part is possible. Try this 15-minute complete body workout that only requires a set of free weights.  And don't get us wrong because it's only 15 minutes – it is tough. It combines Tabata cardio with strength training to get you moving, sweating and working every muscle group.   
If You Want to Find Your Zen…
You probably don't have time to make it to the yoga studio, but that doesn't mean you can't get a calming session in at home. Yoga is a great way to slow down, re-center yourself, and build core muscles that are so very needed to carry around those babies of yours. When your little one goes down for a nap and you feel like you're about to pull your hair out, take some time for yourself and try out a 30-minute at-home yoga routine. You'll feel refreshed and ready for the next bout of craziness with your kiddo when they wake up. 
Do you do any naptime workouts that you love? Share in the comments!