The day we become mothers, our self-interests take a back seat. This is just an honest truth.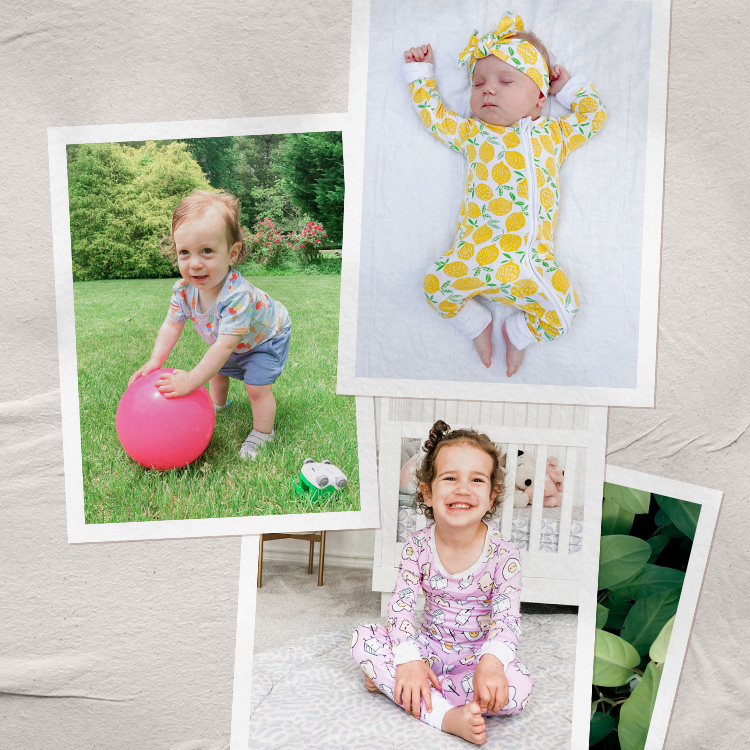 it's more than just their cute PJs... get ready to add to cart! 😍
We have tiny human beings to take care of and their wants and needs will always trump our own. But in order to give 100 percent to caring for others, sometimes you need to replenish your energy and soul by focusing on your own wants and needs.
The way we present ourselves to the outside world often dictates how we feel – it just doesn't feel good to be on day five of unwashed hair and wearing the same clothes over and over again. If you feel like you're in a slump, sometimes doing something for yourself on the outside can help lift your spirits and feelings of confidence on the outside.
These six simple things can help give you a fresh boost for summer that can feel like all the difference.
1. Get a haircut and color
One of the easiest ways to makeover your look is with a haircut and color. Sometimes we hold onto hairstyles that worked for us years ago but no longer work now.
If you have longer hair, consider a collarbone-length cut that will highlight features like your eyes and cheekbones. Add in some layering to provide shape and movement. Highlights and lowlights are also simple ways to give your look added definition without too much commitment.
Start by pinning your favorite hair looks to bring to your next salon visit. You might be surprised by what you're drawn to now.
2. Shape your eyebrows
Since eyebrows frame your face, a great shape can totally transform your look.
Find the best shape for your face and make an appointment to get them professionally waxed or threaded. A skilled professional can help the eye area appear more lifted, giving off a younger and fresher look.
If your brows are sparse, filling them in with an eyebrow pencil or brow gel will give off the illusion of fuller brows.
3. Take care of your skin
Taking care of your skin will give you a naturally smooth canvas, allowing your makeup to really shine through. And, as a bonus, the more you love on your skin, the less makeup you feel like you'll need.
Not sure where to start? Begin by visiting Sephora, Ulta, or your nearest makeup department and ask someone to help you assess your skin. Ask for samples, so you can test out products without a financial commitment.
A good cleanser, trusty serum, hard-working night cream, and a commitment to maintenance will give you a radiance that will have people thinking you just got back from a relaxing spa vacation.
And these items don't have to break the bank. Take a look at some of our editors' favorites – all but one is under $20.
5. Give yourself a glow
If applied correctly, self-tanners can help you appear more toned and conceal scars, uneven skin and other imperfections. They are also a great way to give yourself an extra glow without actually getting a tan, which can be dangerous for your skin, as we all know.
There's an array of mousses, lotions, towelettes and even face mists that can help you fake a sun-kissed radiance. For best results, always exfoliate first, and pay special attention to knees, elbows, feet, and hands, to ensure an even and streak-free application.
5. Edit your closet
Everything you wear should make you feel great. It's as simple as that. If you're holding onto clothing that makes you feel less than (raggedy sweats, too-tight jeans), then it's time to let it go.
When you fill your closet with only items that make you feel great, then you don't have the option of grabbing items that do the opposite. Organize your closet so that you can see everything you own. This will make getting dressed in the morning 100 percent easier.
And remember, you don't have to save that beautiful dress for a special occasion. Wear your beautiful clothes now because you're worth it.
6. Slowly change bad habits
Sometimes, it's the littlest things that make a big difference. When we feel like we're in a rut, it's often because our day-to-day repetitive habits that may not be enhancing our life.
Consider drinking more water, waking up thirty minutes earlier to breathe or journal, or taking a social media break. Or, for me, it's going to bed at a reasonable hour instead of binge-watching Netflix or replacing poor food choices with healthy ones.
Consider how you view self-care and really take the time to dig deep into what you need as a person to feel more whole. It is likely a combination of big and little things.
Changing up bad habits will filter into other areas of your life, giving you a summer confidence that money can't buy.