I think the world let out a collective sigh of relief the second that 2020 ended (I know I did). Although I'm personally not the biggest fan of resolutions and the whole "new year, new me" mindset, I can appreciate a blank slate and the opportunity to shift your goals or create new habits—even if they are simple ones, like revamping your style.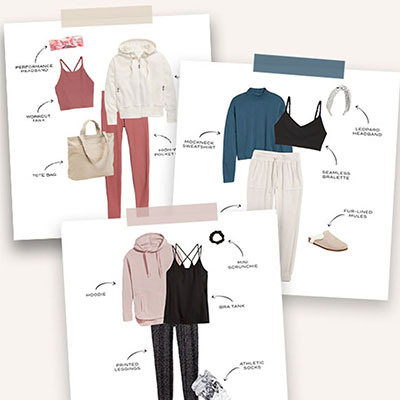 Shop 6 of Our Favorite Loungewear Outfits From Old Navy
Need to spruce up your at-home wardrobe? We've put together six cute, comfy, and budget-friendly loungewear looks from Old Navy.
This way to shop! —>
When a new year begins, I always feel the sudden urge to get rid of every single item in my closet and start over with my wardrobe. Actually, let's be honest: I have that thought about once a week.
Regardless, we've been stuck at home for almost nine months now, and I am extremely bored with wearing the same joggers and sweatshirt combo every single day. And if I do venture out (I would now consider a trip to the grocery store "venturing out"), I usually stick to something like basic straight-leg jeans and a top, which is great… but can be boring.
If you're in the "I'm so bored of wearing the same thing all the time" boat too, I have some ideas for you! Check out these five fresh looks to try out in 2021: 
1. Bored of the joggers you've been wearing for three days straight? Try faux leather
2. Bored of basic jeans? Try a wide-leg straight
3. Bored of plain, black leggings? Try a print, such as camo
4. Bored with your old sweats? Try a knit loungewear set
5. Bored of plain sweaters? Try layering with a sweater vest