Months ago, when we all first started staying home, I got out my dusty sewing machine and attempted to make myself a face mask with old throw pillow fabric and the string from a purse dust cover sitting in the back of my closet. To no one's surprise, that didn't go so well.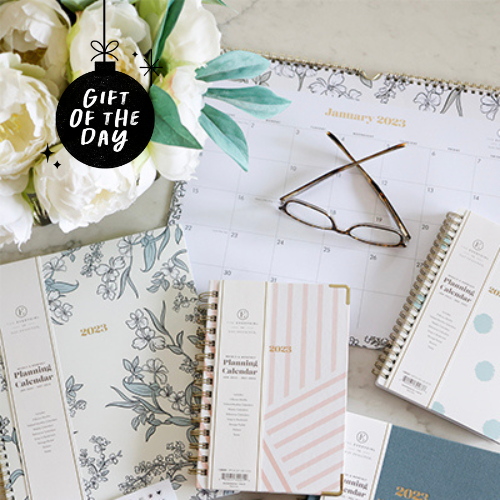 Help a mom stay organized and keep track of important doctor's appointments, playdates, and (hopefully) some scheduled 'me' time with this pretty wall calendar.
My next move was trying to find myself and my husband any masks I could quickly locate that were adequately layered and would stay put during necessary outings. After a brief stint with a pack of disposable masks that we miraculously found at the grocery store, I knew we had to get our acts together and find some functional, reusable options because we were probably going to be doing this new mask-wearing thing for a while. That next phase was a little bit like Goldilocks and the Three Bears; one mask I bought was too loose, another was way too thick, and a third dug into my nose so much I could only stand it for a brief wear.
Now, many months later, I've finally found my groove and am here to report that I've found the perfect face mask. I bet you have too—and don't you just want to shout it from the rooftops and give everyone your recommendation?! Well, that's exactly what our editors did below when we asked them to share their go-to-mask, give us the scoop on why they like it so much, and take a selfie to show you how it looks on. Read on for the details and to shop our favorites! 
Summersalt
Of all the masks I've purchased, this is definitely my favorite. It's a super comfortable material, feels protective yet lightweight and is a good size that easily stays in place over my nose and mouth. It comes as a three-pack, and two out of the three designs aren't too girly, so my husband and I split the pack (he also really likes the mask).
Joah Love
I first fell in love with the design of the mask, but what really sold me on it is that the ear straps are adjustable. As a petite person, some of the adult masks just don't sit right on my face, and kids' masks are too small. This is the perfect answer to my mask problems. It is also extremely soft and breathable, it's reversible if you get sick of the pattern, and it comes in a kid-sized version if you're into mommy-and-me matching (hand raised). Plus, for every mask purchased, one is donated.

Rothy's
I love the materials Rothy's uses, as it's super durable and sustainable, so when they came out with masks I knew I had to try them. After trying a bunch of different brands, these have definitely turned out to be the adult favorite in our family. The fit is snug but not uncomfortably tight, and the material is thick and feels protective, but it's really breathable too. They hold up well to washing, and they're the only mask my husband says is comfortable to wear all day (which he has to do at his office). Rothy's just came out with a few more colors, and I'm sure I'll be ordering more to help us through the coming months.
Buru
I've spent a lot of time shopping for masks for my kids, but not a lot of time researching masks for me. Originally, I bought this multi-pack of Old Navy masks which are great for the price and to have extras on hand (I bought a pack with neutrals so my husband could have a couple). But my favorite individual mask is one I purchased for $10 at a pop-up shop from the mom-owned fashion brand BURU. The linen and cotton fabric is soft, the mask is comfortable, and I like the shape better than the tri-folded Old Navy ones. They're selling masks for adults and children, but because they're going through fabric so fast, they can only guarantee bright or neutral colors.
Bliss Joy Bull
I like to keep a stack of these beautiful masks washed and ready to go at my back door. They are the very best I've tried and work for both me and my little girls, even though they're made for grown-ups. These masks have a super thoughtful design: they're substantial, while remaining comfortable; many are organic cotton; they include an easy-use filter pocket; and feature a nose wire for a better fit. I love that these offer full-coverage and go below my chin, so I can chase my kids around without having to fiddle with whatever's on my face. The ties make the fit customizable too. Actual masks aside, I love supporting this small business owned by a woman and am always impressed by the Bliss Joy Bull philosophy of making products that are gentle on the Earth.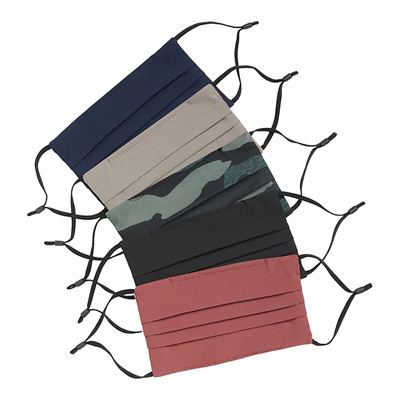 Athleta
These masks were recommended to me by one of The Everymom's Contributing Editors, Laura, and after her glowing review, I knew I had to order a pack. Let me tell you, they did not disappoint. These masks are really breathable, and I love the adjustable straps and pinch-able nose bridge. The colors are really subtle and cute, and most importantly, they've been so comfortable to wear, especially for long periods of time. It's also the first mask I've worn that I'm not constantly adjusting and messing with—highly recommend (and thanks, Laura)!