If you haven't finished your holiday gift shopping quite yet, you're not alone. This year, it seems like everyone started shopping earlier due to high demand and longer shipping times, but not me. While I was hoping to jump on the early bandwagon as well, I just couldn't decide on exactly what to buy my son. He's a few months away from turning 2, and I can tell that he's quickly getting bored with some of his current books and toys.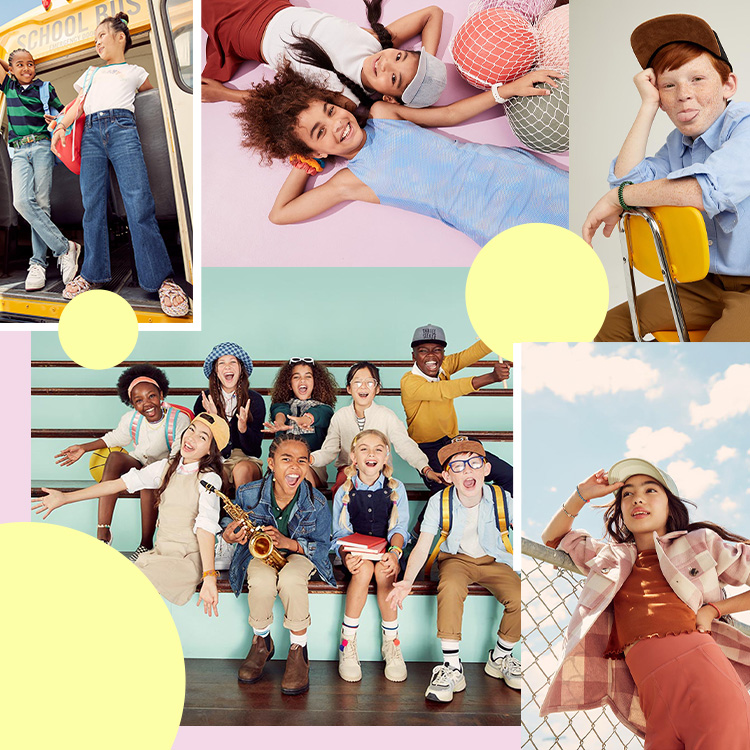 we did all the work for you—download our free printable and shop the list! 🍎✏️📚
That's the thing with toys sometimes: they may look cool and fun, but it's also important to also understand where your child is developmentally and if the toys align with where they are. It's also key to rotate out older toys that may be too young for them so that they can always be learning and growing. So when I heard my son say "No" to a few toys that used to be some of his favorites, I knew it was time to update his toy collection. And as the weather gets colder and we're spending more time indoors, having toys that my son enjoys playing with is at the top of my holiday shopping goals.
For unique, fun, and developmentally-appropriate toys, I always go back to Manhattan Toy Company. There's a reason all of The Everymom editors continue to buy from Manhattan Toy Compay: the brand puts so much thought and consideration into making high-quality and engaging items that suit kids at all different ages. They are so passionate about little ones being playful and using their imagination.
For unique, fun, and developmentally-appropriate toys, I always go back to Manhattan Toy Company.
And my son is already a huge fan of their toys. In fact, their toys are the ones he's continuing to play with while he's clearly bored with his other ones. I think that's because these toys are specifically tailored for his age—they're a great mix of challenge, play, and imagination, which is exactly what he likes.
Not only are Manhattan Toy Company's products diverse, high quality, age-appropriate, and encourage learning, but your little ones will love playing with them for months to come. Plus, as an added bonus, they're such beautifully-made toys that you won't mind them strewn all over your living room or play space.
Below, a few of our editors share their kids' favorite toys from Manhattan Toy Company and explain why they'd make great holiday gifts for your children, too.

Manhattan Toy Company
This toy has been one of our favorites since my first son was about 16 months old. He had some gross motor challenges, and our physical therapist commented on what a wonderful toy it is for both fine and gross motor skills when she saw it during one of our sessions. It has many different options for play from seated to standing and can accommodate multiple kids at once. At our last pre-COVID playdate, my girlfriend commented that we have the best toys and promptly bought this for her two boys. Plus, as a mom who enjoys design, I love the way this looks in our home!
Manhattan Toy Company
Shopping for an infant over the holidays is a challenge, especially when they are the second boy child in less than two years. In an effort to only buy things we will really need and use, the atom teether toy is a colorful and incredibly useful toy to add to my infant son Oliver's collection! The design is so clever, and it doubles as both a rattle and teether, so we will get a lot of use out of it this year!
Manhattan Toy Company
My son Zachary has recently really found his stride with more creative, imaginative play, and the Playdate Friends collection is a perfect way for him to get more creative and expressive! We had the original three dolls and were so excited about the launch of the three new dolls as they added two boy dolls to the collection! Imaginative play was always a favorite of mine growing up, and I love to see the scenarios he comes up with for his dolls. These are the perfect (and inclusive) dolls for kids of all ages, and the outfits and tiny friends are just truly adorable!
Manhattan Toy Company
We have had so much fun playing with My Pal Clover. My toddler son has a bunch of push toys, but this was one of his first pull toys. It took him a few minutes to get what he was supposed to do, but once he got it, he pulled Clover around and around the play area. Plus, I love that it has other toys within it like the shape holes and blocks. I've been going over shapes and colors with him these past few months, so this is a fun way to switch that up too.
Manhattan Toy Company
These multi-play towers are a hit in our house. My toddler loves manipulating all the pieces and parts of it, and there are so many teachable lessons on it too. From the spinning letters to all the colors and spinners, there's so much for him to play with. I love that each individual play section of the pony is different. He can watch a toy slide down the tail, spin letters around, or try to push and pull a toy through a maze. Definitely one of our favorites!
---

Manhattan Toy Company
The best part about the Beats To Go toy is that it's several instruments in one! My boys love banging on the different parts and exploring the various sounds that come from it. My 1-year-old is fascinated by the cause and effect of hitting and making sounds; meanwhile, my 2-year-old thinks he's a rock star and starts dancing to the music he's making. (Can we really call it music?)
Manhattan Toy Company
These toys are my lifeline for car rides during that first year. We had quite a few, but the Sights and Sounds travel toy and the 3-in-1 Triangle were fan favorites over here. I know they are safe for them to have when my eyes are on the road, yet there are so many pieces and elements for them to explore, touch, shake, and chew. Any time my baby was fussing, I'd hand him this and knew it would put a smile on his face and keep him occupied.
Manhattan Toy Company
The Skwish was one of the first items I put on our baby registry years ago. It's an award-winning toy for infant development that is also simple and beautiful. It's amazing to see how it occupies a little mind and their senses. I love it because there is no "right way" to play with this toy; it allows the baby to explore and work on motor skill and sensory development.
Manhattan Toy Company
My daughter loves pulling Elly around our house! She will drag this toy everywhere, and it's so fun to watch—it's her best bud that travels with her from room to room. I also love that it includes a block sorter. She hasn't quite gotten the hang of that yet, but it's something we're working on, which means this toy will stay relevant in our play for a long time.
Manhattan Toy Company
This little nursing hedgehog is so cute! My daughter enjoys taking each baby off, kissing them, then placing them back on the mama hedgehog. I'm particularly excited about this toy because we're expecting another baby, so this can help teach my daughter about nursing and she can play with this while I nurse her future sibling.
---
Manhattan Toy Company
This is the toy that keeps on giving. My 3-year-old and my 16-month-old can both play with these at the same time, just in different ways. My 3-year-old loves identifying letters, colors, and numbers, and he plays endlessly sorting the blocks into different categories--by size, by color, by letter, by number, the list goes on and on. Meanwhile, my 16-month-old enjoys stacking these, knocking them over, and picking them back up as she masters her hand-eye coordination and other motor skills.
Manhattan Toy Company
We have a whole MiO house set and people over here, and I cannot say enough how much my 3-year-old loves this set, as do I. He goes to a Montessori preschool, and I love how these align with that learning method: these foster open-ended, self-directed play, which helps focus, concentration, and creativity. The even better part? He plays independently for long periods of time with his MiO house and people.
Manhattan Toy Company
Baby Stella is a constant fixture on my daughter's bed, along with a whole coterie of stuffies. We've had Stella for two years, since my daughter was a toddler, but she's topped the favorites list that whole time and has tagged along with us on grocery store runs and overnight trips. The beauty of these dolls is that they are diverse, so we were able to find one that had my daughter's dark hair and dark eyes. The magnetic pacifier keeps Baby Stella (and my daughter) happy, and the sweet outfit is removable for dollie bath time. We've washed her many times, and Stella still looks like her cute, squishy self.
Manhattan Toy Company
Soon after we bought Baby Stella, we got her a stroller so that my daughter could take her on walks around the house. Nothing made me happier than seeing the two of them toddling along for their morning stroll through the playroom! Now that my daughter is older, we'll bundle her (and Stella) up and take the stroller around the neighborhood. We love the playful colors and how lightweight this stroller is!
This post was in partnership with Manhattan Toy Company but all of the opinions within are those of The Everymom editorial board.