After studying graphic design in college, Rachael Hardy began her career working at an art museum in her hometown and, years later, climbed the corporate ladder at Fortune 500 companies including P&G, Walgreens, and even Trunk Club. As if the creative director's professional resume isn't impressive enough, Rachael is also a single mom to a 5-year-old daughter and is personally passionate about redefining the word "family."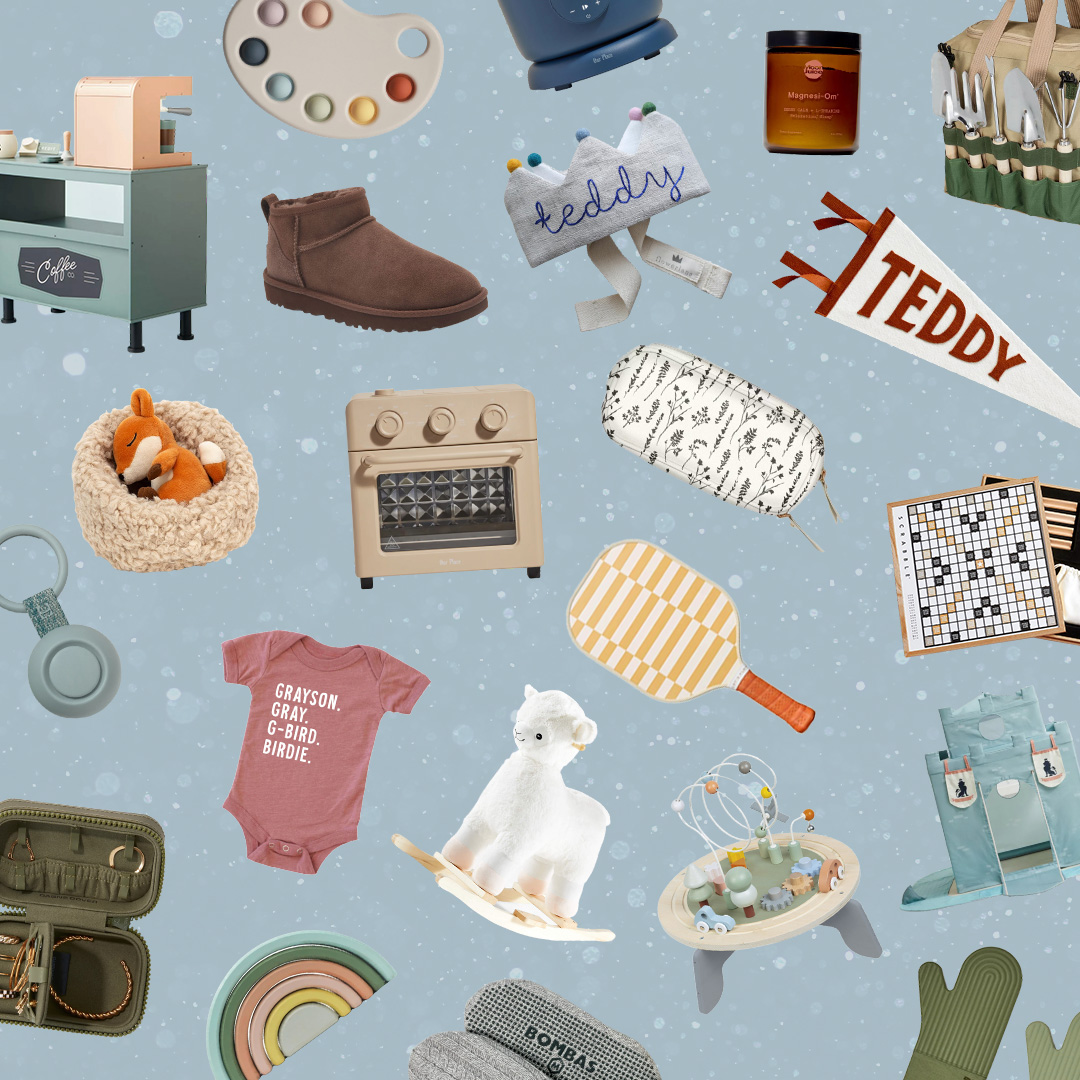 everything you need to ace holiday gifting this year 🎁
Keep scrolling to find out how Rachael expertly balances solo parenting with a demanding career, see why she finds it important to make time for self-care, check out her best mom hacks, and read about her proudest motherhood memory so far.
Name: Rachael Hardy, Creative Director
Age: 35
Current Location: Chicago, IL
Education: BA in Design from Philadelphia University
Children: Parker, 5
What was your first job and how did you land it?
My first job out of college was as an Exhibition Designer for the Cincinnati Art Museum. I studied design in Philadelphia, and with the number of students graduating at that time and limited design roles, I decided to apply back in my hometown. The art museum was floored by my student portfolio; it had a variety they weren't seeing from students in the area. I was only there a year, but I learned a lot about creating an experience and being able to tell a story visually. 
How did you first get interested in design? Did you study it in school?
I have always loved art and have had a pretty large magazine collection since middle school. It's aggressive. I loved looking at layout and magazine design and knew that that's something I could do all day without pay. That's what got me hooked in graphic design as a field of study. Then, I spent some of my summer before junior year going to art camps and became a total design nerd. The rest is history. I went to Philadelphia University with a focus on Graphic Design Communication and a minor in Photography. 
What are your main responsibilities as a creative director, brand architect, and designer? What does your typical workday look like?
As a creative director, my rare but typical day starts with internal meetings to review design updates to logos, photoshoots, email, and web designs. I spend a lot of time speaking with my clients about their brand voice or brand story. Trying to pinpoint what makes them unique, sets them apart from their competition, and feels authentic to their journey. This informs everything that comes out of a campaign, so defining this initially is crucial. I love to be hands-on, not in a micro-manager sort of way, but will work with my team to create mood boards, pull inspiration, or sit in on concepting sessions for the next campaign. All this is in addition to standard day-to-day needs like managing expectations on a cross-functional level, speaking to outside agencies, and vendors on how to maintain brand vision, and monitoring budgets for initiatives.
You've had an impressive career working for Fortune 500 companies such as Procter & Gamble, Walgreens, and Trunk Club. Can you tell us a little bit more about what you did for each of these companies?
I partnered with P&G during my time at Landor, a branding agency. I developed packaging for Old Spice, Olay, and Pantene. Then, later, [I] worked on a number of rebrands for brands within their portfolio — Blockbuster back when Blockbuster was a thing, Kraft Foods, Sabra, etc. Landor is where I fell in love with brand storytelling. I've always had a pulse on moms even before I was a mother. A lot of the brands within P&Gs categories focus on mom and how best to speak to her.
At Walgreens, I acted as their creative director for the beauty category. I led my team to develop the look, tone, and feel of all beauty creative for Walgreens after the Boots Alliance merger. Beauty has always been a saturated market, and finding ways to make a drugstore brand "an experience" was my focus.  At Trunk Club, I was their creative director shortly after the Nordstrom acquisition. We worked on revamping the website, social presence, email campaigns, and redefining their brand guidelines to be more women-focused and complement the Nordstrom brand.  
What has been your proudest accomplishment in your career thus far?
I started at Walgreens six weeks after I had my daughter, Parker, and was embracing transition on a number of levels. Anyone who is a mom knows going back to work at that time is challenging and leading a beauty category would make it exponentially so. I decided this was the time to really find my voice when it came to brands. We decided to approach beauty different from what we were seeing in magazines. We knew most women don't feel picture perfect, and that's what I saw almost five years ago. So, we went against that grain. In 2015, when we launched the new beauty brand, we showed women of all shapes, sizes, and styles. We used our brand strategy to embrace women with skin conditions, freckles, and buzz cuts. We took the time to not only have fun but to celebrate all the differences that made us beautiful. We called it "Whatever Makes You Feel Beautiful." My team and I faced a lot of our own insecurities, and it ended up being cathartic.  
Do you ever experience creative blocks? If so, how do you overcome them?
All the time. When you do something you love, as work, creative or not, it's good to have a hobby that feels disconnected in some way. I usually try to experiment with a different "medium." Since I spend most of my time in front of a computer, I try to do something more hands-on. Photography, paint, re-pot a plant. It's nice to just get up and away from the screens, then come back inspired with a fresh approach. 
You run an independent creative consultancy that focuses on culture and diversity. Why is it so important for you to concentrate on inclusion in your work?
Brands, products, and design needs to be reflective of the culture we see today. There's so much beauty in the diversity of our society, so I work with companies to understand the best ways to infuse that culture into their creative. Being able to understand the best context to use culture, when and where it's most appropriate — instead of having a cool-factor or being overly trendy. I want to be sure my clients are representative, authentic, and conscious. 
In what ways do you think being a black woman has impacted your career, if at all?
I've said, being a woman in design is challenging; being a young black woman in design is hard. You don't see many — if any — black women in design leadership roles, and often I've been the first woman or black woman in those roles. I've had to set a precedent without being the stereotype. More than race, my age has been the largest challenge. I've had a number of peers and people on my teams find it difficult to take direction from someone younger than them, despite my experience. As women in power, I've found strength in numbers. We have to stick together. Find allies and advocates to empower one another. So often as young women we are set as competition against each other; breaking that cycle early I've found to be key. This way, when we're outnumbered in decision-making rooms, we can find a way to help each other find their voice.
You have a 5-year-old daughter named Parker. Tell us about her!
She's amazing. I'm sure every parent says that. But she's very much herself. She's very sweet and the girly-girl I never was. She's always "on," very curious from sun-up to sun-down and wants to be your helper. She has an adventurous spirit but also shy and reserved until comfortable. Her favorites would be that she loves to play dress up, if there's a crown, tutu, or glitter near, she's on board. I'm not forcing art on her, but she does enjoy painting and coloring. 🙂
For a lot of moms, it is a struggle to find work-life balance. How do you find this balance as a single, working mom?
It's challenging, but I create space for me. Self-care is a form of discipline. Whether I wake up early to exercise, pray, read a devotional, or leave my office early to have my nails done before school pick-up. Sometimes, we get home, and I get Parker settled after school and tell her I'm taking five minutes to sit still in my room. She'll color quietly while I do so. I find the moments for me. I also block my calendar, my clients know when I'm offline. Even if it's two hours a day, then I check in after bedtime. 
You're dedicated to redefining "family." What does family mean to you?
I never dreamed of being a mom. I never imagined the type of mom I'd be or "family" I'd have. There was no formula. So, when I became a mother (and as I'm developing as a mom still), I've had to build a village and ask for the help I typically wouldn't. I'm very independent, but in making a life decision, it impacts all of those in your life. My best friends since high school are Parker's godmothers, and my mom is a fixture in her life. I've surrounded her by strong women in her life but also strong men. My father and my brother, as well as my close male friends, are positive male figures for her. Her sitter's children (who've been in our lives since she was 6 weeks old) are like her siblings, and she has cousins and friends here in Chicago and in my hometown. All of that to say — family is what we've made it. There's not really a traditional formula anymore as long as the shared values are there. 
Can you walk us through your daily routine?
What are your favorite things to do in Chicago with Parker?
She loves going to the park. We spot new ones as we run errands throughout the city and make plans to go and visit. She also does dance and soccer on weekends, so finding shows or games to go watch is also nice. 
How does your daughter inspire you?
Her resilience and she's also herself. Although she loves playing dress up, in her head, she is all of those things. A doctor, a princess, a police officer. She recently told someone that you can "wear your crown anytime, even when it's not your birthday." She reminds me to celebrate myself and our life often. 
If you could only pick one, what has been your favorite memory from motherhood so far?
Halloween 2017, we were in Target looking for costumes, and she turns to me and asks who am I going to be for Halloween. I, of course, say Beyonce (via Lemonade), and I return the question to her. I say, "Who will you be?" and she responds, "I just want to be myself" and continues down the aisle. I couldn't have been prouder. I purchased a princess dress just to be safe for the day of. 🙂 
Can you share three mom hacks you rely on to make things work in your day-to-day life?
1. The app Any.do: I'm a list maker, so this helps me organize and write down tasks on the fly. I can set reminders for each day or schedule to be told weeks from now. It also syncs to all of my devices so I'm not out of the loop. 
2. Amazon Prime/Amazon Prime Now: We have dance recitals, soccer practices, etc., and I always have to buy last-minute items like tights, tap shoes, etc. I can prime something via the app and have it delivered to Whole Foods while I'm making a food run that evening. I also love their Prime Video app which has a lot of wholesome children's programming when we're traveling. 
3. Using GroupChat: Staying connected with friends keeps me up-to-date. Even if they're muted, I can catch up on the day's thread or weigh-in later. As moms, we get tunnel-vision and opted out when we don't want to. I've found my many group-chats the way I stay connected to friends.
Rachael Hardy is The Everymom…
Favorite restaurant in Chicago? Sans Parker: S.K.Y. in Pilsen. With Parker: A good Crab Boil (Two Fish)
Best mom advice you've ever received? I spent a lot of time overthinking decisions, career moves, schools, places to live. Then a friend told me that children are resilient. The more comfortable and confident in the decisions I was, Parker would be OK too. Basically as mothers, if we take care of ourselves and we're OK, our children are too.
Your camera roll is full of… Screenshots of things to remember or items I want from Instagram
You can't leave the house without… My two phones and my AirPods.
Go-to coffee order? A Grande Flat White with almond milk
Best way to end the day? With a record on the record player and a glass of wine.
Kids movie you secretly love? Moana — I find ways for us to watch it even when she doesn't want to 🙂
Most embarrassing mom fail? Most recently, I was on a Bird scooter and fell off. I fractured my ankle and ended up having to have surgery. I've been in a boot for a month. When Parker finally understood what happened, she asked if I fell off a scooter just like hers, and if so, I have to be more careful like she is in the park.