When you're pregnant, it can feel like a lifetime waiting for that new baby to arrive. And then, once they're here, all of a sudden you realize you have no idea what exactly to do with them.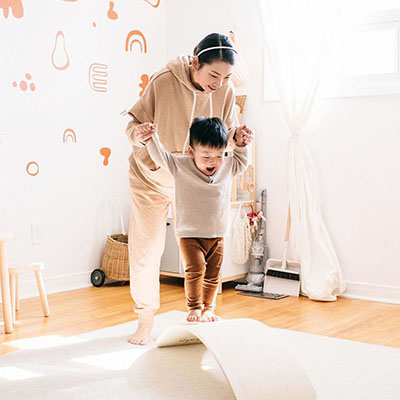 If your kid is turning 2, get ready for hilarious conversations, much more involved play, and lots of sweet, sloppy kid hugs and kisses. As for what you'll need? Leave that to us.
What do you say to them? How do you play with them? What are the best ways to support their development? 
Baby development and milestones can be confusing—especially if you've had no experience with infants before, like most of us as new parents. Fortunately, babies don't actually need very much. A few toys and activities can go a really long way in supporting your baby's development. You just have to know what to do … and what to get.
If you're like me and tend to overthink, over-research, and well, over-do everything, you can breathe a sigh of relief. These five simple toys and activities will help to promote healthy growth and development in your baby for the next 12 months—and they don't require extensive knowledge of early childhood development.
1. Subscribe to a Play Kit
If there was one thing that I wish existed when my oldest two kids were infants, it's definitely KiwiCo's Panda Crate (it's the first thing I'll be ordering when our third child joins us this fall). It's also the one thing I recommend to all of my friends who are about to become new parents.
Panda Crate simplifies the entire baby development process for parents. Their subscription-based boxes arrive right on your doorstep and are carefully curated and designed based on extensive research and developmental knowledge—which means that the very little free time you have as a parent doesn't need to be spent on researching, reading reviews, and ordering or shopping for new toys and activities. You can trust that your little baby has access to the right toys and materials, and for any parent, that is a huge weight off their shoulders. The toys are super cute and well-made (many are made of wood and would last for multiple children) and are very much the exact type I'd buy for my kids in the first place. Only, I don't actually have to do any extra work this way.
Not only that, but Panda Crate also comes with Activity Cards that show you how to use the toys to promote healthy development, along with other activities you can do with your baby at this age, and Wonder Magazine, which offers expert advice to many common parenting questions related to that particular developmental stage. It's like having personalized, expert advice without actually having to talk to anyone—a total win.
Use code EVERYMOM at checkout for 30% off your first month's subscription with KiwiCo!
2. Read Often—And a Variety
A big question amongst my mom friends with newborns is always, "So, when am I supposed to start reading to the baby?" And the answer is, it's never too early.
What most people won't tell you, though, is you don't need a ton of new and expensive baby books to create incredibly rich literacy experiences for your infant. A few of your favorite children's books will do just fine, as long as you combine them with plenty of other literacy experiences. Functional literacy, which is literacy related to real-life experiences, is just as important as the creative, fictional worlds we love diving into when reading books.
So if you feel like diving into a celeb magazine for a little break while your baby chills out next to you, go for it—just read it out loud. Your baby will respond and learn from the tone in your voice, as well as your emotion and reactions. When strolling down the street, point out the signs outside of the shops, the street signs, and billboards you might pass. At a restaurant, take out a menu and read the different choices to them. As your child grows, they'll begin to understand that words and language are a part of our whole world and that reading and understanding words takes many forms.
3. Don't Forget Tummy Time
Tummy time is one of those things that your baby probably will not like at first, but the benefits cannot be denied. Tummy time is the core foundation behind much of your baby's physical strength, growth, and development—like the postural strength needed to sit, crawl, and walk; muscular strength in their necks and upper chest; and depth perception.
So, yes, it's very important, but it's also very easy to forget in those hazy newborn days of feeding schedules and changing diapers. A friend gave me these two easy tips to make sure I wasn't forgetting about tummy time during the day, and I found it so helpful and encouraging. First, do a minute or two of tummy time every time you change your baby's diaper starting from the day you bring them home—at first, this might be more like 10 seconds, but don't get discouraged. You and your baby will both be able to work yourselves up. Second, don't forget that babywearing and having baby lay on your chest for play and bonding totally counts.
With those two tips, I felt like a lot of the pressure of having to do tummy time the "right" way and all the time was lifted. I knew I was doing at least some, so I felt better about trying more and more as my babies got older and stronger.
4. Make Use of the Play Gym
You probably got a play gym as a gift at some point or likely bought it on your own if you didn't—and for good reason. Play gyms are very versatile and can help promote development in a number of ways.
When your baby is very young, the mats that come with play gyms are excellent for tummy time. They often have little things to entice young babies to interact with, like mirrors, textures, and flaps. Some even come with a supportive pillow to use under their heads or chests to encourage use of those muscles as needed.
As they get older, the toys attached to play gyms are the perfect way to work on skills like grasping, reaching, and squeezing—and many come with teether attachments for that age when babies become oral explorers. Most of these toy attachments are removable too, so taking them along for stroller rides or in the car is easy. And it gives your baby access to a familiar item when they are away from home.
All of the activities you can do with play gyms support gross and fine motor development, as well as hand-eye coordination and depth perception. These are all things that can be worked on when your baby is laying on their tummies, backs, sitting, or even eventually standing—making this a sound investment. Just make sure the mat is washable, I assure you, it will end up covered in bodily fluids at some point.
5. Talk to Them
What every expert will tell you is this: the most important thing you can do is establish a loving and secure bond with your baby. The trust you create with them and the attachment you build with each other—these will form the foundation for all of their future cognitive and emotional development. And a really great way to do that, besides being there for them and making them feel safe, is talking to them (and later, with them).
I'll be honest. Talking to a baby who can hardly focus their eyes, let alone talk back, is kind of weird. It takes some getting used to. But once you get into the swing of it, it becomes more and more comfortable. And when they began responding with coos, spits, and giggles, well then, you'll be hooked for life.
One of the best examples I've ever seen of how exactly to talk to your infant was back when I was pregnant with my firstborn. I was grocery shopping when I spotted a mom with her infant strapped to her chest. She was debating which laundry detergent to buy and, while she was considering her options, she was narrating her inner monologue aloud to her baby: Well, this is the kind we usually get. Your dad likes the smell, but I don't love that there's fragrance added, especially now that we have to wash your ton of laundry too. I guess we could buy two different detergents. Or we could just buy this one … it's a little more expensive, but the bottle is huge. It should last. What do you think? 
Of course, she wasn't expecting the baby to respond. But what she was doing was creating a space for her child to feel appreciated, connected, and secure. As a soon-to-be-mother, I was so grateful for her example of how to show your infant respect and love as a member of your family—and now, over seven years later, I still am.
This post was in partnership with KiwiCo, but all of the opinions within are those of The Everymom editorial board.